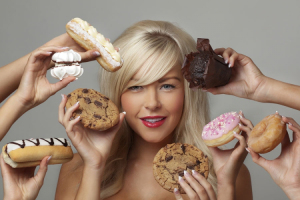 24 June 2016 | Updated 01 January 1970
A dental professional has warned that workplace 'cake culture' is fuelling the current obesity epidemic and contributing to poor dental health.
Physician Heal Thyself
Have a look below...ThisWeekinFM acquired the menu for the dinner at which Professor Nigel Hunt gave his views.
Although Hunt is against a 'nanny state' approach he will suggest a behavioural change is needed to help workers resist sweet treats in the office.
Professor Hunt, who is Dean of the Faculty of Dental Surgery at the Royal College of Surgeons, is particularly concerned that excessive consumption of sugary treats such as cakes, sweets and biscuits, is contributing to tooth decay in adults. There were 64,984 adults treated in hospital for tooth decay in 2014-2015.
"Managers want to reward staff for their efforts, colleagues want to celebrate special occasions and workers want to bring back a gift from their holidays," acknowledged Professor Hunt. "But for many people the workplace is now the primary site of their sugar intake and is contributing to the current obesity epidemic and poor oral health."
Changing attitudes
Hunt felt that so-called 'cake culture' poses difficulties for those who are trying their hardest to lose weight or become healthier when the workplace could offer the temptation of doughnuts, cookies or the triple chocolate biscuits. "I'm not saying we need to ban such treats but we do need a change in attitude. When people are going out to the shops and buying cake and sweets, they should at least consider buying smaller quantities and making them available only with lunch meals. Ideally office workers should consider other alternatives altogether like fruit platters, nuts, or cheese. Responsible employers should take a lead and avoid such snacks in meetings."
Earlier this year, the FDS welcomed the introduction of a sugar levy on soft drinks in the Chancellor's Budget announcement, saying: 'A levy that could decrease the amount of sugar children are consuming is therefore a massive step in the right direction towards tackling poor dental health and obesity. We now urge the government to investigate how this sugar levy could be applied more widely than just soft drinks.'
TWinFM was interested to see if the menu for the Faculty's dinner matched Professor Hunt's strict criteria and was interested to note that among the attractions for the assembled are: Compressed plum, glazed baby vegetables and pan juices and for dessert, Mint panna cotta with British strawberries and a choice of six cheeses that can be downed with fine red and white wine, supplemented by Taylors Late Bottle Port. We feel there might be some loosening of belts at the end of the evening.
Full menu
Evesham asparagus, quenelle of Scottish salmon, pickled vegetables and black pepper hollandaise.
Cannon of lamb with pulled shoulder, potato galette, compressed plum, glazed baby vegetables and pan juices.
Mint panna cotta with British strawberries
Six cheeses within sixty miles
Coffee
White wine - Terre de Lumière Viognier, Vin De Pays, France 2015
Red wine - Chateau du Puy Bonnet, Montagne St Emilion, France 2013
Port - Taylors Late Bottled Vintage, Portugal, 2010
Picture: The temptation of sweet things at work is not helping the health of people in the battle against dental health and obesity
Article written by Mike Gannon | Published 24 June 2016
Share
---
---