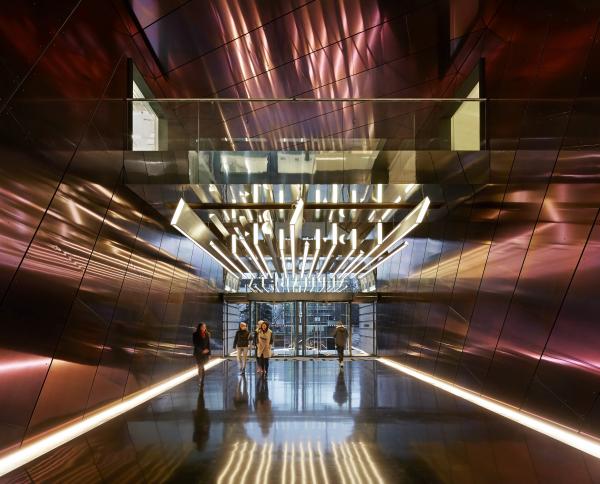 12 October 2016 | Updated 01 January 1970
Norwich's The Enterprise Centre was named as the Best of the Best workplace at the British Council for Offices' (BCO) annual National Awards in London last week. The office was also recognised as the Best Corporate Workplace in the UK, joining a list of six other award winners recognised for excellence in office space. The full list of winners was:
'Best of the Best' & Corporate Workplace: The Enterprise Centre, University of East Anglia, Norwich
Commercial Workplace: The Leadenhall Building, London
Refurbished/Recycled Workplace: Alphabeta, London
Fit Out of Workplace: Berghaus HQ, Sunderland
Project up to 2,000sq.m: Bunker, Littlewoods Complex, Liverpool
Test of Time: BBC North, Salford
Innovation: LandRover BAR Team HQ, Portsmouth
The BCO's National Awards programme recognises office design with around 1,400 of the country's top designers, developers, architects and occupiers, who won their category in the 2016 Regional Awards programme, attending a gala dinner hoping to take home the National Award for their category.
The University of East Anglia's The Enterprise Centre was praised by judges for showcasing low carbon and sustainable design at its best. Judges commented that the workplace offered a wide range of highly flexible accommodation with incubation and collaborative spaces for new and developing businesses in a building equipped to deliver for the 21st century.
The capital was also victorious with London workplaces winning two awards. The judges commented that The Leadenhall Building holds its own in the London's 'City Cluster' with its striking form the result of the elegant resolution of a myriad of issues, whilst the restoring and reformatting of a series of historic buildings to create Alphabeta has created an active and vibrant communal "village".
Outside of London, Sunderland's Berghaus HQ was praised for strongly reflecting the brand's ethos of 'live for adventure' through impressive solutions such as the sky rail and climbing rope staircase, whilst the flexibility of space offered by The Bunker in Liverpool impressed the judges, with the open plan floor plate giving the space the potential to be split into two, three or four units on each floor.
Winning the Test of Time award, BBC North was selected by the judges for its quality of design and in-built flexibility, enabling quality content to be consistently produced as occupier numbers steadily increased. Finally, Portsmouth's LandRover BAR Team HQ was awarded for innovation due to its highly sustainable and energy efficient design coupled with an incorporation of impressive facilities such as F1 style meeting rooms and a state-of-the art gym.
Emma Crawford, Managing Director of Central London Leasing at CBRE and BCO National Awards Chair, said: "This year we have once again seen a fantastic range of diverse and innovative workplaces, highlighting Britain's position at the forefront of the global office sector. The Enterprise Centre stands tall as both a dynamic and collaborative work and event space, and as a benchmark in sustainable design."
Picture: Alphabeta
Article written by Cathryn Ellis | Published 12 October 2016
Share
---
---