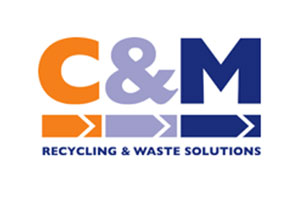 We are a group of Waste Industry Professionals, who, if pushed would admit to having in excess of 100 years collective experience in various aspects of the industry.
What we can do - Offer one stop solutions for your all waste problems, be it advising, assessing, sourcing, implementing, managing, providing reports, or continuously innovating and improving. In short we remove your waste problems.

What we are doing - We are managing everything from one off hazardous waste jobs, through to the larger ongoing projects. Examples of accounts managed by C&M include O2, Visa, ASDA, WorldPay, Euro Tunnel, Addleshaw Goddard, Citi Bank, Covidien, HP and Ashford Borough Council.

How we do it - Each project is initially assessed by a C&M Director and a dedicated Account Manager. A comprehensive proposal is submitted to the client for evaluation and discussion. Once a final proposal has been agreed and accepted, the C&M Account Manager implements a rollout plan to meet the requirements of the individual sites involved. This includes liaising with the outgoing supplier/contractor to ensure as seamless and as professional a transition as possible. We expect the occasional problem at this early stage and our Account Managers have the in depth industry experience to minimise and manage these glitches as and if they occur – we live in the real world!

Benefits - Your staff retains control of the overall account operation, but uses a single point of contact for any waste related issues. We supply monthly reports, tailored to the individual needs of the particular account. We co-ordinate and collate all legislative paperwork on your behalf, including Duty of Care documentation, Licenses and insurance certificates. We also audit all contractors to ensure they are compliant and competent, prior to engagement. In short, our services are designed to minimise your input whilst maximising your results.

Process - For your convenience and to avoid confusion we can provide a dedicated email address if required, (e.g. Example@C-
MWM.Com) where all ad-hoc work would be processed, this email address would also be your conduit for enquiries and to secure advice from our dedicated Customer services team. If you require we can use order numbers for all tasks outside of the contract schedule. We recommend a schedule of authorised personnel be established so as to guarantee rapid response should it be required.

Site Surveys - C&M Waste Management would carry out in depth surveys at each site that would include all services that are carried out at each location where required. During these visits a part of the survey would include discussions with the onsite staff on the way that they carry out their waste and recycling movements on site and their frustrations that incur on a daily basis. Using this information we are able to remove any anxieties that they may have been dealing with and to make them feel comfortable with a change of contractors.

Client liaison - Following site surveys, meetings will be held with client site management to introduce our dedicated account managers and establish points of contact. C&M Waste Management believe that client contact is a very important part of the process in taking the client through prospective changes and getting them to buy in on any initiatives that may be proposed.

Recommendations - Following on, we will recommend practices and methods most suitable to your unique requirements and aspirations. We will recommend solutions to satisfy your requirement and progress towards a total waste management solution.

Environmental Reporting - There is no doubt your management will be anxious to see the results of your waste reduction and recycling activities. To satisfy this need we shall provide monthly reports giving precise performance measures in accordance with your requirement and generally based on our experience with clients such as O2, bespoke reports will be reviewed regularly in agreement with your site management and amended as required. In any event we will continue the adopted practice of diverting waste from landfill and look for further innovations in the future which will enhance the service offering.

Integrated Waste Management - C&M Waste Management is known for its pro-active approach to recycling and total waste management solutions with an enviable reputation for reducing dependence on others. Therefore we should like to look into training on site staff for the sole purpose of increasing the efficiency of your recycling activities.

Hazardous Waste - This particular waste stream is a heavily controlled area receiving the close attention of the Environmental Agency. All hazardous waste has to be disposed of at designated disposal locations which are not always close to the producing operational site, however once full site surveys are carried, out which we will need to be able to produce full product description including EWC codes, we will be in a better position to cost this particular item.

In Conclusion, C&M Waste Management provide the complete solution. With dedicated account managers overseeing your waste and recycling activities, training and motivating your staff we assume full control of your waste streams thereby giving Client complete confidence in their overall environmental objectives.
Visit Us Online And Learn More.
---
Share