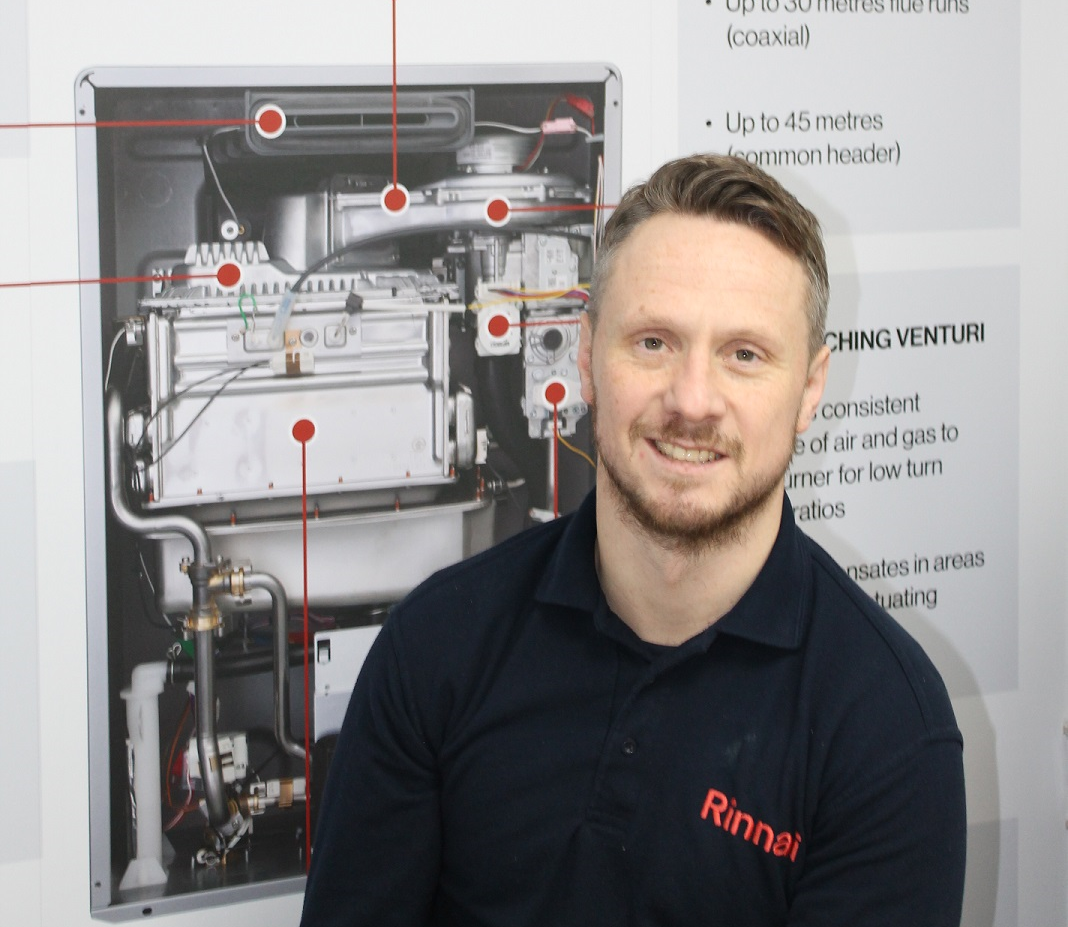 Chris Goggin of Rinnai UK looks at future energy sources with an appraisal of the use of Hydrogen and the modern-day requirement for sustainable, affordable, industrial and domestic energy consumption.
A third of UK emissions are fuelled by heating, and 21% of that heat emanates from hot water, space heating and cooling. (Department of Business, Energy and Industrial Strategy 2018)
Recent UK Government legislation, in force from 2019, targets national decarbonisation by 2050 and a much publicised 10-point plan – in the report entitled: "Powering our Net Zero Future" - introduces the unprecedented changes to energy networks and consumer product requirements.
It is therefore important to understand the available options in current and future energy usage, especially in related domestic appliances such as those for heating & hot water systems. Decarbonizing the current energy network over the next 30 years will replace fossil fuels with clean technology, powered by purer sources of energy, such as: renewables, Hydrogen and nuclear energy.
Improving Infrastructure
UK buildings are made up of a mix of infrastructural and structural practises that lack synchronicity, meaning that one single unifying solution to cleaner energy distribution and consumption is unlikely. As a response, it is likely that with the deployment of Hydrogen, wider electrification and heat networks will become national standard practise.
The use of Hydrogen is an area undoubtedly gaining traction in the energy conversion discussion. Approximately 85% of the UK's building stock connects directly to the gas grid. Utilizing infrastructure capable of transporting 100% Hydrogen means that a complete industrial and domestic conversion is entirely feasible when deploying greener gases to UK housing stock and to any other suited buildings.
Hydrogen has cleaner properties when compared to any carbon-based fuels. And it could be directly at the forefront of creating the required significant and sustainable reductions in carbon emissions - and help in containing the huge scale of investment in low carbon infrastructure needed to keep domestic fuel to affordable levels.
As of January 2020, already over £170m of government funding has been applied to UK Research and Innovation. Much of this funding will be spent on an industrial de-carbonisation programme intent on establishing clusters of low carbon businesses across the North West.
Nationwide Hydrogen Strategy
The Government is also likely to announce its new Hydrogen strategy in early 2021 which will accelerate the deployment within the grid network and the UK housing stock, although blending of natural gas and Hydrogen is not expected to be introduced until 2025. It would make for common sense to install high-performance condensing-style gas-fired appliances which are capable of conversion to Hydrogen and the energy network of the future.
Many on-grid commercial buildings are reliant on natural gas. Despite green recovery forming a large part of the government COVID economic bounce back plan, many buildings will still be reliant on natural gas for up to a decade; it would, therefore, be responsible for the frugal and considered use of well documented diminishing energy supplies without creating excessive and unnecessary costs.
Replacing and designing plant with products capable of dealing with future gas blends today, whilst also delivering high levels of energy efficiency and reduced carbon through modulation and temperature control, should be considered a cost effective and smart investment for the future.
Investing for the Future, Today
The investment today for the future is also about consumption. Heating and hot water system efficiency in all housing stock and industries is critical to the delivery of the decarbonised horizon. From NHS Healthcare to Care Homes to food production, hot water, especially, is critical and yet sometimes overlooked. It is simply a basic of modern life; it is integral to how we live. The ability to control hot water temperature accurately and precisely at all times is now critically vital. This capability allows pre-emptive action – where hot water can be a thermal disinfectant - to avoid any issues which, arise from poor hygiene or ambitious bacteria.
More detail in the importance of hot water temperature control is examined in a paper written for the CIBSE Journal entitled: "Taking the Temperature – Domestic Hot Water." Attention focuses on the potential of reducing Carbon and providing contemporary, safer low energy solutions, by concentrating more on temperature and revising guidance (CIBSE, 2020).
Table 1 below shows a comparative analysis of a continuous flow and storage water heater. The data clearly states that the storage tank is less efficient in its energy consumption and performance. After replacement costs, a continuous flow hot water heater is the environmentally cleaner, cheaper and more efficient option when considering delivery of controlled water temperature.
The most important feature when thinking of temperature control and continuous flow hot water systems is the ability to provide a constant hot water temperature of up to +1 degrees centigrade.
It is clear to see that implementing temperature precision and control in the specification and installation of hot water systems is vital particularly in the current pandemic and aftermath. Providing water hot enough to combat Legionella and thermally disinfect laundry but at a low enough temperature to prevent scalding will be of practical importance to a wide range of applications in all domestic and industrial sites. Continuous flow, implemented at the design stage, can side-step a plethora of issues and engineered entirely out of the equation.
Rinnai is the world's leading manufacturer of continuous flow hot water systems - it makes and sells 2 million units each year. The range of units can be manifolded to supply, limitless hot water to any site of any size. This means fast, efficient, temperature-controlled water on demand at the point of delivery – kitchens, showers, accommodation blocks, bathrooms, washrooms. It also means far less space spent on plant rooms and no or little maintenance as all units are proven to be robust with a long, long working life.
Facility managers can contact the company direct in gaining access to the supply of units:
Call 01928 531 870 or email sales@rinnaiuk.com – or engineer@rinnaiuk.com.
Alternatively use the smart online contact points
"Help Me Choose" or "Ask Us a Question"
all held on the website homepage at www.rinnaiuk.com.
The end-user, site manager or owners simply visit the www.rinnaiuk.com website for instant assistance on easily and quickly choosing the right products to deliver fuel, energy, and environmentally efficient hot water, reliably and constantly.