Pinnacle Elevators Ltd was formed in January 2013 and established to provide the very highest levels of service and customer communication which have been lacking within the lift industry for many years.
The aim of the business is to work flexibly with our client's and to integrate seamlessly into their practices.
We provide regular planned preventative maintenance to minimalise the chances of any breakdowns which are backed by our 24 hour, 7 days a week call out response; so that we can rectify any potential issues as soon as they arise.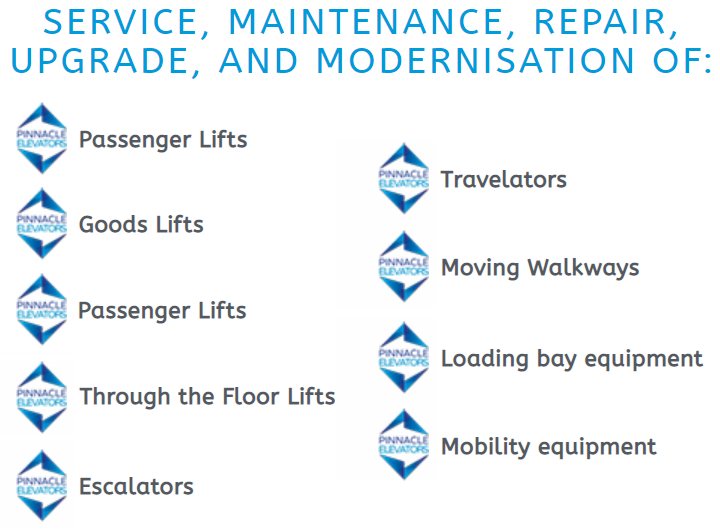 Pinnacle Elevators is committed to meeting your needs and as a result, the majority of our business is from repeat custom and referrals. From the outset of any project, be it a simple one-off task or a large, multi-site contract, our team will ensure that operational procedures and clear communication lines are embedded.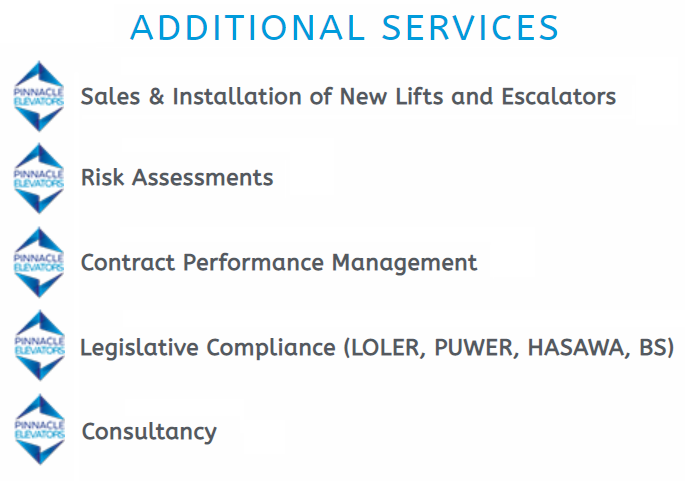 We have access to 60+ engineers across the UK and each engineer is qualified to minimum NVQ3 in lifts, with two of our staff currently undertaking level 4. All but one of Pinnacles employees have in excess of 15 years experience in the capacity of maintenance and managerial working for some of the large lift companies. One full time technician with excellent pedigree has worked in this capacity and at senior levels within the lift industry for almost 20 years, his key responsibility is reduce the number of call-outs to lifts and to eliminate 'repeat call outs'
Combining skilled engineers with access to live information to manage workflow from beginning to end, we track the entire project. We engage in continual management and benchmarking to ensure the highest levels of service and reporting in line with service level agreements.
Effective communication is the key to our service delivery, and keeping our clients fully informed at all times enables seamless service.

Over 90% of our service business comes from referrals and recommendation.
We are conversant and experienced on all lift types and manufacture and have a vast library of technical information and service tools relating to all modern lifts and many obsolete systems. We have a number of accredited suppliers and can obtain parts on next day availability. In addition to this we do carry stock of 'common' products to enable rapid response to breakdowns due component failure. These are held within our central stores in Leeds which is accessible 24 hours a day.
During our tenure on 'every' site that we maintain, we have actively reduced the number of call-outs/breakdowns of these lifts, something which we take great pride in achieving.
---
Share