Promotional Item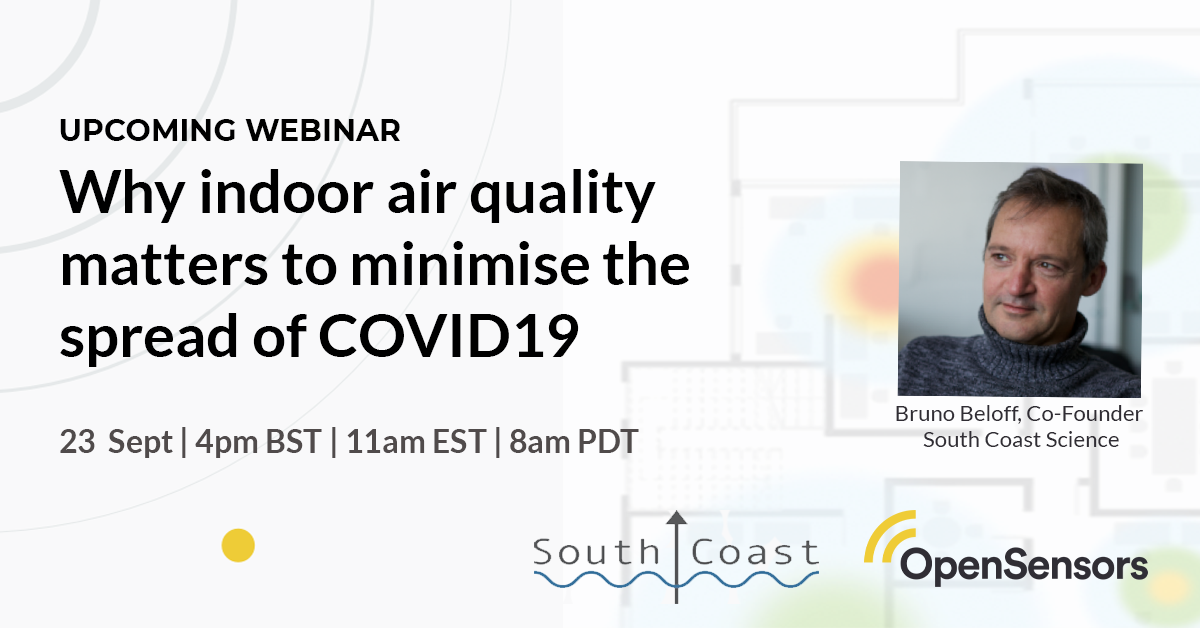 Leverage air quality data to minimise the spread of COVID19

Monitoring indoor air quality can help minimise the spread of COVID19.
Recent research has indicated that air pollution could heighten the transmission of COVID19. It's therefore critical that organisations monitor and manage the indoor air quality of office buildings as employees return to work.
Particulates in the air, especially where air pollution is high or in poorly ventilated areas, can increase the rate of transmission. Research conducted in April 2020 by Harvard University, found that 'an increase of just 1 microgram of particulate matter per cubic metre corresponded to a 15% increase in COVID19 deaths'.

What standards are you benchmarking to ensure a safe place to work in?
As employees return to the office, it's highly critical indoor air quality should be included as part of deep cleaning plans and closely monitored to minimise the likely spread COVID19 spread.
Join us in this webinar with Bruno Beloff, Co-founder of South Coast Science to explore what indoor air conditions to monitor and how to optimise HVAC systems to ensure a safe place for employees to work in.

This webinar will cover:
- How to get a handle on air quality in your office buildings
- How to optimise the use of HVAC systems efficiently
- Get an understanding of correct levels of humidity, CO2 and temperature to maintain in offices
- How to minimise the risk of a virus spread
---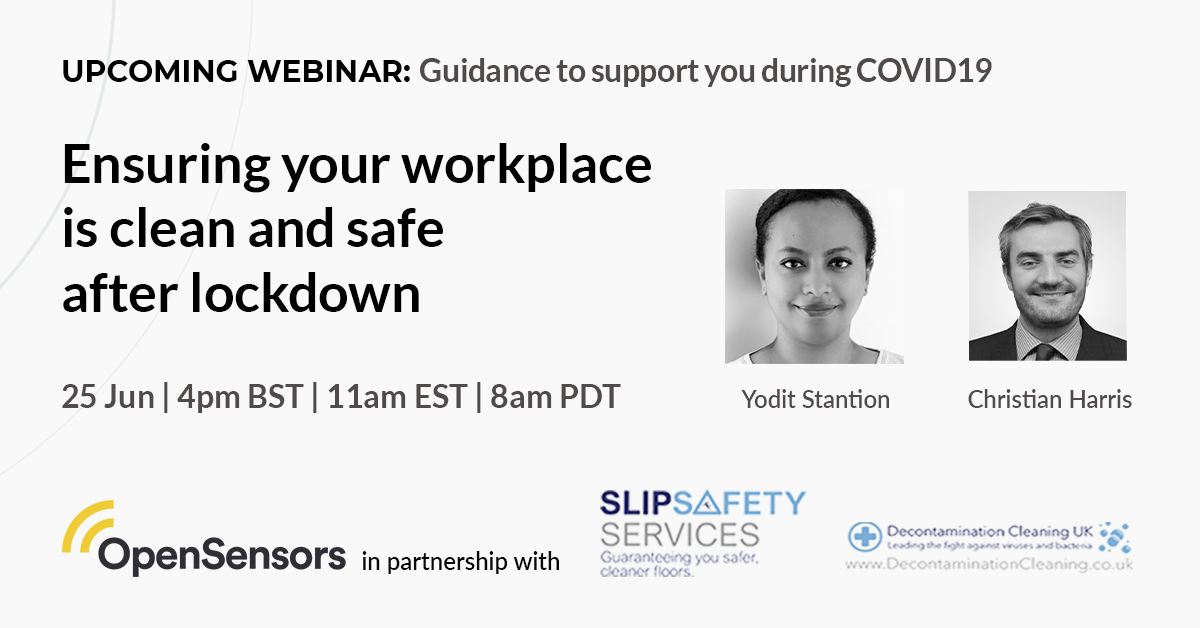 Ensuring your workplace is clean and safe after lockdown

Do you know what cleanliness and hygiene standards you need to adhere to in the post COVID world?
Most organisations are now preparing back to work strategies to reopen office buildings, including enhanced cleaning and hygiene practices to make it safe for employees to return.
A key challenge faced by Facilities teams and building owners is knowing what level of cleaning standards are required as a result of COVID. Many suppliers are suggesting COVID deep cleaning services, yet much of their advice flies in the face of WHO and Governmental standards.

Join us in this webinar to
Understand what cleaning standards to achieve and maintain post COVID
Dispel inaccurate information around COVID cleaning
Explore how to test if your office building is truly clean and safe
---
Workplace optimisation best practices

Facilities management have a huge opportunity to influence decision making at c-suite level using space utilisation data to drive those conversations.
Office space optimisation is set to be top priority for many global brands in 2020 and will feature heavily in top level strategies.

Understand how utilisation data can inform your space planning decisions

Monitoring real time space occupancy and utilisation data will be key for facilities teams to effectively forecast and plan space capacity. From understanding the busiest days of the week to repeatedly underused desk space, will help improve space planning processes, as well as help you make informed decisions on real estate investment.
Sign up and strengthen your space utilisation knowledge:
- Get practical tips on how to use data to identify opportunities to optimise your office space
- How to get started with measuring workplace occupancy
- Leverage data to make space planning decisions
- Learn how to turn data into tangible solutions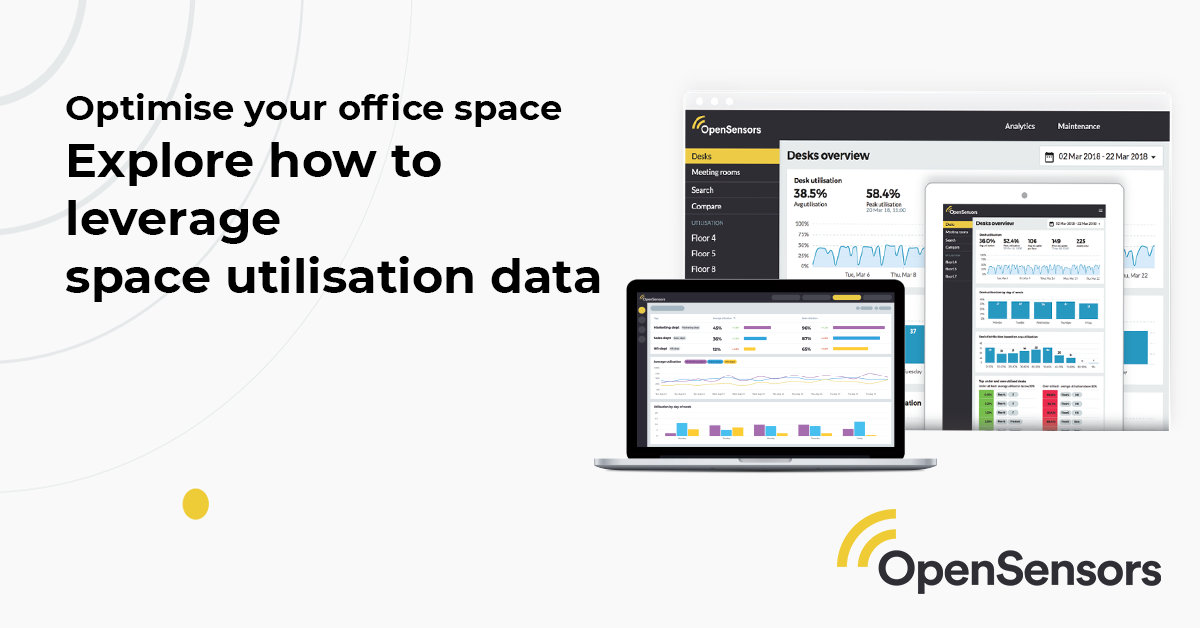 ---

Best Practice In Using Sensors To Measure Workspace Occupancy

OpenSensors has produced a best practice guide that discusses how to solve the space utilisation challenge with technology.
The guide explores the key buying decisions when integrating workspace occupancy technology and covers everything from types of space utilisation sensors, key metrics to monitor and how to get started on a project.
The task of ensuring available space by monitoring desk and meeting room utilisation has been a logistical challenge for many facility and real estate teams. The advent of new low power wireless connectivity and the unobtrusive GDPR compliant occupancy sensors that are replacing cumbersome manual tactics to solve this problem are also covered in the OpenSensors' best practice guide.
To download the best practice guide - Click Here