Getting to the route cause of common complaints of 'not enough meeting rooms' whether due to no shows, inappropriate use of booking software or simply because there aren't enough meeting rooms available, are often the common challenges facilities management teams face.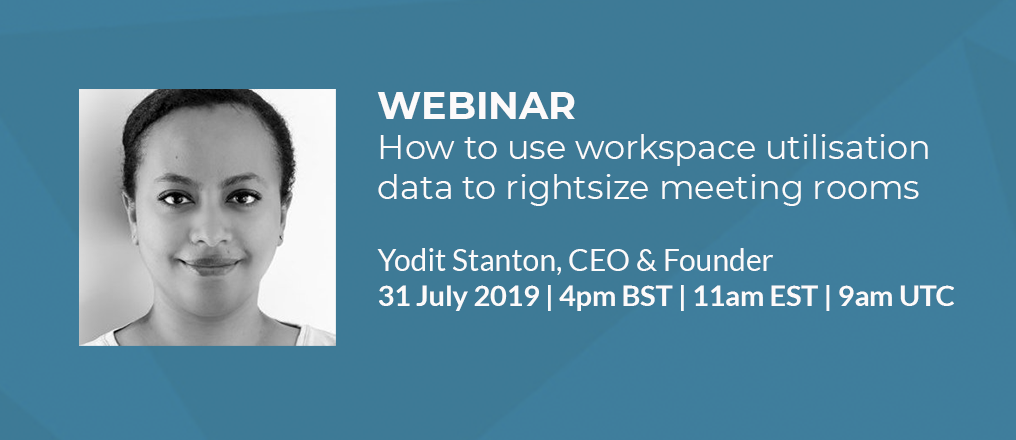 Leveraging meeting room occupancy and footfall data can quickly help facility or corporate real estate teams understand whether their meeting rooms are right sized, fit for purpose, regularly used and can inform redesign projects.
Buildings are the 2nd largest cost for any organisation and the increasing need to find effective ways to reduce carbon footprint whilst optimising the current use of workspaces has become a high priority.

Join us in this webinar to:
- Explore how to decipher meeting room occupancy and footfall data
- Learn how to use data to create right size meeting rooms
- Understand the positive impacts to employee productivity with improved workspaces

Save the date Date:
31 July 2019 | 4pm BST | 11am EST | 9am UTC
Duration: 30 minutes
Presenter: Yodit Stanton, CEO & Founder at OpenSensors

About Yodit Stanton:
Yodit has designed and built large scale data systems for various sectors and has played a key role in leading development teams to run critical trading and machine learning infrastructure for FTSE500 companies such as Deutsche Bank, Man Investments, Nomura and Lehman Brothers.
With over two decades of experience as a Data and Machine Learning Engineer, Yodit specialises in predictive modelling for real time systems, social network analysis and middleware development.
---
Share
---