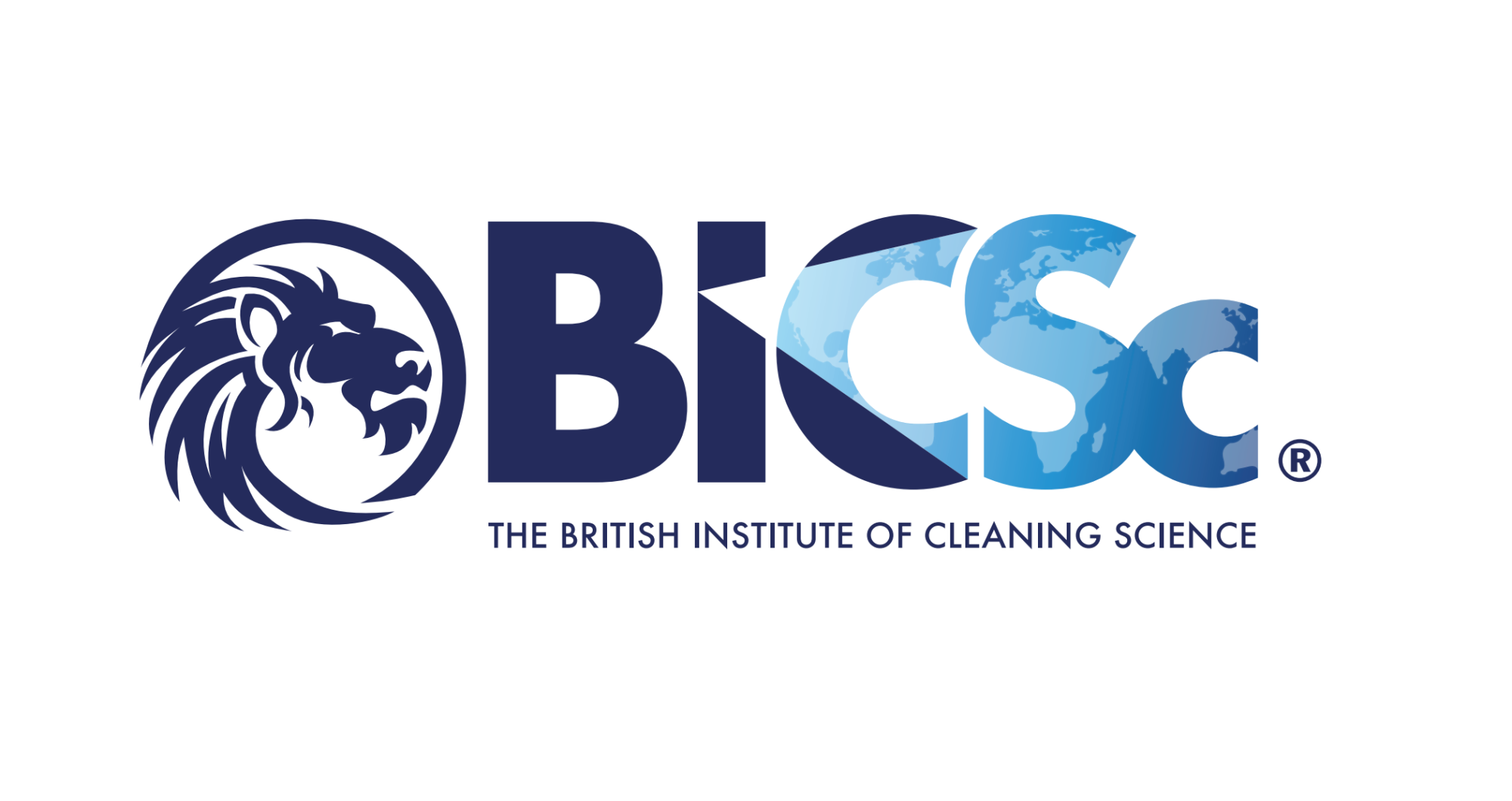 Latest News
---
BICSc Classroom Cleaning School Stars
Dozens of children were awarded certificates from BICSc (the British Institute of Cleaning Science) after a visit to St Andrew's Primary School in Northampton.
The team from BICSc were invited to the school to give talks to pupils of all ages about the science behind cleaning.
The BICSc team were invited to the school as part of Science Week to talk to pupils about how science plays a key part in the role of cleaning operatives and the vital work they do.
Kelsey Hargreaves, Technical Specialist at BICSc, was joined by Business Development Manager, Samantha Willson, to host talks to pupils aged four to 10 years old.
The dynamic duo tailored talks to the different age groups and created fun and exciting interactive tasks to help the children learn more about cleaning science and the industry.
Kelsey, who is also an ambassador for Kettering-based Youth Employment UK, is an ardent advocate of encouraging young people to consider careers within the professional cleaning community.
Kelsey said: "It was a fantastic day and we enjoyed working with the pupils of all ages. The school had invited us to talk to the children to help them learn about how science is involved in the professional cleaning industry.
"We did interactive sessions with the younger and older pupils including a hand hygiene course with 45 four and five-year-olds, which was great fun. When it came to the older pupils, we staged sessions as an introduction to cleaning science. We focused on handwashing with the younger children using a light box, so they could see the germs on their hands, which helped to create an interactive element and they loved it."
"With the older pupils we talked about the spreading of contamination, about cleaning effectively, and the opportunities within the wider industry. They were fascinated to learn that there is a lot of science behind cleaning and how it helps to keep people safe."
Following the visit St Andrew's Primary School teacher Ben Harvey said: "Thank you so much… the teachers really thought the session went well and the kids really enjoyed themselves."
All participating pupils were awarded with their own BICSc branded specially created certificates covering an Introduction to Hand Hygiene and an Introduction to Cleaning Science.
Following the successful school visit BICSc is hoping to host further education outreach sessions to help raise awareness about the cleaning industry. Northampton-based BICSc is the largest independent, professional and educational body within the cleaning industry, with over 57,000 individual and corporate members worldwide.
---
Leadership Changes Announced at BICSc
The British Institute of Cleaning Science (BICSc) announced the organisation's Group CEO, Stan Atkins, will be stepping back from the Institute at the end of June 2023.
Current Chief Operating Officer, Neil Spencer-Cook, who has worked at the Institute for several years, has been appointed the position of Group Managing Director and will take up the role of leading BICSc from 3rd July 2023.
Stan led the Institute for over 15 years, maintaining BICSc reputation as the cleaning industry's go to organisation for membership, standards and training. During his tenure, BICSc Training and Services Ltd. was established to fulfil training requirements both in-house and externally, ensuring the consistent teaching and application of BICSc standards.
He also oversaw the implementation of many other key BICSc achievements, including the regular review of CPSS, the assessor's app, the BICSc training centre, the virtual training suite and, at this year's Cleaning Show, the official launch of the new BICSc Cleaning and Hygiene Audit app. He also oversaw BICSc first international engagements.
Neil Spencer-Cook, incoming Group Managing Director, said: "I am honoured to accept the role of Group MD. I will pick up the baton from Stan and continue to move forward with BICSc, ensuring that we remain prominent within the industry and offer our members good value and insightful information. We will continue growing the offering of skills training for cleaning operatives and supervisors, and other soft services-specific courses and workshops."
The Institute also confirmed that BICSc Chairman, Lorraine Davis, will come to the end of her tenure as Chair in September 2023. Lorraine's tenure lasted a year longer than normal due to the pandemic, and she has been instrumental in guiding BICSc through the lockdown period and beyond.
Soo Bartholomew, of Birkin Group, has been nominated by Council to replace Lorraine in September. Neil welcomed her appointment: "Soo is a long-time promoter of BICSc and its benefits. We are looking forward to her input into the future of BICSc and building a close working relationship."
He also reassured members that the latest developments will not impact BICSc service offerings adding: "The Council and the team members here at BICSc would like to thank both Stan and Lorraine for everything they have done for the institute during their time in post and wish them all the best for the future. This should be a seamless transfer process. Indeed, we hope to offer more industry focused services and look forward to the new Council members offering fresh guidance and strategic direction."
For more information go to www.bics.org.uk
---
BICSc Announce Audit App Official Launch
The British Institute of Cleaning Science (BICSc) has announced the official launch of its pioneering audit app set to revolutionise the professional cleaning sector.
The industry-leading institute revealed the ground-breaking BICSc Cleaning & Hygiene Audit App is now live and available for the first time to the public, following months of development and rigorous testing, with the official unveiling of the app taking place at the Cleaning Show in London in March.
In addition to a cleaning inspection, the state-of-the-art app audit also focuses on an in-depth check of processes, systems, paperwork and policies as well as being the first app specifically built for soft services.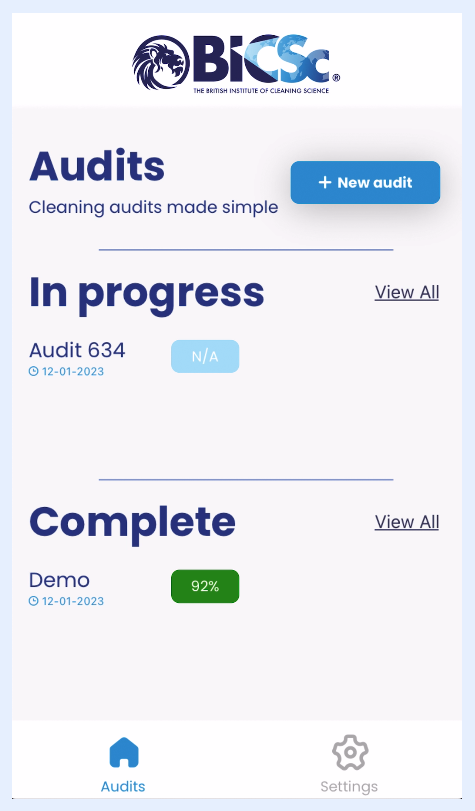 As technological developments within the cleaning community continue to help drive professional standards, BICSc will formally launch its innovative app at the Cleaning Show where the experts from BICSc will share industry insights and knowledge on the latest issues within the sector.
Neil Spencer-Cook, Chief Operating Officer at BICSc, said: "We are delighted to be able to announce the new BICSc Cleaning & Hygiene Audit app is now available and we are extremely excited to be able to share the app with the professional cleaning community.
"We are particularly proud this pioneering app is the first specifically built for soft services. Due to its extensive adaptability and agility, it will be an asset to businesses and organisations operating within the professional cleaning industry. It is the perfect tool which will prove invaluable in helping to transform and improve standards within the cleaning community, and demonstrates how BICSc continues to innovate and strive for raising standards across the industry."
BICSc highlighted how audits are increasingly becoming a popular way to monitor cleaning standards, providing an in-depth report on service delivery, which is beneficial to both client and contractor. The institute also revealed in facilities, where audits are carried out regularly, it is proven that the quality of the cleaning improves and this frequently leads to the start of a cycle of continuing increased standards.
Neil Spencer-Cook added: "To demonstrate how the BICSc Cleaning & Hygiene Audit App is ideal for the workplace we have also launched access to our free online app training course which outlines the benefits of an audit and takes an in-depth look at the app in action."
The BICSc team will be at stand B21 at The Cleaning Show at ExCel, London from 14 – 16 March 2023.
For more information go to www.bics.org.uk
---
BICSc Annual Awards 2022 Winners Revealed
Outstanding achievements and standards of excellence within the professional cleaning industry were celebrated and recognised at the 2022 British Institute of Cleaning Science (BICSc) Annual Awards.
Celebrating the exceptional standards and leading lights of the global cleaning community were guests from across the industry who attended the glamorous black tie event, which was staged at The Forest of Arden Hotel & Country Club.
Widely regarded as one of the industry's leading annual awards events, the prestigious evening was hosted by TV presenter and former England international rugby player Martin Bayfield.
Big-hearted guests at the event once again helped to raise hundreds of pounds for the chairman's chosen charity, Dementia UK.
The 2022 BICSc Annual Award Winners
The Chairman's Award – Mike Fletcher
The Eric Hill Award – Colm McGrath
The BICSc International Award – Andrea Yoko
Commitment to BICSc Training within Healthcare – 2gether Support Solutions Limited
Commitment to BICSc Training within Education – University of York
Commitment to BICSc Training within Daily Commercial Cleaning – Principle Cleaning Services Limited
Outstanding Corporate Member of the Year – University of Northampton
Excellence in Training & Assessment UK – Vinci Facilities
Excellence in Training & Assessment (International) – Emrill Services LLC
Assessor of the Year – Tina Memory, London Borough of Hounslow
Outstanding Client Commitment by a Cleaning Operative - Donna Harris, University of Northampton
Outstanding Candidate of the Year – Rhys Goodard, Vinci Facilities
---
Thousands Sign Up for BICSc New Industry Leading Online Offering
Business leaders at BICSc (British Institute of Cleaning Science) are celebrating the phenomenal success of its recently launched BICSc Business Services Virtual Training Suite, which has seen an unprecedented number of candidates register to participate. Read more ...
BICSc Reveals Revolutionary Rebrand
With more than 45,000 individual and corporate members worldwide, the pioneering organisation has introduced its dynamic, dramatic rebrand, officially revealed for the first time. Read more ...
Roaring Success of BICSc Annual Awards
The exceptional efforts of leading lights from the professional cleaning industry were in the spotlight at the recent British Institute of Cleaning Science (BICSc) Annual Awards, which recognises industry excellence. Read more ...
BICSc Experts Share Latest Industry Insights at Interclean Amsterdam 2022
The industry-leading organisation exhibited at Interclean Amsterdam from 10 – 13 May 2022 where experienced experts from BICSc shared the latest industry insights and developments, including the rapid uptake in online courses. Read more ...
---
About Us

Founded in 1961, and with 59 years of experience and a global remit, The British Institute of Cleaning Science (BICSc) delivers practical, hands-on training courses, technical support and professional membership for the cleaning industry worldwide.
BICSc's membership includes over 45,000 Individual and Corporate members making it one of the largest and most diverse communities of cleaning professionals.
The company's mission is to raise awareness and standards for the cleaning industry through education and accredited training thereby; protecting the operative, providing a clean and safe environment, preserving assets, promoting sustainability and producing best practice. They aim to raise the standards of education and to build awareness of the cleaning industry through professional standards and accredited training, thereby;
Protecting the operative
Providing a clean and safe environment
Preserving assets
Promoting sustainability
Producing best practice

Professional Membership Options

Whether you're new to the industry or a seasoned professional, find out everything you need to know about BICSc Membership in their membership brochure and see a full list of the benefits you can recieve.

Individual Membership

Gain recognition for your skills and receive support to develop your career in the cleaning industry.
| | | |
| --- | --- | --- |
| | | |
| | | |

More About Individual Membership

Corporate Membership

Utilise BICSc benefits and offers for your company whilst supporting the BICSc mission statement and values. Corporate Membership is available to any company that has been trading for at least 12 months. Membership varies in cost dependant upon your annual turnover. You can obtain membership at a more cost effective rate if you are a franchise – or perhaps you are not directly connected to the cleaning industry but would like to support us and our mission. In that case you can become an Advocate of BICSc and receive Corporate Membership along with all of its benefits.

More About Corporate Membership

Accredited Training Membership

Our Accredited Training Membership shows your commitment to professional standards and allows you to provide accredited training to your employees through your own BICSc Licensed Assessors (LBICSc). Organisations will become BICSc members whilst demonstrating their commitment to BICSc accredited ;training. All Accredited Training Memberships are tailored to suit your organisation. Costs vary on whether you choose to be Static or Roaming and how many Licensed Assessors (LBICSc) you choose to train.

More About Accredited Training Membership

Training

Accredited Training

All BICSc accredited training is managed through BICS Business Services (BBS).
BBS is a leading training provider for the cleaning industry. Our standards combine expert knowledge from highly regarded industry professionals allowing us to deliver accredited training and best practice to the industry.
| | | |
| --- | --- | --- |
| | | |
| | | |

More About Accredited Training

Certificated Training

Cleanlogic™ is a growing collection of supervisory and management Courses and Workshops, developed with BICSc technical knowledge and experience.
CleanlogicTM Courses & Workshops are exclusively delivered by our Trainers and are certificated by BICSc.
| | | |
| --- | --- | --- |
| | | |
| | | |
| | | |

Our Services

Demonstrate your commitment to cleaning excellence with a BICSc Independent Cleaning Quality Inspection (i-CQI).

Special Industry Help & Advice

Our technical minds have a wealth of industry knowledge.
Here are just some of the additional services we offer:
Completion of tender documents
Helping you to get the most out of your cleaning contract
Are your cleaning specifications fit for purpose?
Cleaning operational review
Specialist training and advice
---
Share