9th November 2018
What a week that was...
Got a story for us? Please send news stories & press releases to: grapevine@twinfm.com
---
Death In The Afternoon
When I (your Grapevine columnist this week) was barely 20 and working at the Trafalgar Square end of Whitehall, I stepped out for an afternoon break. It was a little later in the year than we are now - about 4:00pm. The light in the sky was grey. We were approaching Christmas. Throngs of people were buzzing from the West End. The pedestrian crossing from West to East was jammed full - and impatient people would rather make a headlong dash across the road rather than wait for the Green Man's signal.
I heard the thud - loud and hard. I heard the ambulance sirens as they came down St Martin's Lane. I felt the chill, cold sound of the stunned silence of hundreds as they made their way from the scene or collected to console each other.
I heard the ambulance close its doors and drive away. No sirens. There was no need to rush. And I can still hear now the wailing, the absolute ear shattering screams from the dead man's partner as her utter, desolate and sudden grief bounced down one of Britain's most famous streets - echoing off the buildings and those corridors of power.
---
If You Don't Know How To Do It, I'll Show You How To Walk The Dog
I'll come to the reasoning for the first entry above in a mo - but first let me share another image with you. Driving from home to take the car for its MOT, I came past the local park. On the pavement a scene to behold. A man in green wellies, Barbour and cap and with a long rope (a keen dog walker I surmised) with mobile in both hands and cutie canine tied securely to his waist. Doggy was clearly being exercised as was Facebook and texts. No harm came to man nor beast.
---
No Need To Run
So on Thursday morning I approached the ThisWeekinFM and Haven Power breakfast briefing held at the Museum of London (and what a humdinger of a morning that turned out to be - a full report on the main site next week). I came to the junction of Aldersgate Street and the iconic roundabout that many think the Museum stands on. From the picture you will see, it is a high wall and traffic whips around it like five-nines. The young man standing next to me (on my left) ran straight at the machine guns of cars, buses and taxis; made it across no man's land and on down London Wall. He'll live (perhaps) but some of his pals will not be so lucky.
To my right was a young lady obsessed by the device in her hand. Curiously, she was not about to risk her life in that same mad-cap dash whilst manipulating her phone...no she was about to take her life in her hands focused intently on her Rubik's Cube.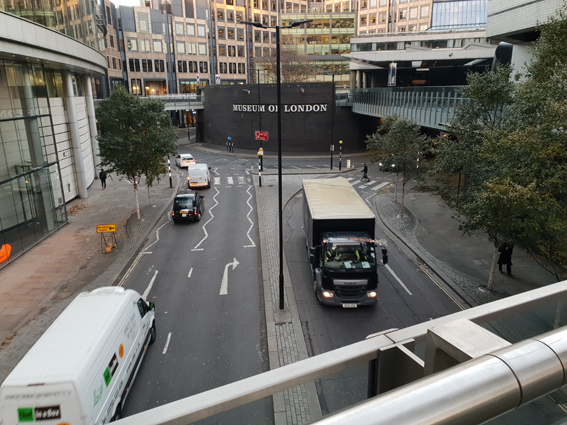 ---
Dulce Et Decorum Est
And so to the point. To year June 2017, 1,710 were killed on our roads and 176,500 injured. If you think it is right and proper - regardless of whether you have any responsibility or not for people arriving and leaving their place of work unharmed - please send an email (copy any text you like from here). Tell all the staff you engage with to BLOODY WELL STOP IT! Stop risking your lives by playing on the roads. Put your phone away on the streets. Pay attention. Use the Green Cross Code - and the crossings, Zebras, subways and bridges provided. Don't be a statistic. And don't risk being another grief-filled echo.
---
Charity Fundraiser – Royal London Hospital Trauma Unit
Parents Against Knife Crime
A sad case affecting one of our own - here is a hugely summarised letter from a facilities manager in our community.
A Parents Against Knife Crime charity fundraiser to support the valuable work, research and development of The Royal London Trauma Unit will be held on Saturday 24th November 2018 and we would be very grateful for any assistance and support that you may be able to provide.
The evening will include a 3-course meal, entertainment, a raffle, charity auction and dancing. Sponsorship Packages are also available. We are looking for additional raffle prizes. For Cash Donations - Click Here www.justgiving.com/fundraising/parentsagainstknifecrime
The Letter
On the 15th March 2018, our 18-year old son was travelling back home.
He is a great student with a passion for football - he hopes to turn professional and so trains hard all week. He works on Saturday morning and referees on a Sunday.
He left our local station after returning from college and football training at 5:20pm. He was heading towards his car to return home. A group of five youths randomly walked across the road and stabbed my son in his abdomen. This act left him critically ill and on life support for 7 weeks - if he had not been so fit, there may have been a different outcome.
Knife crime continues to plague our society.
Whilst at the hospital, we became acutely aware that sometimes there was a lack of resources and equipment. We want to contribute and so my family and friends have decided to raise funds for equipment and research specifically for the trauma unit.
Please contact committee members via email address pakcbarts@gmail.com to confirm your attendance and/or intention to sponsor our event.
---
Half Baked
Whilst looking for more information about Zurich's new flagship Supplier Accreditation Scheme (see main website News for details) I noticed that the insurer was warning that cooking related fires soared 183 per cent during the recent series of the Great British Bake Off.
Accidental damage claims in the kitchen also rose by 12% during the period. With an average claim of over £8,000 for cooking blazes and £900 for accidental damages.
With wooden spoons catching fire on the hob and even people falling asleep with something in the oven are all reasons why budding bakers claimed. You can see why Zurich would like you to pass on the following tips:
1. Never leave your cooking unattended and ensure someone always has an eye on your rising bakes.
2. Check that the hob and cooker are fully turned off after use and avoid burnt buns.
3. Keep tea towels and cloths a safe distance away from the cooker
4. Clean off fat and grease from the hob – which can spark a fire.
5. If a pan catches fire don't try and tackle the blaze yourself or move the pan - turn off the heat if you can do so safely; get everyone out of the room, shut the door and call 999.
---
See The Sites
There were some really interesting stories on the main ThisWeekinFM website by the time we got to 11:am on Friday November 9. I won't mention them all here - if you haven't done so already, go and have a look for yourself.
One that did catch my eye is about the introduction of 5G mobile networks and their ability to replace cable broadband. Figures quoted say the average UK mobile subscriber could consume as much as 18GB of data per month by 2021. To meet even current demand, Three UK, O2 and SSE Enterprise Telecoms have formed a fibre agreement for 4G and 5G deployment by connecting cell sites and masts through Thames Water's waste water network.
---
We Didn't Cover This - PFM Awards 2018
In an unusual deviation from form, ThisWeekinFM did not cover the 25th PFM Partnership Awards. Although some might consider Premises & Facilities Management magazine a competitor, we think of them as friends and colleagues - especially former PFM editor Jane Fenwick, who came to the Awards as the guest of honour. Here are the Winners:
Partners in Cleaning - Paternoster Square Management with JPC Regent Samsic
Partners in Cleaning – Public Sector -Atalian Servest with Post Office Limited
Partners in Corporate – Private Sector -PTSG Integral Cradles with Skanska
Partners in Corporate – Public Sector - Kier with Imagile at Berrywood Hospital
Partners in Corporate Social Responsibility - Dentons UK and Middle East with Partnerships Matter
Partners in CSR – Public Sector - Wates Smartspace with Twycross Zoo
Partners in Energy Management - 4D Monitoring with Lambert Smith Hampton
Partners in Energy Management – Public Sector - Aspire Defence Services with Defence Infrastructure Organisation
Partners in Expert Services - Assurity Consulting with BNP Paribas Real Estate
Partners in Expert Services – Public Sector - Qwest Services with Cheshire West and Chester Council
Partners in Relocation - Pickfords Business Solutions with Vinci
Partners in Retail - Evolve with Vodafone
Partners in SME - JPC Cleaning Services with Chiswick Park Enjoy-Work
Achievement in Facilities Technology - PTSG
Team Member - Julia Proporowicz, Bluewater Shopping Centre receptionist, Incentive FM
Account Director of the Year - Fiona Stewart, Northumbria University account director, Sodexo
Young Leader of the Year - Kristian Trend, St George's Tower general manager, Student Living by Sodexo
Peter Middup Lifetime Achievement in FM Award - Colin Blair MBE, director of estates and facilities, University of Huddersfield
Overall Winner - Dentons UK and Middle East with Partnerships Matter
---
Youth - Wasted On The Young
We often say that FM (like so many other professions) is an old man's game. But if the law in Europe is changed in accordance with this story Grapevine spotted this week, all that could change.
Dutchman Emile Ratelband wants to knock 20 years off his age claiming to the authorities it will be the same as identifying as being transgender. The 69-year old will become 49 if his local court in rule in his favour in about four weeks time.
Like Mr Ratelband, how about we all take a step back 20 years - maybe more. We youngsters can then set about all manner of projects with renewed gusto - Stannah stairlifts will probably go to the top of our budget lists.
And despite Brexit, I think the government might like the idea - no more upping the pension age (like they did again this week), just make becoming younger compulsory..and scrap retiring altogether!
---
Institute of Workplace & Facilities Management
Next week BIFM becomes IWFM...
---
People Get Ready There's A Train Not Coming
On a journey into London, I heard this recorded message on a train Tannoy. 'Please get ready for the Brighton Mainline Improvement Project starting on...starting on st...st...st starting...starting starting on - then blank. Hope the rail improvement goes better than the announcement.
I looked it up and there will be disruption to services including the Gatwick Express on weekends in November and January before nine consecutive days of disruption in February followed by more disruptions in March and April. For Diary Dates - Click Here
---
The Journey Beyond
The journey in question was again to the Haven Power Breakfast Briefing. I passed this signage outside 100 London Wall. I guess they must get very annoyed at the number of people who scale their escalator to first floor reception only to be sent packing back down, round the corner and up the stairs (or to the lift). Exterior signage in this industry really does not seem to have moved on - the Museum of London where I was going is a great venue but accessing the place is a nightmare.
---
Smart Building - What A Hole
On the subject of nightmares - the Barbican Centre. After Haven, I headed to the Smart Buildings Show. Great event (full of technology rather than suppliers and installers) and well done to our friends at organiser Turret Group...but the Centre? Fancy running the Smart Buildings Show at the shabbiest venue in town. Next year it's at Olympia - so no improvement there then.
---
Single-use
Single-use, as in the now FM favourite 'single-use plastic', has been announced as the Collins Dictionary Word of the Year 2018. To help you keep up with the youngsters (who you might soon find are the same age as you), here are some other trendy words to add to your vocabulary.
Contenders include: Backstop - a system that will come into effect if no other arrangement is made; Floss - a dance in which people twist their hips in one direction while swinging their arms in the opposite; Gammon - a person with reactionary views, especially one who supports Brexit; Gaslight - to attempt to manipulate a person by continually presenting them with false information; MeToo - denoting a cultural movement that seeks to expose and eradicate predatory sexual behaviour, especially in the workplace; Plogging - a recreational activity, originating in Sweden, that combines jogging with picking up litter.
---
Appointments
Bryan McLaggan is now MD with Combined Technical Solutions Limited. Western Thermal has appointed John Potts, as New Director to the Board. Thomson FM has put Mark Whittaker in the position of Facilities Management Solutions Consultant. He joined the FM consultancy team from 5th November 2018.
Bartlett Mitchell has created a new People Experience Director role - Lauren Spencer gets the gig. She will be responsible for internal communication and engagement, training delivery methods, team experience, culture/brand protection, recruitment and retention, talent team support, succession planning, and the BM Family Yapster app - if you don't know what that is, ask a genuine youngster.
---
ISS On The Margins
"Our margins are in line with expectations. We continue to increase our focus on key accounts and refine our portfolio in line with the strategy," said CEO Jeff Gravenhorst.
Outlook 2019
---
Balmoral Doesn't Tank
Doing the opposite of tanking, Balmoral Tanks has moved into the services sector with an acquisition. The company has acquired a majority shareholding stake in Water Environmental Treatment (WET) to fast-track its move into the legionella compliance and water industry services market.
---
Getting A Lift
Total Facilities Services has acquired 200 lift maintenance contracts. The deal sees TFS take over the service contracts from December 2018, honouring existing contracts and offering to lock in current prices for the next three years. The lifts are a combination of passenger and goods lifts, mainly in the south of England. They include some high-profile clients with one of Guy Ritchie's London pubs, a number of Embassies and the Ivy Club all included.
---
Tanking On Heritage
Manchester Council is deliberately allowing historical and culturally significant buildings to fall into disrepair or collapse completely to make way for luxury apartments, the Liberal Democrats have claimed. A walking tour through the heart of Manchester's Northern Quarter has revealed eight historic buildings are in need of urgent care and restoration but Manchester Council is deliberately ignoring warnings, says the party.
Local residents led by community campaigner Martin Browne catalogued 51 buildings on just eight streets in Manchester and warned that almost all of them are at risk of demolition if the council doesn't take swift action.
A motion, which was approved by the council in early October laid foundations for a local heritage listing system but campaigners have slammed it as a 'meaningless token gesture'.
---
Historic England
This week, Historic England published the 2018 Heritage at Risk Register, the annual snapshot of the health of England's historic places.
Across the country 318 entries have been removed from the Register, while 242 entries have been added because of concerns about their condition.
Memorials
More than 2,500 war memorials across the country have been listed over the past four years as Historic England fought to complete the project to commemorate the First World War centenary. Before the project began there were more listed telephone boxes (2,486) than war memorials (1,657). Throughout the centenary period Historic England has been working in partnership with War Memorials Trust, IWM, Civic Voice, volunteers and school children across the country to better understand these important local landmarks and protect them for the future. One school child is reported to have said: "We have to keep the memorial safe – otherwise we won't have anything to remember them by."
---
Whitehall Remembrance
And so full circle back to Whitehall where we began. Tickets to attend the Service of Remembrance are no longer available but the Department for Digital, Culture, Media & Sport is advising that no tickets are required for the public to attend and stand on Whitehall - but an early start is recommended (Whitehall will be closed until 8:00am).
There will be large screens north of the Cenotaph, near the green outside the main Ministry of Defence building and mounted outside the Scotland Office and south of the Cenotaph on the corner of King Charles Street.
11:25am - Cenotaph Service concludes and Royal British Legion detachments disperse past the Cenotaph.
12:30pm - 1:30pm The Nation's Thank You procession.
For details - Click Here
I know the Remembrance is for all service people and wars, yet for me it is the First World War that always springs to mind at the 11th hour of the 11th day of the 11th month. I think of the mostly young men who lived - and died - through the horrors or the trenches and ran at the guns or dug mines...their remains still out there in war graves or contained in some corner of a foreign field. Lives given so easily, we should treasure ours.
I will stand silent and wear my Poppy with Pride as the silence and the memory of 100 years echo back down Whitehall. We will remember them.
---
Some Dates For Your Diary
A full list can be found under the Events drop down menu at the top of every page on ThisWeekinFM. If you would like your event listed, please email details to dave@twinfm.com.
The Facilities & Workplace London Networking Club Christmas Extravaganza – November 28
The Facilities & Workplace Networking Club, run by ThisWeekinFM, hosts something for Christmas every year, from three course lunches to full-on Christmas Parties. This year we will start the festivities early with a Christmas Extravaganza!

For further information on any of the listed events please email di.searle@twinfm.com
---
Visit Our Sponsors Page
ThisWeekinFM is excited to welcome a new sponsors to the site – Centre Algarve.
We are proud that these solution providers have chosen ThisWeekinFM to show their support for the site's mission of informing and educating facilities and workplace professionals. Click here to see our sponsors.

For more information about the benefits of becoming a ThisWeekinFM sponsor, contact di.searle@twinfm.com
---
4,289 followers on ThisWeekinFM Twitter - thank you.
Remember to request to join the ThisWeekinFM Linkedin group
Follow us on Twitter
Check out all the latest videos here.
---
2nd November 2018
Statement From The Suzy Lamplugh Trust
The thoughts of everyone at the Suzy Lamplugh Trust are with Suzy's family. 32 years after she disappeared, her case remains unresolved.
Diana and Paul Lamplugh founded the Suzy Lamplugh Trust in 1986 following the disappearance and later presumed murder of their daughter. Today we continue the work of Paul and Diana to reduce violence and aggression in society, supporting workplaces to help their lone and frontline workers be safer and feel safer. We also run the National Stalking Helpline, offering advice and support to anyone concerned about stalking.
Recent news reminds us once again of the continuing tragedy of Suzy's story and the importance of employers taking responsibility for the personal safety of their staff.
---
Five Fires That Foretold Grenfell
ThisWeekinFM's coverage of the Grenfell Fire was always scathing of the fact that lessons from previous fires in tower blocks had not been learned; updates to building regulations were haphazard; and public enquiries went nowhere. We also declared that the Government and Fire Brigade officials who stood outside Lakanal House (after six people who were told to stay in their apartments when clearly, like Grenfell, the fire was breaching those apartments, burned to death) and shouted to the press 'we must make sure this never happens again' and then did nothing apart from hampering the court hearing, should find themselves jailed. Well if you want that opinion reinforcing, take a long hard watch of this BBC documentary...it wasn't just Lakanal but Five Fires That Foretold Grenfell.
---
Brexit - Power Cuts Loom?
Grapevine likes a good rumour as much as the next Gossip Column and though dismayed at the level of disinformation (and downright lies) that the whole Brexit thingy has thrown up on one hand, there is the other hand that delivers manna from heaven for those in the business of tittle-tattle. One such rumour is that come the great day (29 March for those of you not paying attention) the UK will no longer to be able to export any of its excess, green generated electricity (the stuff we can't store so we flog it on the cheap to our current European neighbours)...well if it' a No Deal Brexit that is. The other part of the rumour is, we will not be able to import the green and cheap stuff from our former European neighbours - leading to endless energy shortages and power cuts at half-time in big matches and the Ad break during Corrie.
Well after a bit of digging, the rumour is actually half true. There will be no limit on what we can import as the Department for Business, Energy & Industrial Strategy (BEIS) has ensured an 'energy customs union' all of its own (hoorah tea time at Corrie is saved)...but no such deal exists going the other way - booooo! That means we will be wasting all that unstored energy and that can only mean one thing...our European ex-neighbours who own most of our energy generation will have to find some way of topping up the coffers - bigger bills on the horizon it is then!
Grapevine read the document so you don't have to unless you - Click Here
---
Climate Change Public Attitudes Tracker
Recently (and just before fracking started up again in Lancashire), BEIS released the results of it Energy and Climate Change Public Attitudes Tracker (PAT). The PAT consists of one annual survey every March and three shorter surveys, usually in June, September and December, which repeat a subset of questions that might be influenced by seasonal factors. Worries over paying for energy bills remained at similar levels to previous waves of the tracker. Almost half (47%) felt that energy bills were generally more expensive than other items, whilst four in ten (37%) felt that energy prices had increased more than shopping or transport prices.
Support for the use of renewable energy reached a peak of 85%. Opposition to renewable energy remained very low, at 3%, with only 1% strongly opposed. Respondents were more likely to see climate change as a result of human activity rather than a natural process. Just under half (46%) believe it is caused mainly by human activity, compared to only one in ten (10%) that believe it is mainly down to natural processes.
When asked whether they support or oppose extracting shale gas, nearly half of the public neither supported or opposed it (47%), with a further 4% saying they did not know whether they supported or opposed it. Three in ten (32%) respondents were opposed to fracking compared with two in ten (18%) who supported it.
---
A Body Of Evidence
Isn't Grapevine supposed to be a little bit light-hearted? Sometimes it is...sometime it ain't. Seems like it's an ain't this time around. Most will be aware that Healthcare Environmental Services, which served the NHS and operates six sites across England, has been found in breach of environmental permits by the Environment Agency of its permits at sites which deal with clinical waste - body parts were found at four sites long after they should have been incinerated.
The Environment Agency has taken a range of action with the company to bring their sites back into compliance but they have repeatedly breached permits according to the EA and continued to operate unlawfully. As a result, in addition to enforcement activity to clear the sites, the EA has launched a criminal investigation.
Healthcare Environmental Services (HES) has written an open letter of appeal - here's a summary.
'HES has never stockpiled hundreds of tonnes of human body parts and dangerous waste at any of our sites throughout the UK. Anatomical waste is not stored on any of our facilities for longer than is allowed by permitted guidelines. All clinical waste is correctly stored, with anatomical waste kept in refrigerated units and not stored or driven around in vehicles, as has been claimed.
'Our site in Normanton reached a level where we had to look at alternative storage and we worked closely with stakeholders and other waste management companies to rectify this issue.
'We have welcomed visits from the EA a number of times over the past few months and have pointed out to them that the amount of waste produced by the NHS for incineration, far outweighs the entire incineration capabilities of the UK and not just Healthcare Environmental Services. We are not the only company to feel the strain on our services, with many of our competitors continually breaching storage regulations.
'The contingency plans proposed by the government could result in the NHS suffering a number of waste management issues, which would be a major risk to public health.
'We (owners Garry and Alison Pettigrew) have both invested our life into the business along with over £2 million of personal director's loans, with no funding from any government institutions. The company employs almost 350 specialised staff, 24/7 365 days per year.
'The decision of 15 NHS Trusts to serve us termination notices is excessive and counterproductive and will only cause further issues'.
The Environment Agency, when asked by Grapevine, countered: "There is industry wide agreement that overall there is sufficient incineration capacity. We have recently carried out an audit of permitted sites dealing with clinical waste which indicate a high level of compliance in this sector - the majority of sites are operating at the expected level or above."
---
Learning About The Living Wage
A new poll of University students has found a huge majority are concerned that University Vice-chancellor salaries are too high and have come at the expense of the low paid workers like cleaners, caterers and security guards.
Many staff are working on campuses on hourly pay well below the real Living Wage rate of £8.75 an hour, the amount a worker needs to meet the real cost of living despite vice Chancellors pay now averaging £255,000 per annum.
9 in 10 students polled supported all staff at Universities being paid a real Living Wage. 86% thought salaries were too high and should be cut.
Barely a fifth of universities currently pay a Living Wage to all workers. This is despite University Vice-chancellors receiving inflation busting pay rises and students paying record tuition fees. University chiefs now earn on average 50% more than a typical local Council Chief Executive and over £100,000 more per year than Prime Minister Theresa May. Russell Group Vice Chancellors earn on average £298,910, nearly twice as much as the Prime Minister.
---
Just Getting Worse For Retail
The National Retail Research Knowledge Exchange Centre and their analyst Nelson Blackley, have said more than 200 UK shopping centres are in danger of falling into administration - in part because of the losses associated with leases to BHS and Toys R Us.
---
NHS Violence Reduction
The Secretary of State for Health and Social Care, Matt Hancock, has announced the first ever NHS violence reduction strategy.
The new, zero-tolerance approach aims to protect the NHS workforce against deliberate violence and aggression from patients, their families and the public - and to ensure offenders are punished quickly and effectively.
---
Remember - This Is A Disgrace
In partnership with the Royal British Legion and the Intellectual Property Office, it has been found that some online sellers are offering counterfeit Poppy badges, scarves and other merchandise.
The Police's Intellectual Property Crime Unit has already visited a number of addresses recently where officers have spoken to suspects who are believed to be selling counterfeit poppies under the guise of sending the profits to the Royal British Legion.
---
Fit-Out Cost Guide
CBRE Global Workplace Solutions has published its Fit-Out Cost Guide 2018/19, a comprehensive analysis of office fit-out pricing in Europe, the Middle East and Africa. To download the - Click Here www.cbre.com/fit-out-emea
---
Ending On A Cheerful Note
@wendypbartlett - has Tweeted: Can't often say this that I'm off to the palace - it's @cateringbm recognition award for training, so off to have tea with Princess Anne!