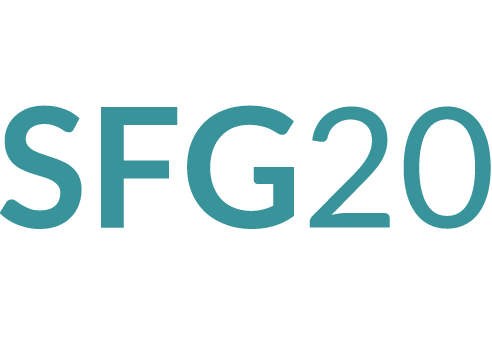 Latest News
---
SFG20's Succesful G Cloud Public Sector Tender

SFG20 has been named as a supplier on Crown Commercial Service's G Cloud 13 framework. This framework helps public sector buyers procure software and services from a list of pre-approved suppliers.
The online framework is operated by Crown Commercial Service (CCS) which is an agency of the Cabinet Office set up to help the public sector achieve maximum commercial value when procuring specific goods and services. It helped specifiers achieve commercial benefits equal to £2.8 billion in 2021/22.

The G-Cloud means any public sector procurer can buy cloud-based software and services faster than if they set up individual contracts. It also gives them access to the latest cloud technology and innovation from pre-approved suppliers, with agreed terms and conditions and legal protections already in place.
"More than 80% of the value of a building is realised during its operating life, which is why strategic and targeted facilities maintenance is such an important consideration for any asset manager," said SFG20 Managing Director, Kirsty Cogan.
"Being accepted onto G-Cloud 13 means it will now be easier and quicker for public sector procurers to gain access to this valuable tool along with the quality data needed to help them meet all of their FM goals."
Find out more about the benefits of procuring SFG20 via G Cloud 13 ...
---
Safety & Health: Managing ventilation & air quality in workplaces
Since the pandemic, there has been an increased focus on measuring indoor air quality and improving the ventilation of indoor spaces.
Building managers are facing detailed questions about how they are improving airflows to help dilute airborne viral loads, and what they are doing to improve relative humidity.
Professor Cath Noakes, ventilation specialist at University of Leeds and Engineer Member of the SAGE (Scientific Advisory Group for Emergencies) spoke at a webinar hosted by the Building Engineering Services Association (BESA), stating that to ensure buildings are protected for the long-term, we cannot slip back into accepting poorly ventilated spaces with high levels of indoor contaminants.
While the pandemic greatly impacted everyone, there were further implications to those with suppressed immunity in high-risk environments, such as hospitals and the healthcare sector. Learn more ...
---
NHS Blood and Transplant adopts SFG20 to enhance national maintenance programmes
NHS Blood and Transplant has adopted SFG20 software to help ensure that its maintenance and service programmes adhere to a range of legislation and strict safety requirements.
Mark Walsh, National Estates and Facilities Technical Manager at NHS Blood and Transplant, says: "I was very impressed with SFG20. Adopting the system has been the right thing to do as it helps to ensure that our maintenance procedures and tasks are always up-to-date with legal compliance across our whole estate." Learn more ...
---
The Definitive Standard For Planned Maintenance

Completely unique, SFG20 is the essential tool for facilities managers, building owners, contractors and consultants, enabling you to stay compliant - saving time, energy and money.
SFG20 is the ideal solution for facilities managers, building owners, contractors and consultants who want to remain compliant while saving time, energy and money.
The definitive standard for planned and preventative maintenance, SFG20 is unique in the industry. An online, dynamic service, SFG20 provides access to a growing library of maintenance schedules which are dynamically updated as legislation changes.
SFG20 facilitates the identification of maintainable assets, providing the benchmark for optimum maintenance to avoid over or under maintaining. With options to customise schedules and create service booklets, optimising your maintenance with SFG20 couldn't be easier.


Explore the options below to see which level of SFG20 could help your business.

Core Plus

Access over 500 schedules covering 60 equipment types, with on-going legislative updates to ensure you remain compliant.
Schedules display how often tasks need to be carried out to avoid over or under maintaining assets and what skill set should be used to perform the work. Core Plus allows you to customise maintenance schedules to your requirements - specify maintenance activities for a building or site, use them to create and respond to tenders, as well as for auditing purposes. Learn More...

Service Model

In addition to all of the features of Core Plus, Service Model gives you 'at-a-glance' colour coding of tasks that shows the distinction between Statutory, Function Critical and Discretionary tasks even allowing you to add Mandatory tasks ensuring you maintain your assets at the appropriate level whilst remaining compliant. Service Model also allows you to edit, customise or create your own schedules. Learn More...

SFG20 Solutions

SFG20 Solutions is a bespoke service offering a range of solutions for industry sectors seeking technical support to deliver an effective maintenance regime.
Building on SFG20's Service Model our team of technical experts can support your business, industry or sector in achieving a tailor made maintenance solution to achieve standardisation and effective maintenance solution. Learn More...
---
Share