Living up to our #becausewecare philosophy, Purgo have been at the forefront of providing advice and thought leadership throughout the pandemic. Introducing new ways of working, processes and products that have helped companies and schools adapt to a "new normal".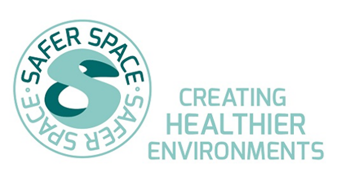 Because we recognise that as restrictions are lifted and businesses are given the go ahead to resume, it will be critical to demonstrate to staff, and visitors alike that premises are clean and safe environments to return to.
We were one of the first cleaning companies to obtain a Safer Space® Contractors Certification. This means our team has been fully trained and assessed in delivering a recognised and accredited sanitisation process.
This means each of your buildings and indeed any tenanted floors within your buildings will be able to demonstrate that they have been sanitised and are safe spaces ready for reoccupation.
Completing our structured process which uses a mixture of traditional and electrostatic technology to deploy long lasting surface protection means that you can have either the entire building, the common parts of individual tenant floors and indeed tenant areas accredited and issued with a certificate for display in reception. Proving that your priority is your staff's health and wellbeing.


For help and advice in preparing your workplace or school to be Covid-19 secure or to receive a free copy of our guide please contact Richard Felton - richard@purgo.co.uk - 07768 904 580.
Purgo #becausewecare