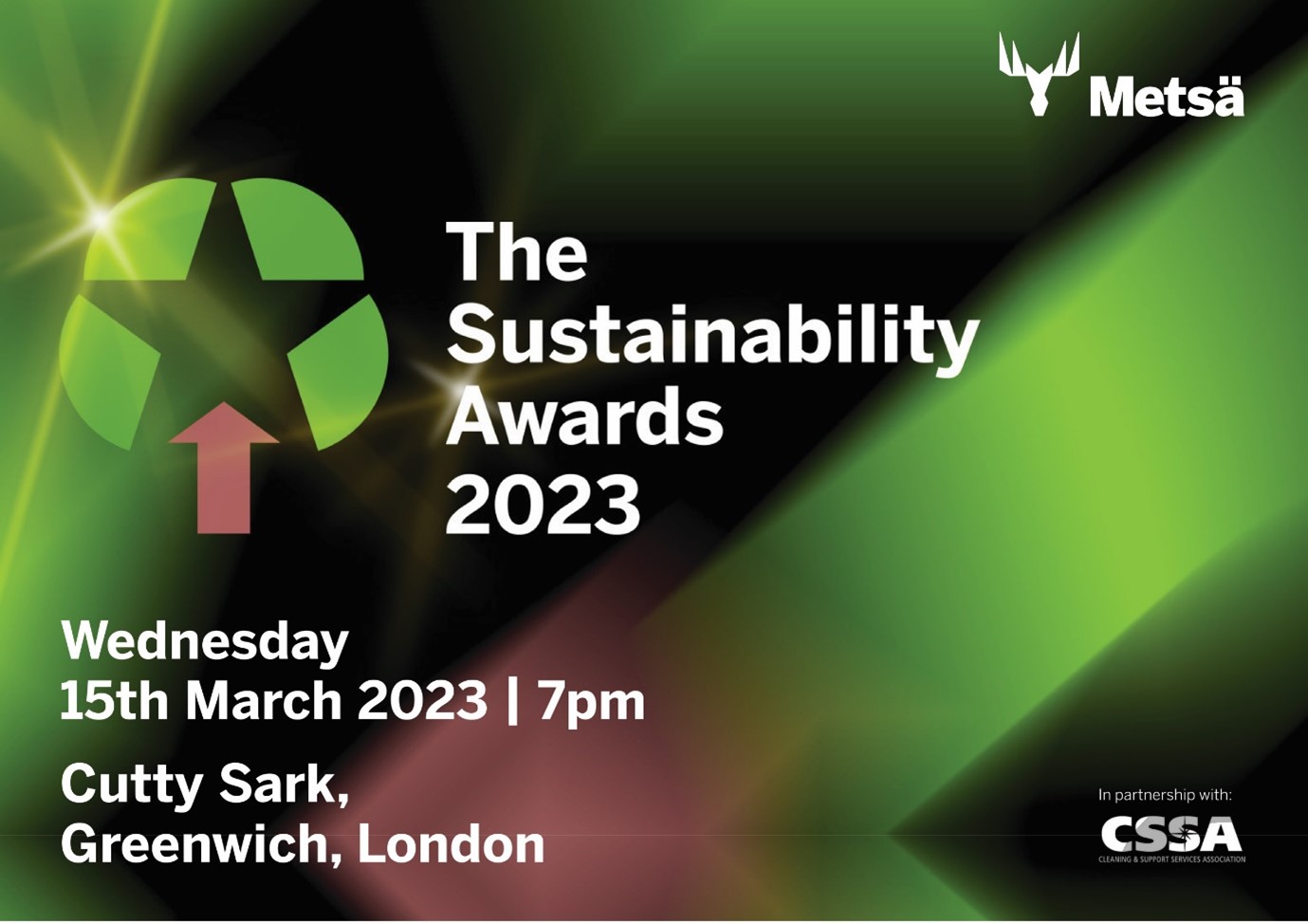 When is it?
Wednesday 15th March 2023, 7pm - the evening of the second day for the Cleaning Show.
Where is it?
Cutty Sark, Greenwich, London.
The details:
We all recognise the growing importance of sustainability in every business sector and the Cleaning & Hygiene industry is no exception.
The recent pandemic brought hygiene into sharp focus but it is still essential to ensure that all Cleaning & Hygiene solutions are sustainable. It is with this in mind that Metsä Tissue, in partnership with the Cleaning and Services Support Association is very pleased to announce the introduction of our Metsä Tissue Sustainability Awards Ceremony.
With the glaring focus on Sustainability, it is incumbent on all of us within the Cleaning and Hygiene industry not just to "do our bit", but also to recognise those who are leading the way in best practice, and/or going "above and beyond" to promote and embrace sustainability.
We have founded this awards ceremony with the aim of bringing about an increased focus on sustainability in all its forms e.g. carbon reduction, positive impacts on society, use of renewable energy, use of technology, and examples of the circular economy. We hope it will generate a lot of interest and result in a positive momentum that will drive more Environmental, Social & Governance initiatives to help support the future of our world. Our aim is to highlight and reward sustainability practices throughout our industry and thus create a positive, lasting impact on the environment.
This awards programme is open to all organisations involved in the Cleaning & Hygiene Industry: companies large and small, membership and accreditation organisations and government departments including local and county councils.
So, if you, your organisation, your team, or your invention are making a difference, directly or indirectly to people and the planet, you are eligible!
What's on the agenda?
The dress code will be Black Tie.
19:00-19:45 - Drinks reception
20:00-21:30 - Dinner
21:30-22:30 - Awards
22:30 - Entertainment Begins
23:30 - Last Orders
23:45 - Entertainment Ends
00:00 - Departure
Tickets will be £150.
---
Share
---