WHITE PAPER
A Guide to Payroll Streamlining for FM & Cleaning Companies

Ezitracker, UK, 19/02/2020 - Global provider of workforce management solutions Ezitracker has produced a new white paper aimed at the global Facilities Management industry and cleaning contractor companies. The paper entitled: 'A Guide to Payroll Streamlining for FM & Cleaning Companies.' is available to download from the Ezitracker website.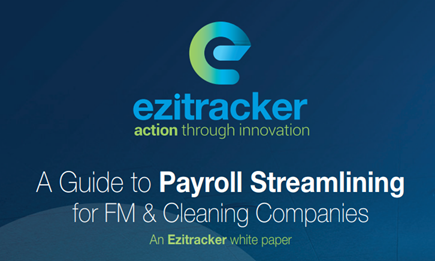 The method and frequency of how people are paid can have considerable impact on how they manage their finances and how they approach their daily duties. Financial stress can be a distraction at work for employees, and many employers recognise the direct impact it can have on productivity and engagement.
The white paper looks at the notion of streamlining payroll and how integrating basic time and attendance workforce data with a cloud-based automated payroll system can benefit cleaning and FM service providers. The emergence of new technologies is set to transform payroll for the benefit of both employers and employees is here and now, and more so in commercial cleaning and facilities management sectors where hours and locations can be varied.
Most cleaning contractors will be involved with all stages of the employee lifecycle: recruitment, onboarding, development, payroll, retention and exit. Multiply this by the number of employees you process, and the day-to-day people management process is a complex task. By integrating automation, analysing data and embracing cloud-based information intelligence, efficiency and the entire process can get a whole lot easier. It's entirely possible to move away from stacks of paper and an overflowing inbox.
Christian Berenger, Managing Director - UK, Australia & New Zealand - Workforce Management at Ezitracker said:
"Streamlining payroll processes and adopting intuitive cloud-based management technology in your FM or cleaning company can be a double winner; meaning both the employer and the worker get to realise the benefits. With many systems already under pressure, payroll is a drain on resources and often takes several days to complete.

Providing your employees with a portal, wallet or app that easily shows them things like wage slips, money transfers, PAYE, requests for drawdowns etc. means they are in control and responsible for their financial well-being and financial visibility. As a business, you will benefit the rewards that this automation brings and will quickly realise the value that cloud-based systems can bring to your company.

As an alternative to falling into the payday loan trap, the 'drawn down' module within their employee portal will allow them to access 60% of earnings, immediately, prior to pay day."

– Christian Berenger, Managing Director, Ezitracker

Ezitracker provides web-based solutions for time & attendance monitoring, mobile audits, payroll automation and management reporting to cleaning & facilities management companies, security companies and temporary workforce agencies. Established in 1998 and part of the HAS Technology Group, Ezitracker has built a reputation of being a trusted supplier of reliable and innovative technology solutions for better workforce management.
For a demonstration please connect with the Ezitracker commercial team
About Ezitracker
Established in 1998, Ezitracker has built a reputation of being a trusted supplier of reliable and innovative technology solutions for better remote workforce management.
Part of the HAS Technology Group, our solutions for Staff Scheduling, Time & Attendance Monitoring, Mobile Audits, Payroll Automation and Management Reporting are developed with our customers in mind. We pride ourselves on our deep knowledge of the mobile workforce market and the quality of service we deliver.
We are small enough to be agile and responsive to local customer and market needs and large enough to be able to provide global solutions for multi-national organisations. Our solutions are developed with the ability to integrate with other business critical software packages to make remote workforce management easier, more cost effective and operationally efficient.
Ezitracker provides end-to-end, web based, workforce management solutions which benefit a diverse range of industry sectors including commercial cleaning, facilities management, security and temporary employment in the UK and overseas.
Ezitracker forms part of HAS Technology Group's comprehensive portfolio of award-winning products used to deliver operational efficiencies, increase service quality and safeguard remote workers. Customers benefit from:
- significant cost savings through use of unique and patented technologies
- market leading service continuity and scalability
- seamless integration with other software solutions
- continuous product innovation from industry-leading research & development.
The Group Companies provide software solutions and related services to more than 70 Government agencies and over 1000 private and third sector Companies around the world.
Representatives from Ezitracker are available for media interviews and speaking opportunities.
For more information or to arrange an interview contact:
Nicky Frost, SMPR (Simply Marcomms Limited),
The Wolston Priory, Priory Road, Wolston, Warwickshire CV8 3FX
Tel: 024 7590 1075
Email: nicky@simplymarcomms.co.uk