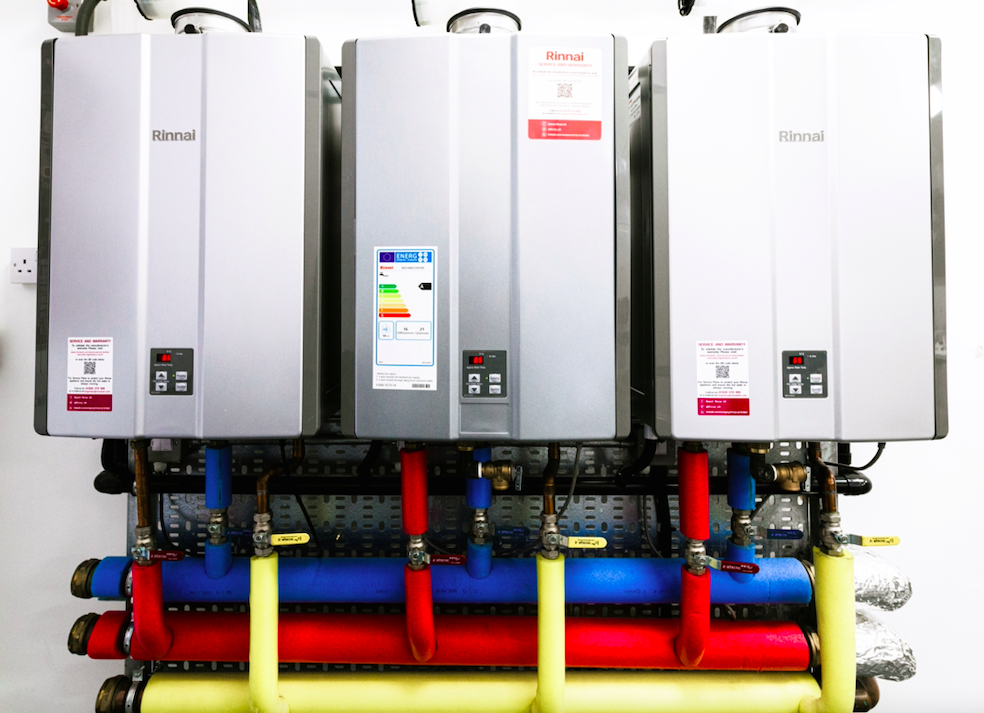 Rinnai managing Director Tony Gittings outlines a future where all sites are given specific and detailed attention in producing an optimum value proposition.
It is possible that all sites can give end-users heating and hot water system solutions that produce the most practical, economical, and technical answer to the vagaries of anywhere in the UK, on and off the grid. The products and technical abilities are readily available right now. One solution that is here and now is the Hybrid system.
A hybrid (or dual fuel) heating system combines a high-efficiency continuous flow water heater or a hydrogen-ready water heater with a renewable heating system such as a heat pump or a Solar Thermal arrangement.
Hybrid heating and hot water systems are the natural steps for the heating industry as the government strives to reduce the reliance on fossil fuels. A hybrid system can meet all objectives in terms of being practical, economical and technically feasible.
For projects looking to replace or upgrade their hot water system with a more energy-efficient and greener solution, then a hybrid system would be an option. A hybrid system provides designers and building owners and managers with the familiarity of the continuous flow water heating system with the renewable energy generated by a preheat provided by a heat pump or solar thermal array.
The Rinnai Hybrid solution is market-leading in terms of energy conservation, as the units will read the temperature of the preheated hot water and modulate the gas input to boost the water to the required temperature. This means that the renewable gains are maximised and the use of natural gas or hydrogen in the future is optimised.
For domestic hot water generation, the hybrid system will need to be accompanied by a storage vessel, this vessel is filled with preheated hot water that utilises the energy from the renewable heat source as the primary heat source. As the performance of the heat pump can change with the seasons and the hot water requirement for the building may be beyond the capability of the heat pump alone, the incorporation of Rinnai continuous flow water heaters becomes necessary.
Consultants and contractors should look to those manufacturers and suppliers with technology that is equipped with smart controls that monitor the incoming water temperature and boost it accordingly. This ensures that the renewable heat generated is maximised and the only energy needed is to boost the temperature to the required set point by only using the required amount of energy. This can become critically important for ensuring the temperature of anti-legionella regimes for applications that require hot water above 60 degrees constantly.
Progress to the goal of Net Zero needs a bit of help from common sense and a capacity to stop being partisan about specific products or energy vectors or platforms. There is a need for all products/systems to be designed to work easily and quickly.
The truth is that Hybrid systems with either heat pumps or solar thermal are the right product – in the site's specific circumstances. Those circumstances also need the site to be accurately evaluated so that the correct size heat pump or solar array is deployed. Load demand and seasonal adjustments must be made, and they need to be made realistically based on data. The aim to achieve Net Zero must be governed by maximising and optimising a whole system, no matter what type of building or property.
Rinnai can model all varieties of buildings, analysing total data output on capital cost, operational cost, carbon performance and complete product life cycle costs. Commercial property owners can view projected savings to be made in all areas of product purchase as well as carbon emissions.
In selecting the correct heating and hot water system for a customer's property Rinnai has developed a carbon and cost comparison concept that offers a full appraisal of any site or application being utilised in a commercial setting.
Hybrid technology, hydrogen, heat pumps and solar thermal offer reductions in the purchase, operation, maintenance, and aggregated life cycle costs. The Rinnai H3 range is assisting in forming a new selection of energy options for UK customers, as current energy options will soon be phased out in favour of nationally sustainable and carbon-neutral choices.
Current UK Rinnai product ranges - both domestic and commercial - are 'hydrogen blends ready' - meaning that units will accept the proposed 20% hydrogen/natural gas blend. Rinnai UK is one of the first manufacturers to display the I2HY20 gas category certificate for all its products.
Rinnai's contribution to assisting the industry is the H3 initiative – this is
H1 – Hydrogen, BioLPG – water heaters & boilers
H2 - Hybrid Systems – Heat Pumps and Solar Thermal
H3- Heat Pumps – Low GWP
--------------------------------------------------------------------------------------------------------------------------
Rinnai now offers a FREE Carbon Cost Comparison that can be found at: https://www.rinnai-uk.co.uk/contact-us/help-me-choose-product/.
The Rinnai Carbon Cost Comparison Form offers a free appraisal of a site's current hot water delivery system, along with recommendations for reducing the carbon load.
Rinnai also offers comprehensive training courses and technical support in all aspects of the water heating industry. More information can be found on Rinnai's website and its "Help Me Choose" webpage.
For more information on the RINNAI product range visit www.rinnaiuk.com