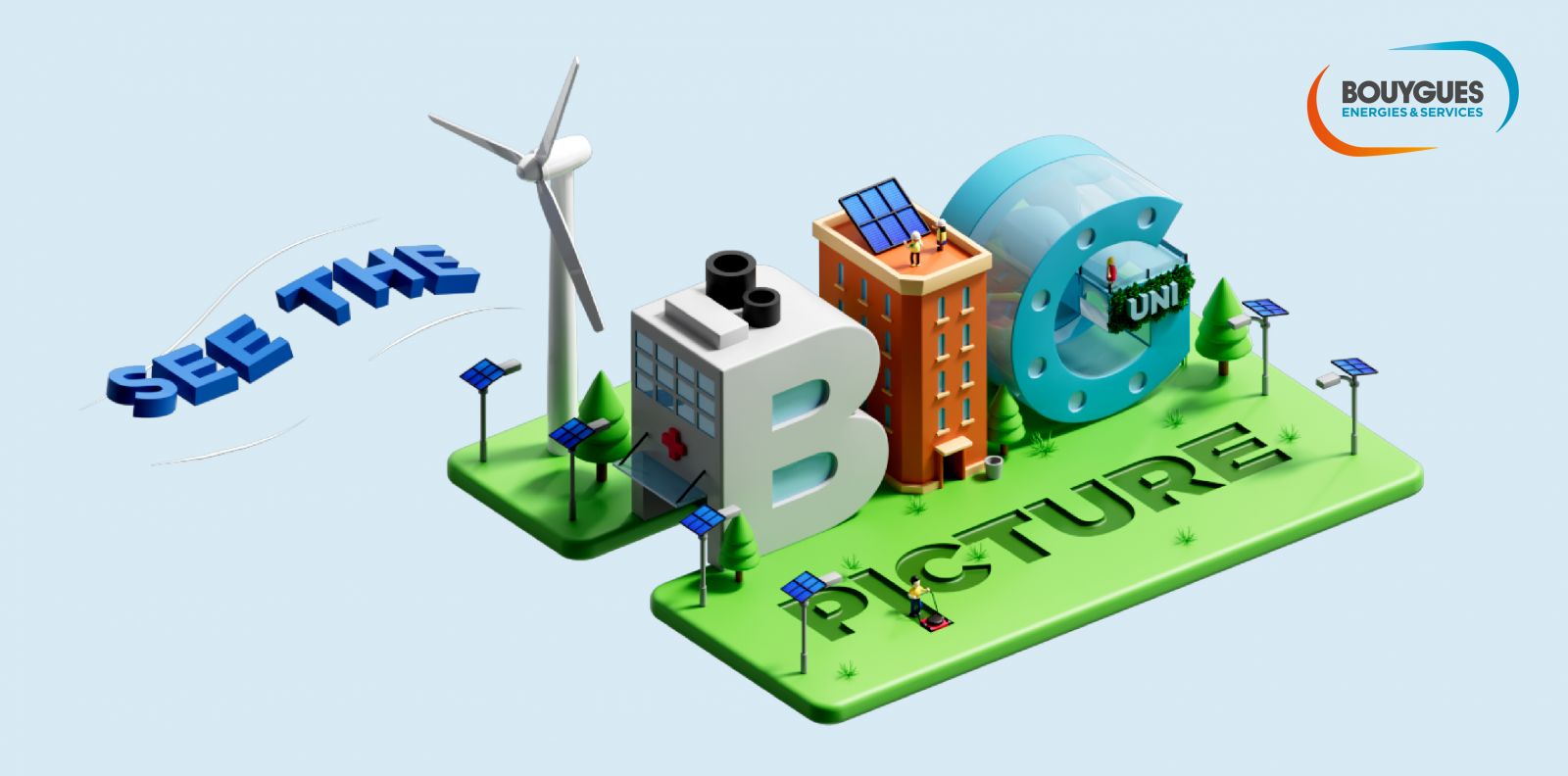 This innovative tool helps building owners assess their building's performance and see the bigger picture.
Bouygues Energies & Services (Bouygues E&S), a global leader in energy, digital and industrial transformation, is very proud to announce the launch of Orbiter™, the first 360 online self-assessment tool on the market which helps building owners assess their building's performance to help them see the bigger picture.
Building Management is at the heart of successful business operation and buildings are at the centre of every conversation with bigger questions being asked around building users and building purposes. Over the past two years, the way we occupy and work within our commercial buildings has certainly transformed: more flexibly, collaboratively and digitally with a strong focus on sustainability. By bringing together Purpose, People and Assets, Orbiter™ by Bouygues Energies & Services supports building owners' strategic aims to help them achieve their net zero ambitions.
Increasingly, building owners are questioning whether their buildings are future-proof and fit for purpose. The interactive Orbiter™ tool comprises a quick and easy 10-question survey, which on completion, will assess the building assets such as the energy profile, building information, sustainability and compliance; the purpose, in terms of utilisation, productivity, value for money, flexibility etc; and the people who use the building, evaluating but not limited to customer satisfaction, user-friendliness, security and wellbeing.
On completion, Orbiter™ will highlight areas where building owners and users can improve the space they occupy, drive productivity and optimise building performance and utilisation. Engagement from our specialist Orbiter™ team will facilitate a discussion on how Bouygues E&S can help identify solutions and through a comprehensive assessment survey can help them see the bigger picture.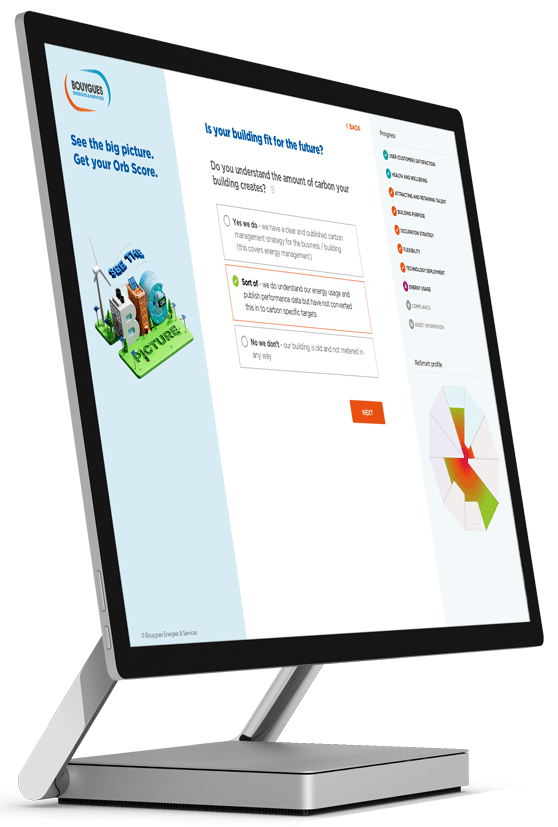 To ensure this tool achieved the desired outcome, Bouygues E&S piloted Orbiter™ with a select number of clients and we are pleased to say that our feedback has been excellent, and the appetite is growing: "Bouygues E&S has a wealth of experience in this field and will surely bring a great value in ensuring our buildings are fit for the future. Orbiter™ helped identify aspects of our estate that are already up to standard and highlighted areas of the estate that hadn't been addressed by other tools/initiatives for optimisation." Another client spoke of how the process enabled them to think more cohesively about the building: "The Orbiter™ process was really useful, it made us think more about our building as a whole, rather than the individual parts, and how as a business we could improve our workspace, increase productivity and reduce energy costs for the benefit of our visitors, employees and stakeholders."
Orbiter™ can set building owners on the path to improving building efficiency, increasing user productivity and staff retention, optimisation of working environments and achieving net zero targets. Above all, Orbiter™ is suitable for today and adaptable for tomorrow.
David Carr, Chief Executive Officer for Bouygues Energies & Services, said: "We are proud to be leading the way in the market with the first 360 online self-assessment tool. Now more than ever, businesses must address how their operations and activities are impacting climate change, but also the productivity of their people. Improving building performance plays a significant role in this and Orbiter's methodology aligns perfectly. At Bouygues E&S, we recognise the importance of creating a working environment where our people can flourish and developing smart buildings to reduce our carbon footprint, support the energy transition and digital transformation – with Orbiter™ we can help you do the same."
Start your building optimisation journey and find out if your building is fit for the future here: https://orbiter.bouygues-es.co.uk/