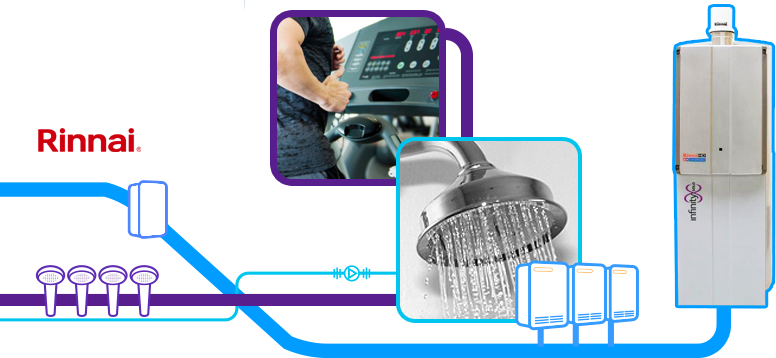 Rinnai offers limitless quantities of temperature controlled hot water – plus, all technical expertise on tap, on demand for end-users, designers, consultants, engineers and installers.
Rinnai UK, the leading supplier of 'A' rated continuous flow gas fired hot water heating units and systems, has a dedicated technical service team to ensure customers get service performance that matches the excellence of product performance, with the aim of creating long-term value and satisfaction.
Rinnai Technical Services offers all customers help and advice throughout the complete lifecycle of a product – from inception to disposal. The team can and will respond to any queries on specification, installation and operation of Rinnai units.
Pete Seddon, Technical Team Leader says, "Architects and consultants are really into conservation, energy efficiencies and gas consumption and nowadays they are looking at the complete building whereas before it was all about product choice, space and siting of a unit. We offer assistance and advice - as unbiased as possible - to help them decide."
Operating from Rinnai UK's Cheshire headquarters the Technical Department will happily check over designs and schematics and advise on changes, as well as having the capability to produce product comparisons, life cycle analysis and product costs data.
"Some people need talking through the advantages of changing from a traditional storage system to a wall mounted instantaneous water heater system and we can help them make the decision and then the transition," says Pete.
"We can also advise on whether they should be using 3, 4 or 5 units or drop a couple off and replace with a storage vessel for a renewables set up instead - i.e. 2 x Rinnai 2 x solar storage tanks and/or heat pumps/solar."
Pete continues: "Caravan and leisure parks especially need lots of hot water concentrated in peak times for showering and if there isn't enough, they can suffer from bad visitor reviews online which can affect bookings. Owners tend to get really involved in the choice of system used – they really get it," he says. "Again, hot water demands for restaurants are very different from those for domestic use and larger commercial buildings so we can advise on the right system there."
"The end user will often undertake their own research before installation, and they want to hear our advice before they commit themselves. Consumers are smart and want to do their own checking before parting with their money and, of course, they are mining the internet for information too."

"Rinnai is in its sixteenth year in the UK and more and more engineers are having positive experience with the brand. If your first encounter with a Rinnai unit is when called to service a unit, we are on hand to take you through the process quickly, simply.
Installers can also call on the Rinnai technical department for training, which is provided free. "We have recently increased the training portfolio adding different packages and these sessions open engineers' eyes to the possibilities of Rinnai technology. They are becoming ever more popular and this week alone we trained in excess of 40 people in the UK and Ireland – and all free.
"However, we recognise that for an engineer driving up to Cheshire from Cornwall, for example, that would mean 2 days off work with a stopover, so we have been offering remote training at venues closer to home. For this we would need a minimum of four people.
Rinnai also offers remote training courses via online digital platforms, all tailored to specific needs.

The Rinnai range of units is available within 24 hours, provided the order is received before midday of the previous day. Rinnai UK has fully maintained its total service throughout the COVID-19 situation and the company has kept high stock levels of all units plus spares and accessories.
Rinnai is the world's leading manufacturer of continuous flow hot water systems - it makes and sells 2 million units each year. The range of units can be manifolded to supply limitless hot water to a site of any size. This means fast, efficient, temperature-controlled water on demand at the point of delivery – kitchens, showers, accommodation blocks, bathrooms, washrooms. It also means far less space spent on plant rooms and no or little maintenance as all units are proven to be robust with a long, long working life.
Facility managers can contact the company direct in gaining access to the supply of units:
Call 01928 531 870 or email sales@rinnaiuk.com – or engineer@rinnaiuk.com.
Alternatively use the smart online contact points
"Help Me Choose" or "Ask Us a Question"
all held on the website homepage at www.rinnaiuk.com.