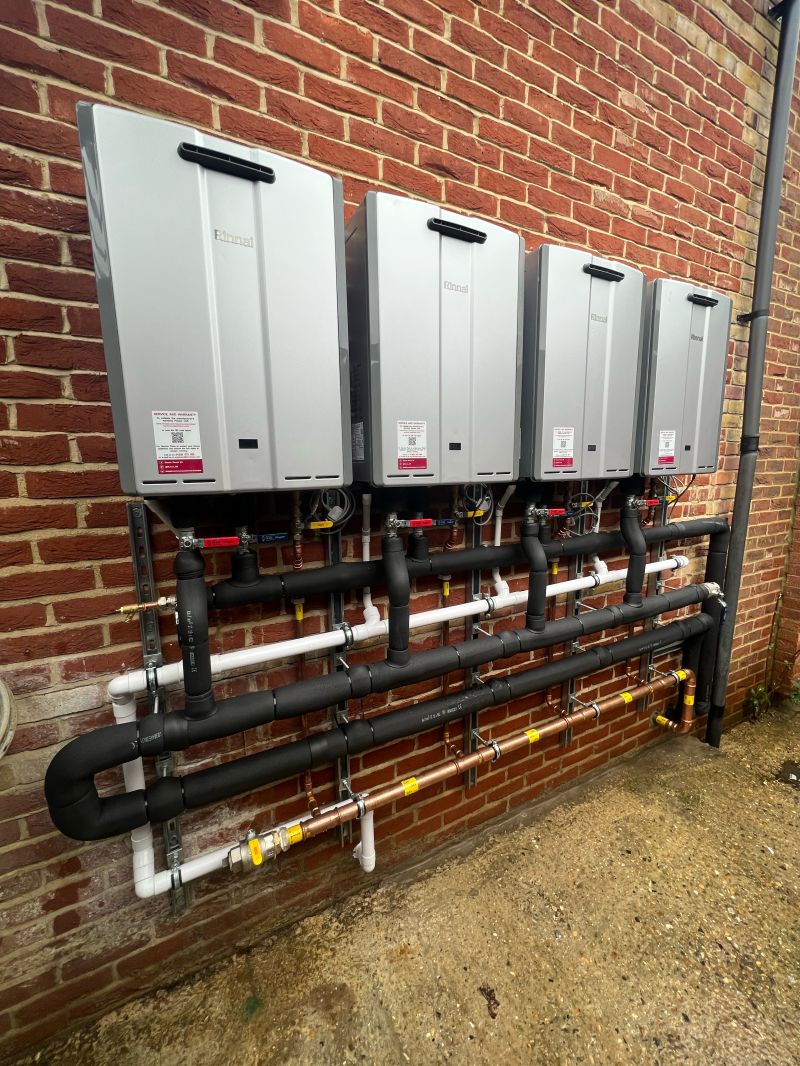 The second report by Rinnai's Chris Goggin on the other Scandinavian countries reviews the measures undertaken to decarbonise national fuel supplies as well as the potential effect on future UK energy options. Even in view of the events in Ukraine, Denmark and Sweden are looking to the future.
CHECK OUT THE FIRST REPORT HERE.
Recent developments inside Ukraine have further convoluted European geopolitics and increased the desire of multiple western economies to locate secure supplies of low carbon energy. Domestic hydrogen usage along with other methods of home heating will become more attractive to countries hoping to reduce Russia's role in European oil and gas supply.
Sweden is not reliant on Russian energy exports meaning decarbonising governmental ambitions can focus on creating a preferable position in a future green economy in which hydrogen will play a leading role.
Denmark however does rely on Russian gas imports fed through Germany. The Danish government will now act as quickly as possible to become energy self-sufficient, therefore reducing the domestic need for Russian energy and Moscow's ability to gain financial profits through oil and gas sales.
Denmark's Role Model
Denmark consistently ranks high amongst the happiest countries in the world. This is said to be influenced by a heavy emphasis on work and home life balance. A Danish working day typically finishes at 4 pm. Danes do not work more than 37 hours a week - the average US citizen works 44 hours a week.
Denmark also offers free education with students receiving up to £900 a month in bursaries. The state contributes to childcare costs and the welfare system and national minimum wages are generous. It is obvious the Danish feel a powerful sense of social responsibility.
Danish social responsibility extends to national energy options and as a result Denmark is working hard to introduce green hydrogen across various sectors. Green hydrogen is preferred due to its carbon free properties and sustainability. Because of these reasons several large Danish companies are working on green hydrogen projects.
First of which being Orsted, a Danish multi-national energy company which specializes in producing offshore and onshore green energy. Orsted has announced its intention to invest DKK 350 billion ($57 billion) by 2027. Of that investment 80% will be focused on offshore wind that produces green hydrogen and 20% will concentrate on onshore wind green hydrogen generation. Orsted is aiming to command a renewable energy capacity of 50GW by 2050.
Elsewhere, Swiss energy company H2 Energy Europe have purchased an 11-hectare site in Esbjerg, Denmark, which will be used to manufacture green hydrogen. Once operational this site will be capable of delivering 1 GW of wind to hydrogen power. Local offshore wind farms will provide the raw materials needed to produce green hydrogen that will go on to power heavy transport. It is hoped this project will be fully operational by 2024.
Orsted and HOFOR (Greater Copenhagen Utility - a Danish energy company) have entered into an agreement which will see both companies source power for part of the potential 1.3 GW "Green Fuels for Denmark" project.
As Denmark shares a land border with Germany industry from both countries are keen to develop a working partnership that accelerates each country's national hydrogen projects. Germany has already approved Euros 7 billion of funding towards advancing its domestic hydrogen market with Denmark also earmarking Euros 100 million themselves towards developing green fuels.
As Germany is keen on national hydrogen introduction it would therefore appeal to Danish logic to combine financial resources and information with its neighbour. Doing so would elevate national interests and financial benefits within the regional and international hydrogen market.
Alongside a lengthy list of other countries Denmark is considering adapting existing pipelines to carry hydrogen blends in the short (2025 – 2030) and medium term (2030 – 2040), with the overall ambition of converting to 100% pure hydrogen in the future (2040 onwards). Low cost and practical feasibility are the main motivations behind this thinking that links much of Europe.
Denmark maintains land and financial links with Europe's largest economy and preserves a strict sense of social responsibility. As Danish companies are already investing in green hydrogen production, future utilization of hydrogen seems likely to play a vital role in Danish decarbonisation across multiple sectors.
Sweden's Role Model
Sweden's approach to lifestyle follows similar liberal Scandinavian values. Education is free including the highest level – Doctorates - regardless of nationality. Both parents of a new-born are entitled to 16 months paid parental leave.
Sweden encourages a flexible work and home balance by introducing a working hour's act that states a working week must not exceed 40 hours. A Swedish working day is 6 hours - a UK working day is 8 hours minimum. Quality of life is evidently a shared characteristic of Scandinavian countries.
Several large-scale hydrogen projects are currently on-going in Sweden. Swedish steel company Ovako is constructing a 17 MW fossil fuel free hydrogen facility that will power its daily operations. This project is situated in Hofors, southern Sweden and is a collaboration between Norwegian and Swedish companies.
Once completed towards the end of 2022 this will be the largest hydrogen facility in Sweden, although there are others being planned on a larger scale. The cost of this project is calculated to be around 18 million euros. Transitioning Ovako's fuel source to hydrogen will cut local emissions by 50%.
Sweden ranks 9th in the world for exports of steel representing a 3.6 % of the market share worth an annual $34.4 billion. This sector relies heavily on fossil fuels and is therefore a global decarbonising priority.
H2 Green Steel's Plan
H2 Green Steel is planning to construct a steel production facility in Boden, northern Sweden. The entire compound will be powered exclusively by green hydrogen. Fossil fuels will be replaced by a 2.5 billion euros, 800 MW hydrogen plant.
H2 Green Steel has also announced a partnership with Spanish renewable energy company Iberdrola. Both companies plan to construct a 1 GW green hydrogen plant located in the Iberian Peninsula with production looking to commence in 2025 – 2026. The total cost of the project is reported to be Euros 2.5.
The Swedish governmental itself recognizes that an international hydrogen economy is expected and proposes SEK 200 million of investment in 2022 and a further SEK 70 million a year through 2023 to 2027 to develop national hydrogen projects.
Current and completed Swedish projects that involve hydrogen include Vatterhem, a housing company planning construction of 2 off-grid buildings that house 44 apartments in Jonkoping, southern Sweden. These flats will include solar power energy systems as well as hydrogen storage.
Sweden is investing heavily into its future national hydrogen operations. The country conserves a reputation for creating social policy designed to benefit the many rather than few. Modern Sweden and other Nordic countries take care when deciding paths of future strategy. A national willingness to adopt hydrogen into daily life is clearly visible as are elevated levels of financial investments. Hydrogen will clearly play a vital role in Scandinavian decarbonisation.
Scandinavia has embraced hydrogen as an alternative fuel source capable of decarbonising multiple sectors. Hydrogen is also prolifically suggested across Europe, UK, US and China. All previously mentioned countries do not possess the socially sensitive national systems of governance that Scandinavian countries do.
The fact that all Scandinavian countries have publically acknowledged hydrogen and are working on current projects tells the UK end user that hydrogen is being viewed internationally as a viable path of decarbonisation. Putin's war in Ukraine can potentially accelerate this process as various economies look to reduce Russia's role throughout international fuel supply.
Where some countries maybe attracted towards hydrogen for financial reasons or convenience, Scandinavian countries are selecting hydrogen for its capability to sustainably decarbonize international fuel supplies and deliver undisrupted industrial efficiency.
Rinnai's Sustainability-aligned Service
Rinnai is a world leading manufacturer of water heaters designing and producing over 2 million units a year. The systems operate in each of the 5 continents and have gained an established reputation for high performance, robust cost efficiency and extended working lives.
Rinnai hot water products offer a limitless supply of instantaneous temperature controlled hot water that simultaneously performs as a disinfectant on all known bacteria.
Rinnai units are UKCA certified, A-rated water efficiency, accessed through multiple fuel options and are available for purchase 24/7, 365 days a year. Any unit can be delivered to any UK site within 24 hours.
Rinnai are climate conscious and committed to decarbonisation. To demonstrate Rinnai's attitude towards global environmental issues the "Rinnai N series" is hydrogen ready NOW and can use BioLPG capable of delivering NetZero carbon emissions.
Rinnai offer comprehensive training courses and technical support in all aspects of the water heating industry. More information can be found on Rinnai's website and its "Help Me Choose" webpage.
For more information on the RINNAI product range visit