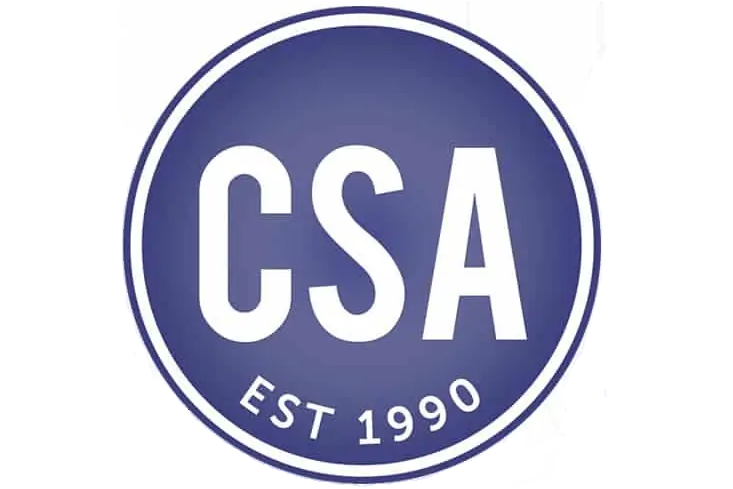 Commissioning Specialists Association
Making Buildings Work

The Commissioning Specialists Association (CSA) is the only body in the UK aimed specifically at developing and improving the commissioning function to provide building users, consultant engineers, main contractors and installation companies with a professional, quality service carried out by trained and experienced staff.
TRAINING & CAREER

Distance Learning Courses A, B & C. Formal education for commissioning technicians, commissioning management & others.
Read More...

SERVICES

- Flutec (fluocarbon) 1.88sg blue
- "Index" the CSA Newsletter
Read More...

MEMBERSHIP

The CSA has 4 categories;
- Corporate
- Associate
- Individual
- Individual Associate
Read More...

PUBLICATIONS

- Engineers Compendium
- Technical Memoranda
- Guidance Notes
- "Index" the CSA Newsletter
Read More...

CSA COMMITTEES

Consisting of a Main Committee, Training, Technical, Marketing and Management Committees. CSA members and give their time "gratis" to move the association forward.

OVERSEAS CHAPTERS

We are pleased to announce the GCC (Gulf Cooperation Council) Chapter based in Dubai, UAE.
Mr. Lee Hewitt is the current GCC Chapter Chairman
Latest News

Finalists Announced in 2023 CSA Awards Programme
The Commissioning Specialists Association is looking forward to staging it's eighth gala awards dinner on the evening of Thursday 5th October 2023 at the Leonardo Royal Hotel City, in the heart of London. Building on the success of previous years, the event will once again bring together the commissioning sector in a celebration of business and professional excellence. Recognising and rewarding the achievements of both individuals and companies operating within this crucial area of the construction and refurbishment industry, personal endeavour, product innovation, skills training, engineering advancement and commercial acumen will be acknowledged and celebrated.
Operated by the Commissioning Specialists Association and produced by Touchwave Media, the awards will again acknowledge the skill, effort and sheer dedication of the people and businesses serving today's complex built environment business sector. With sponsorship provided by a host of leading industry names, well deserved industry-wide recognition will be given to those businesses and individuals that are excelling in their commissioning endeavours.
Finalists
Following a record number of entries, and a comprehensive judging process, which this year combined the remote assessment and scoring of each entry with a virtual gathering of the judging panel, the CSA is delighted to announce the following Finalists across the seven award categories:
Project of the Year - Sponsored by BSRIA Instrument Solutions
Ashford Environmental Services: AstraZeneca - The Discovery Centre (DISC)
Banyards: Children's Day Treatment Centre At Evelina London Children's Hospital
Banyards: The Christie Patterson Cancer Research Centre
Cleartech Group: Hilton Garden Inn - Silverstone Circuit
CML Sustain: London Underground Bank Station Capacity Upgrade - Northern Line
Crown House Technologies: LD11x London Data Centre
End Systems: HMP Five-Wells
HDR: The Oak Cancer Centre at the Royal Marsden Sutton
Product / Service Innovation of the Year - Sponsored by Media Control
BAPI: Blü-Test Test Instrument Suite
CSI Technologies: Videntium Testing & Commissioning Software
FRESE: Optima Compact Veriflow Series PICV
HDR: Nucleus Commissioning Management Software
VEXO: S-BMS
Commissioning Provider of the Year - Sponsored by Modern Building Services
Ashford Environmental Services
Banyard Consultants
Crosscount
End Systems
HDR Commissioning
Media Control
Red Engineering
WP3
Commissioning Manager of the Year - Sponsored by HDR
Andrew Sharp: Banyard Consultants
Matthew Ward: Crosscount
John Wilson: Crown House Technologies
Anthony Newton: End Systems
Andrew Dobson: L&P Group
David Forbes: Phoenix Commissioning Services
Derek Moore: Red Engineering
Keith McKendrick: TAB UK
Investment in Training Award - Sponsored by VEXO
Ashford Environmental Services
Banyard Consultants
Clear Construction: Glenn Hawkins
End Systems
HDR: The Careers Plus Programme
H & V Commissioning Services
Phoenix Commissioning Services
Student of the Year - Sponsored by RED Engineering
Devantay Dimsoy: Ashford Environmental Services
Jake Mccully: CCM Commissioning Specialists
Stuart Rankin: CCM Commissioning Specialists
Liam Drake: End Systems
Ilias Seferoglou: HDR
Greg Eusebi: Phoenix Commissioning Services
Ryan Lundie: Phoenix Commissioning Services
Philip Flynn
Commissioning Engineer of the Year - Sponsored by Ashford Environmental Services
Sam Bruce: End Systems
Adam Murray: HDR
Keiren Paton: H & V Commissioning Services
Billy Daly: Media Control
Greg Eusebi: Phoenix Commissioning Services
Firas Hanif: WP3
Our sincere congratulations go to all those who have been selected as a Finalist, and we look forward to announcing the seven award winners during the charged atmosphere of the presentation ceremony on the evening of Thursday 5th October in London.
If you have not yet booked your place at this highly respected event, please visit the website, and complete the online booking form. Individual places or tables of ten can be secured, with the package including reception drinks, a superb 3-course meal with wine, the awards ceremony itself and excellent post awards entertainment. It really is a night not to be missed, allowing you to engage and unite with your colleagues, customers and peers, and celebrate the wonderful achievements of this important of industry sector.
Further details
For more information, visit the website www.csa-awards.co.uk or contact the awards programme producers, Touchwave Media, by phone on 07785 290034 or by email at andrew@touchwavemedia.co.uk.
---
---
Share