About Us
---
Planet Mark is a sustainability certification which recognises continuous improvements, encourages action, and builds an empowered community of like-minded individuals.
2020 to 2030 will be the most important 10 years for us and our planet. What we do in this period will determine the course for humanity. If we act now, we can avert irreversible environmental damage and hold on to a planet that is fit life, now and in the future. This must be a Decade of Action.
At Planet Mark, we see a world where we all contribute to a thriving planet and together we are a collective force for good. Members of our community are united by this common purpose. Everything we do aims to achieve it. This binds us together in a like-minded community. Organisations across the UK and beyond are joining Planet Mark™ to make positive contributions to society and the environment. We help unlock the passion, knowledge and commitment of employees to drive the sustainability agenda.
Over 700 organisations are engaged in the programme in the companies, colleges and charities we certify. Their individual and organisational cumulative impacts are impressive, from reducing carbon, energy, water and waste to their contributions to a thriving society.
Alongside annual carbon reductions, every certification we provide directly supports the Eden Project's environmental education programmes and protects endangered rainforest with Cool Earth, an award winning charity supported by HM the Queen and Sir David Attenborough.
Holders of the Planet Mark certification deliver results that go beyond compliance, reaching new levels of sustainability and engaging their people in the process. Together we are proving that sustainability is good for business and that acting responsibly is the new norm.

Each year, we will help you:

1. Measure your carbon footprint and environmental performance
2. Engage your employees and suppliers to help drive improvements
3. Communicate your achievements through our toolkits, promotional materials and
marketing channels.
Planet Mark makes sustainability easy, leaving your business free to enjoy all the benefits and opportunities. We work closely with you to ensure that The Planet Mark™ works for you and helps meet your needs.
---
Latest News
---


Our partners at Planet Mark understand many of us are looking for ways to save energy at home with the energy crisis and colder months approaching.
Despite support for businesses and individuals announced by Liz Truss recently, many are still struggling, and this is compounded by an increase in the cost of living. Cutting carbon, energy and costs go hand in hand.

Take a look at some of Planet Mark's immediate and medium-term actions you can take that can help you save energy at home.
---
Unlocking your employees' passion through sustainability champions
Unlocking the passion of your team is the key to achieving your organisation's sustainability goals. Here we show you some simple tips on setting up a sustainability champions group or green team. Read more ...
---
The energy crisis: how your business can save energy and cut costs
The UK energy crisis has left households and businesses facing rising gas and electricity bills. Here, we share low-cost and effective ways to save energy and cut costs. Read more ...
---
Newly certified members:
Roadchef Ltd
Codex Ltd
Vanitorials Ltd
Delphis Eco Ltd
GSS Southern Ltd
Artic Building Services Ltd
---
Mitford peer Lord Redesdale and Conservative Andrew Griffith MP, UK Net Zero Business Champion, will inaugurate the UK's first fully electric 'Carbon Battle Bus' at Old Palace Yard in Westminster, London on Wednesday 9 June at 1pm. The event will launch the start of the ambitious Zero Carbon Tour, organised by sustainability certification Planet Mark, and set in motion a series of zero carbon initiatives, including UK businesses showcasing their sustainability journeys. The Tour culminates at COP26 in Glasgow in November.
99 per cent of small firms recognise the importance of sustainability but three quarters of them (77 per cent) don't know how to measure their carbon emissions and need support, according to research from Small Business Britain. Last week, Prime Minister Boris Johnson and Business and Energy Secretary Kwasi Kwarteng launched the Together for our Planet 'Business Climate Leaders' campaign to encourage small and micro businesses to commit to cutting their emissions in half by 2030 and to net zero by 2050 or sooner through the new UK Business Climate Hub.
Currently, over 40 of the UK's FTSE 100 companies have signed up for it. However, the UK's six million small businesses make up 99 per cent of the UK's enterprises, employ 60 per cent of the UK workforce and generate £2.2 trillion of revenue to the economy, so it is crucial these enterprises take action and reduce their carbon footprint.
Find out more about the tour in TWinFM's announcement.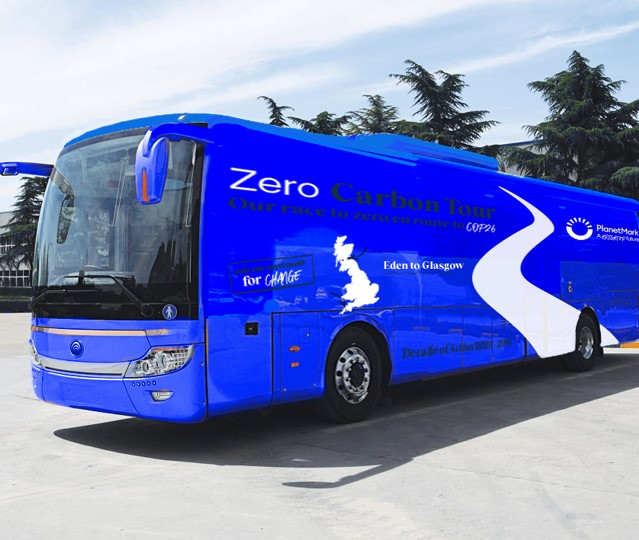 ---

Join Us Socially
Twitter: @ThePlanetMark
LinkedIn: https://www.linkedin.com/company/theplanetmark/
Facebook: https://www.facebook.com/ThePlanetMark

Visit Us Online And Learn More
---
Share