About Us
---
Planet Mark is a sustainability certification which recognises continuous improvements, encourages action, and builds an empowered community of like-minded individuals.
2020 to 2030 will be the most important 10 years for us and our planet. What we do in this period will determine the course for humanity. If we act now, we can avert irreversible environmental damage and hold on to a planet that is fit life, now and in the future. This must be a Decade of Action.
At Planet Mark, we see a world where we all contribute to a thriving planet and together we are a collective force for good. Members of our community are united by this common purpose. Everything we do aims to achieve it. This binds us together in a like-minded community. Organisations across the UK and beyond are joining Planet Mark™ to make positive contributions to society and the environment. We help unlock the passion, knowledge and commitment of employees to drive the sustainability agenda.
Over 700 organisations are engaged in the programme in the companies, colleges and charities we certify. Their individual and organisational cumulative impacts are impressive, from reducing carbon, energy, water and waste to their contributions to a thriving society.
Alongside annual carbon reductions, every certification we provide directly supports the Eden Project's environmental education programmes and protects endangered rainforest with Cool Earth, an award winning charity supported by HM the Queen and Sir David Attenborough.
Holders of the Planet Mark certification deliver results that go beyond compliance, reaching new levels of sustainability and engaging their people in the process. Together we are proving that sustainability is good for business and that acting responsibly is the new norm.

Each year, we will help you:

1. Measure your carbon footprint and environmental performance
2. Engage your employees and suppliers to help drive improvements
3. Communicate your achievements through our toolkits, promotional materials and
marketing channels.
Planet Mark makes sustainability easy, leaving your business free to enjoy all the benefits and opportunities. We work closely with you to ensure that The Planet Mark™ works for you and helps meet your needs.
---
Latest News
---
How avoiding greenwashing can strengthen your brand position
Greenwashing has become more widespread than ever. In 2021 alone, 42% of green claims were exaggerated, false, or deceptive. Greenwashing can be defined as actions by companies to make people believe that your company is doing more to protect the environment than it is.
As global efforts to halt climate change accelerate, so have efforts to crack down on greenwashing. Tighter legislation has been introduced, such as the EU Law, and hefty fines have been imposed on some of the world's biggest brands to deter organisations from this deceptive method of communication. Greenwashing can have an adverse effect on your organisation's brand reputation, reducing consumer confidence and purchase intent.
Our partner, Planet Mark's Head of Strategy and Communications, Zoë Lee discusses how your organisation can strengthen its brand position by avoiding greenwashing and effectively communicating your sustainability journey.
Greenwashing damages a brand's reputation
Aside from being ethically unsound, one of the biggest problems with greenwashing is that it fundamentally damages your brand reputation by creating distrust and tarnishing key relationships with stakeholders.
A relationship that lacks trust
Greenwashing undermines the credibility of an organisation. False claims revealed to be untrue will stick to your organisation's digital footprint creating negative brand perception. Contrary to the saying, not all press is good press, the negative brand perception associated with your organisation may alter consumer behaviour – a recent study highlighted 81% of consumers research a brand before making a purchase.
This weakened brand perception "It can falsely cast doubt on other claims that you've made that are potentially accurate and can ultimately erode consumer trust and confidence in your organisation", said Zoë Lee.
The moral compass
It goes without saying that your organisation should avoid greenwashing because it's fundamentally wrong, misleading and unethical. When your organisation releases deceptive messaging, it only adds to the "negative haze of misleading information" and ultimately damages the impact of truly good action. "Consumers, clients and investors are thinking more ethically," said Zoë Lee. As a result, your organisation will be held accountable for acting unethically.
Communicating Credibly – The Key to Strengthening Your Brand Position and Avoiding Greenwashing
Credibly communicating your sustainability journey has the opposite effect on an organisation's brand position. Your organisation can build trust and "help lead by example" by telling your sustainability story with accuracy and honesty which helps present "clear, transparent and robust messaging to your stakeholders". Communicating your sustainability story substantiated by data and fact is in your organisation's best interest to help stakeholders make better-informed decisions and build advocacy.
Accurate messaging can also help your organisation attract and retain the best talent. "We are finding that brands that embed sustainability into their strategy, marketing and messaging are generally better able to attract and retain talent," said Zoë Lee. Similar to consumer confidence, individuals are looking to work for brands that are authentic and accurate in their messaging. For example, according to Forbes, 79% of millennial employees are loyal to companies that care about their effect on society and will increasingly favour employers with progressive Environmental, Social Governance (ESG) credentials.
With better-informed stakeholders, now is the time for your organisation to share its sustainability efforts with confidence and credibility.
How can organisations communicate credibly?

Progress Backed by Data
Companies can avoid greenwashing by ensuring their sustainability claims are fact-checked and third-party verified to remove any bias. Planet Mark's third-party verification can help your organisation demonstrate its sustainability credentials with accuracy and confidence. Backed by data, we help organisations measure their carbon footprint, engage their employees and stakeholders, and communicate their efforts effectively.
Their certificates are external facing, providing your stakeholders with a holistic view of your sustainability efforts. Our certificates include your organisations carbon footprint, year on year reductions, how many sustainable development goals you have contribute too and more.
Alignment with Reputable Brands
Aligning sustainability efforts with global and national targets, frameworks, and standards puts organisations in the best position to ensure they're doing good. Planet Mark's services are all underpinned with clear, well-established and reputable sustainability frameworks. For example, their Business Certification is aligned with GHG protocol, and our Net Zero Programme is aligned with the Science-Based Targets Initiative (SBTi). Their services help secure confidence that your sustainability efforts are truly impactful and aligned with the current frameworks.
A Holistic Approach To Communicating Your Sustainability
Stakeholders appreciate organisations who don't just tell their story but show their story, accessibility to your data is crucial to avoiding greenwashing and growing consumer confidence. Planet Mark takes a holistic approach to communicating your organisation's sustainability.
Through their certificates, which are external facing, stakeholders can see an organisations year on year reductions, how many sustainable development goals your organisation has contributed to and more. Similarly, their communication experts help your organisation bring your data to life to ensure your external messaging is engaging and accurate.
---
Brand Resilience: How Sustainability Supports Your Positioning in a Changing World
In today's rapidly evolving business landscape, sustainability has emerged as a fundamental pillar for companies of all sizes and industries. Whether you're part of an SME or a large FTSE 100 company, integrating sustainability into your business strategy can have numerous benefits for your brand.
Sustainability is no longer just a buzzword; it has become an essential aspect of a company's success and reputation. Customers, employees, and stakeholders are increasingly prioritising businesses that demonstrate a commitment to social and environmental responsibility. By adopting sustainable practices, you not only contribute to a healthier planet but also create value for your business.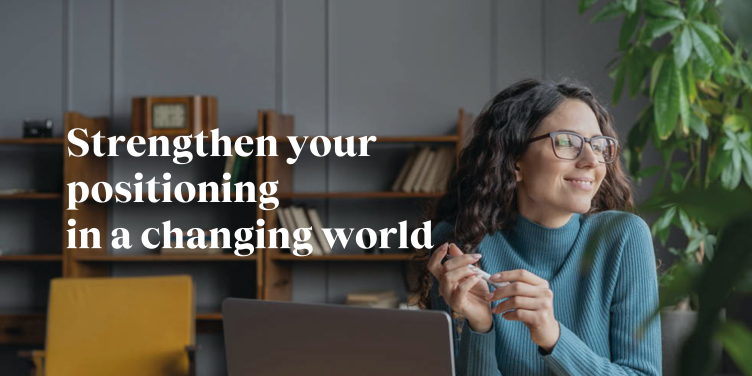 The Synergy of Sustainability and Business
Sustainability and business are not adversaries but rather natural partners. Adopting sustainable practices can yield numerous benefits for your company's brand position. Sustainable businesses are seen as forward-thinking, socially responsible, and committed to making a positive impact on the planet. They often enjoy greater customer loyalty and increased market share.
Discover more about why sustainability and business go hand in hand here.
The Business Case for Sustainability Reporting
Transparency is a key component of sustainability. By implementing sustainability reporting, you not only demonstrate your commitment to responsible business practices but also gain valuable insights into your environmental and social impact. We delve into the benefits of sustainability reporting, such as enhanced stakeholder engagement, risk management, and improved decision-making.
To uncover the business case for sustainability reporting, click here.
Avoiding Greenwashing Can Strengthen Your Brand Position
Greenwashing, the deceptive practice of making misleading environmental claims, can undermine a company's credibility and damage its brand reputation. Instead, authentic sustainability practices can establish trust and solidify your brand position. By aligning your brand's values with sustainable actions and transparent communication, you can build lasting relationships with environmentally conscious consumers.
Learn more about the importance of avoiding greenwashing and how it can strengthen your brand here.
Our complete guide to communicating credibly
For a decade, we have helped businesses communicate with transparency and confidence through robust reporting and third-party assurance. And now you can too. We've put together a comprehensive guide that provides valuable insights and practical tips to help you navigate the complexities of communicating your climate efforts.
---
The What and Why of Sustainable Development Goals
Businesses will place a crucial in part in supporting the global aim to build a better future. Businesses can use the sustainable development goals framework will help to demonstrate a business's commitment to improving the environment, society and economy.
In this Blog, Planet Mark highlight how businesses can integrate sustainable development goals into their everyday operations.
What are The Sustainable Development Goals?
The UN's Sustainable Development Goals (SDGs) are a collection of interrelated global goals that aim to end poverty, fight inequality and injustice, and tackle climate change by 2030.
In September 2015 at a UN Summit, 193 world leaders came together to set out the 17 SDGs and 169 targets. They cover a broad range of social and economic development issues, including poverty, hunger, health, education, climate change, gender equality, water, sanitation, and energy. They also draw on the experience of countries which have already achieved development gains—and have faced challenges along the way.
The need for new sustainable development goals arose because many countries across the globe had failed to achieve their Millennium Development Goals targets on time; meanwhile, climate change had become an increasingly pressing concern due to rapid temperature rises and increased frequency of natural disasters over recent decades. There was also a growing awareness about how important it is for humans not just to survive but thrive in harmony with nature rather than against it (this concept is known as "sustainable development").
Why are The Sustainable Development Goals Important?
The Sustainable Development Goals should be seen as an opportunity for individuals, businesses, and governments to measure progress towards a brighter future. By working together - progress can be made on key issues like climate change, poverty, and hunger.
For example, the latest IPCC Synthesis Report stresses the critical urgency for organisations and industries to decarbonise and reach net zero emissions. The SDGs provide a framework for businesses to make positive steps to decarbonise and support the progress towards a brighter future.
Supporting the SDGs will also have a knock-on effect on a business's brand perception. 79% of consumers indicated they had reduced their use of a brand if they had discovered it was acting in an unsustainable way. Businesses actively involved in the SDGs can improve their brand affinity and retain customers by being purpose driven.
Measuring success will promote global collaboration to understand what works and what doesn't to ensure we're on track with our efforts toward creating a better world. It will give us an idea of the steps we need to take to achieve the goals by 2030.
How can your Business achieve Sustainable Development Goals?
The UN 2030 sustainable development goals are a framework for businesses to achieve environmental, social and economic sustainability. To implement these goals within your business, you can follow the following steps:
Establish a business-wide sustainability strategy.
Building a business-wide sustainability strategy will help you identify and prioritise the issues your business would like to address to support the SDGs. They should include metrics for measuring success. Through Planet Mark's sustainability certification - certified members can directly contribute to up to 9 SDGs addressing 18 SDG targets. Planet Marks business certification is a recognised mark of your business's commitment to building a brighter world.
"Through our business certification, our members measure, and reduce their carbon emissions by around 11% annually" – Planet Mark
Set up a green team.
Setting up a green team or sustainability committee within your business can be one of the most empowering and significant initiatives on your sustainability journey.
A green team should include members from all departments to ensure different departments can contribute their expertise, share knowledge, learn from each other's experiences, and advise management on key decisions related to sustainability initiatives within their departments.
Businesses may be unsure of where to start on building a green team. Our Sustainability Champions Guide outlines the steps needed to help set your team up for success.
Your business can make a Difference for a Brighter Future.
The UN is asking everyone to help make a difference. The Sustainable Development Goals (SDGs) are an ambitious set of universal goals, targets and indicators that businesses can use as an anchor to support the aim to end all forms of poverty, hunger, protect the planet and ensure that all people enjoy peace and prosperity by 2030.
Businesses can use this opportunity to support the UN in its goal to reach the 17 SDGs by 2030; while ambitious, as a collective , it is achievable. You can work with Planet Mark today to start meeting some of the SDGs goals. Get in contact here.
---
Five tips for adopting sustainable business practices
At Planet Mark we understand the importance of businesses adopting sustainable business practices to achieve commercial resilience and help combat climate change.
So, here are our top tips for adopting sustainable business practices.
Sustainability has rapidly changed from a 'nice to have' for organisations to a business imperative. For some companies adopting sustainable business practices is helping to comply with emerging regulations and ease pressure from stakeholders, while for others it equates to winning more tenders, attracting and retaining the right talent and creating business resilience.
But for some organisations, embracing sustainability and adapting to a changing world can seem overwhelming.
By 2050, all UK organisations must be net zero carbon, regardless of their size but surveys show that less than one-third currently have net zero strategies in place. Key barriers are a lack of investment internally and the need for better regulation, but also a sense among some companies that their actions would be insurmountable in the face of the climate crisis.
SMEs account for over 99% of the business population in the UK and over 60% of employment. We've been working with businesses of all sizes to embrace sustainability, reduce their carbon footprint and unlock the passion of their employees since 2013, and we know the incredible collective impact that businesses, including SMEs can have. For example, this year alone, we have helped save over 115,000 tonnes of carbon – that's equivalent to the CO2 emissions from charging 14 billion smartphones.
Here are some of our tips for organisations starting out on their sustainability journey:
You can't manage what you don't measure
As consumers, clients, supply chains and talent all grow increasingly aware of the impact of climate change, businesses are expected to know and understand their impact on the planet.
Large organisations are required to publicly disclose emissions data for regulatory schemes such as
and industry-specific targets.
In April this year, the UK Climate-Related Financial Disclosures became mandatory for large organisations meaning over 1,300 of the largest UK-registered companies and financial institutions are required to disclose climate-related financial information on a mandatory basis. Now, these regulatory impacts are trickling down through large organisations' supply chains to smaller organisations.
Calculating a carbon footprint is a cornerstone of any successful sustainability policy and is the first step to continued reduction in emissions. From this data, a business can understand the environmental consequences of its business operations and prioritise efforts to start reducing its emissions. A carbon footprint is also one of the most widely recognised symbols of sustainable progress, easily communicated and understood across every industry.
A carbon footprint is the total greenhouse gas (GHG) emissions caused directly, or indirectly, by an individual, business or organisation, item or event, typically expressed as a carbon dioxide (CO₂e) equivalent. When measuring a carbon footprint with Planet Mark, these GHG emissions are compiled into one easily measured and tracked carbon dioxide equivalent (CO₂e). This is the measurement that most organisations use; it helps for comparisons and benchmarking, as well as making the footprint easier to measure, reduce, and communicate.
Set a science-based target
Science-based targets provide companies with a clearly defined path to reduce emissions in line with the Paris Agreement goals. The Paris Agreement, a binding agreement adopted by 196 Parties at COP 21 in Paris, brings all nations into a common cause – limiting global warming to well-below 2°C above pre-industrial levels and pursuing efforts to limit warming to 1.5°C. While many businesses have the tools and willpower to make carbon reduction commitments, and take action on those commitments, many of these targets are not connected to climate science. Science-based targets are a way for business to demonstrate leadership in their industry, stay at the forefront of social responsibility and demonstrate to your stakeholders that your business is serious about climate action.
Businesses can also join forward-thinking businesses around the world that have the Planet Mark Net Zero Commitment and become part of the Race to Zero. Planet Mark is one of ten official partners of the UN-backed Race to Zero campaign. Businesses that make the Planet Mark Net Zero Commitment will automatically become members of the Race to Zero campaign and join an array of businesses and public services around the world committed to achieving net zero carbon emissions.
Engage your employees in sustainable business practices
Unlocking the passion of your team is the key to achieving your organisation's sustainability goals. Organising a progressive and effective green team or group of sustainability champions can be one of the most empowering and significant initiatives on your sustainability journey. It will help you stay on track with sustainability targets and create a purpose-driven work culture. If the motivation and passion is there, your sustainability champions team can be a great way to expand your business network, foster inter-departmental collaboration and effect high-level change.  
Embrace the quick wins
While some aspects of sustainability may take longer to implement; for example switching to an electric vehicle fleet, there are some quick wins that can help reduce your business' emissions quickly from switching to online meetings and events to promoting more sustainable methods of transport through incentives such as the Cycling to Work scheme.
Infrastructure changes across your business can result in significant improvements in operational energy, water and waste efficiencies across your business.  For example, with energy management, controlling temperature set points within your building or your operation is just one of these low-cost but effective energy saving initiatives. We recommend maintaining a temperature of 21C throughout the entire year. Properly maintained kit is another way to improve energy efficiency within your business, for example ensuring air conditioning units remain unclogged. 
Share your challenges and opportunities
Finally, share your journey along the way! Being able to communicate progress with authenticity and confidence can help your business stand out from competitors, with research suggesting that consumers are increasingly wanting to spend more for sustainable products and services. In fact, $1 in every $5 spent on FMCG comes from an environmentally conscious consumer, according to McKinsey & Company.  
Communicating your sustainability achievements and goals can also help to attract and retain talent. Studies show that younger generations are looking for roles in purpose-driven companies, with some research suggesting that over 60% of millennials won't take a job if the company doesn't have a strong corporate social responsibility (CSR) policy.
While communicating sustainability is important, it must be done in an authentic and clear way to avoid greenwashing. That's not to say that you can't share your challenges too. Honesty fosters trust which is a critical aspect of brand loyalty. Honest and transparent communications about your sustainability journey will resonate with customers and stakeholders It is ok to disclose if you haven't met your targets if you share the why's and lessons learnt so that other organisations can learn with you. This will help us solve our collective global challenges faster. 
The race against climate change is one we must all win. Communicating your progress is not only helpful internally but it can support and encourage other organisations to get started too.
Planet Mark's free toolkits are designed to help organisations take the first steps in measuring the carbon emissions associated with five key areas: energy, water, waste, procurement and travel. You can download them here.
---
Complying with ESOS Phase 3
In this blog, Planet Mark shares how your organisation can comply with ESOS phase 3 and move beyond compliance.
What is ESOS Phase 3?
The Energy Savings Opportunity Scheme (ESOS) is a scheme brought forward by the UK government to help organisations identify cost effective energy efficiency measures that can be implemented across the business.
Run by the Environment Agency (EA), ESOS requires large organisations in the UK to undertake mandatory energy audits every four years to identify potential energy efficiency measures.
Energy audits must cover energy across the entire organisation, from buildings, industrial processes and transport and process energy usage.
ESOS is now in Phase 3 (previous phases were phase 1 and 2), with UK organisations who meet the criteria required to have completed and reported to the Environment Agency by 5 December 2023.
Does my organisation fit the ESOS Criteria?
Organisations that meet either one or both the conditions below must comply with ESOS:
Employs 250 or more people.
Has an annual turnover in excess of £44 million and an annual balance sheet total in excess of £38 million.
Why is complying with ESOS important?
Failure to comply with ESOS can put your organisation at risk of fines of up to £50,000 by the Environmental Agency (EA).
Complying with ESOS will put your organisation in the best position to start understanding your energy consumption and implementing energy efficiency practices that will help reduce your energy bills and carbon emissions.
How can Planet Mark help you with ESOS?
Planet Mark's team of in-house ESOS Lead Assessors and energy auditors have a combined experience of over 40 years and have supported organisations through ESOS since Phase 1.
Working with their team ensures you get more value with ESOS. Their experts conduct detailed, holistic building energy audits as required by the EA and will reprofile building reports as energy prices change.
Additionally, the Planet Mark team can support you in feeding the outcomes of audits into Net Zero Action Plans.
Get ahead of the curve and start working on ESOS with Planet Mark today with us.
---
Planet Mark Published SME Net-Zero Whitepaper
Planet Mark has published their whitepaper 'Recommendations for Supporting SMEs on the Road to Net Zero' in partnership with the Amazon Small Business Accelerator outlining Planet Mark's findings on the barriers, opportunities, funding and policy needs of SMEs to achieve net zero.


The headline summary of the six key recommendations in the report includes:
Top Recommendation
1. Create an improved government-backed SME Net-Zero Resource Hub
For Policy Makers
2. Consider the indirect impact of legislation on SMEs
3. Provide a clear timeline for SME emissions measurement requirements For Tax and Funding
4. Pair net zero regulation with financial incentives
5. Create a Net-Zero Catapult to scale solutions
For Industry
6. Large organisations must support suppliers with net-zero
Download a full copy of the 26 page report here: View the Report
---
The Planet Mark Awards ceremony returned for a fourth year on Thursday 19 January at The Royal Institution to celebrate sustainable business.
Every year, Planet Mark shines a light on members and individuals that have gone above and beyond to maximise their impact. Recognising the work undertaken by businesses during their reporting period of 2021, the 13 categories of awards were based on key environmental challenges: reducing carbon emissions, engaging stakeholders in the process, and communicating progress with transparency and authenticity.
The Awards had record-breaking entries which were shortlisted to 41 finalists by a judging panel of sustainability experts including; Martin Cooper, VP of Project Management Team at Prologis UK, Dan Ryan, learning Curator at Eden Project, Fiona Macklin, Race to Zero Campaign Manager at Climate Champions, Matt Sexton, Strategy Director at Futerra, Mais Callan, Senior Responsible Investment Manager at NEST and Forget Shareka, Environmental Officer at Dunbia Group. Read more ...
---


Our partners at Planet Mark understand many of us are looking for ways to save energy at home with the energy crisis and colder months approaching.
Despite support for businesses and individuals announced by Liz Truss recently, many are still struggling, and this is compounded by an increase in the cost of living. Cutting carbon, energy and costs go hand in hand.

Take a look at some of Planet Mark's immediate and medium-term actions you can take that can help you save energy at home.
---
Unlocking your employees' passion through sustainability champions
Unlocking the passion of your team is the key to achieving your organisation's sustainability goals. Here we show you some simple tips on setting up a sustainability champions group or green team. Read more ...
---
The energy crisis: how your business can save energy and cut costs
The UK energy crisis has left households and businesses facing rising gas and electricity bills. Here, we share low-cost and effective ways to save energy and cut costs. Read more ...
---
Newly certified members:
Roadchef Ltd
Codex Ltd
Vanitorials Ltd
Delphis Eco Ltd
GSS Southern Ltd
Artic Building Services Ltd
---
Mitford peer Lord Redesdale and Conservative Andrew Griffith MP, UK Net Zero Business Champion, will inaugurate the UK's first fully electric 'Carbon Battle Bus' at Old Palace Yard in Westminster, London on Wednesday 9 June at 1pm. The event will launch the start of the ambitious Zero Carbon Tour, organised by sustainability certification Planet Mark, and set in motion a series of zero carbon initiatives, including UK businesses showcasing their sustainability journeys. The Tour culminates at COP26 in Glasgow in November.
99 per cent of small firms recognise the importance of sustainability but three quarters of them (77 per cent) don't know how to measure their carbon emissions and need support, according to research from Small Business Britain. Last week, Prime Minister Boris Johnson and Business and Energy Secretary Kwasi Kwarteng launched the Together for our Planet 'Business Climate Leaders' campaign to encourage small and micro businesses to commit to cutting their emissions in half by 2030 and to net zero by 2050 or sooner through the new UK Business Climate Hub.
Currently, over 40 of the UK's FTSE 100 companies have signed up for it. However, the UK's six million small businesses make up 99 per cent of the UK's enterprises, employ 60 per cent of the UK workforce and generate £2.2 trillion of revenue to the economy, so it is crucial these enterprises take action and reduce their carbon footprint.
Find out more about the tour in TWinFM's announcement.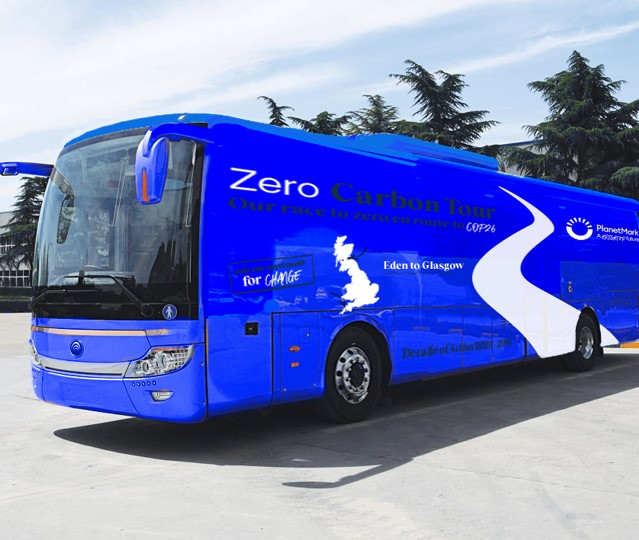 ---

Join Us Socially
Twitter: @ThePlanetMark
LinkedIn: https://www.linkedin.com/company/theplanetmark/
Facebook: https://www.facebook.com/ThePlanetMark

Visit Us Online And Learn More
---
Share