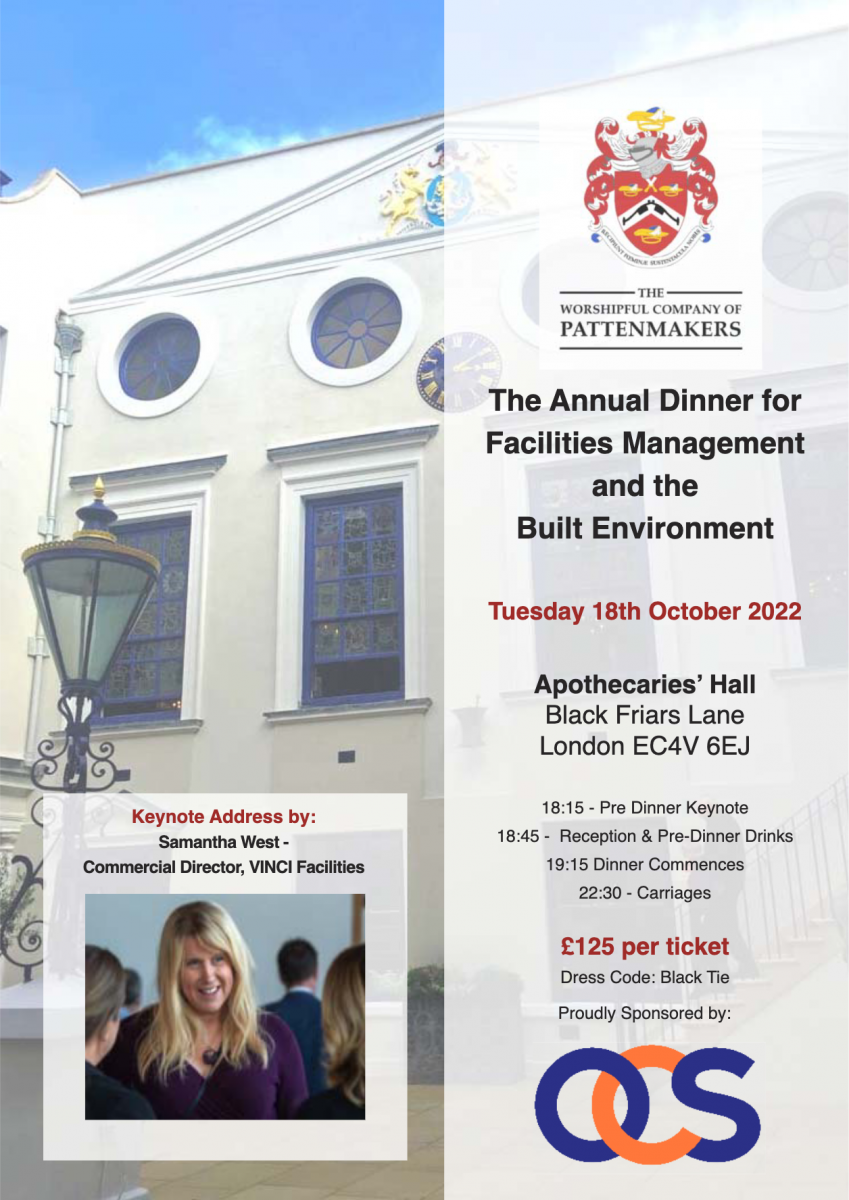 When is it?
Tuesday 18 October 2022, 18.15 to 22.30.
Where is it?
Apothecaries' Hall, Black Friars Lane, London.
The details:
The Dinner for FM and the Built Environment is an annual livery dinner held by the Pattenmakers to celebrate the people, projects, concepts and the innovations leading the way in property and facilities services.
Although the footwear industry represents the traditional trade heritage of the Pattenmakers, the Company is also home to a thriving community of professionals from the FM and Built Environment sector.
The Pattenmakers Charitable Foundation raises funds each year to provide financial and practical aid to a portfolio of good causes. Through its fundraising activities and common purpose it makes available grants, bursaries and awards, providing sup- port and assistance to trades, young managers and to the youth in the city, as well as to military affiliation.
Tickets are £125 per head plus an optional donation to the Pattenmakers Foundation. For a booking form and all enquiries please contact:

Monika Nawrot - pattenmakers@bwa.uk.net
or David Emanuel - david@i-fm.net
What's on the agenda?
Dress Code: Black Tie
18:15 - Pre Dinner Keynote
18:45 - Reception & Pre-Dinner Drinks
19:15 Dinner Commences
22:30 - Carriages
We are delighted that Samantha West will provide our pre-dinner keynote this year.
She is the Business Unit Commercial Director at Vinci Facilities and has been in the construction and FM industries for over 30 years.
She is commercially responsible for a £110m FM business unit, which has over 1500 staff and works on projects mainly in the public sector.
Projects include hospitals, stadia, rail, government offices and facilities and are located across the UK.
Her role includes forecasting and accounting, business development, procurement and supply chain management. The functional management of a commercial team, continuous improvement, business unit strategy and planning.
Perhaps that sounds like many job descriptions of our senior leaders, however as she mentions at the end of her biography, she used to be male.
Join us to learn about her fascinating journey as whilst FM has certainly evolved and changed over the past three decades, Sam has too, and has an inspirational message to share.
---
Share
---