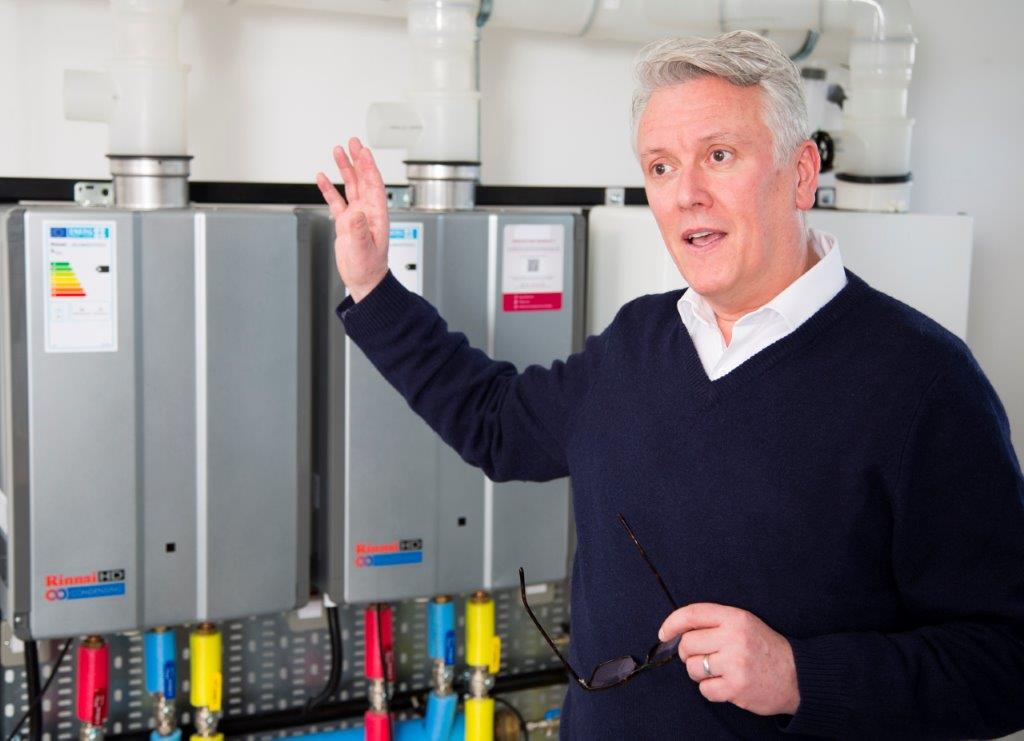 Limitless, Precise Controlled Temperature Hot Water On Demand For All Hygiene Regimes.
Rinnai is now positioning all of its operations, products and services to meet and exceed the anticipated demand for temperature accurate hot water delivery in all sectors of commercial life, especially NHS, healthcare, care homes, foodservice, domestic and industrial arenas as planning starts for the coming winter.
The company is now positioned as the information hub for all questions concerning the delivery of on-demand, temperature-controlled hot water units and systems for sites of every size, nothing too big nor too small.
"Continuous flow is now acknowledged as the preferred mode of hot water delivery in terms of overall performance to anything else, its economics and energy efficiency. And now we are targeting the London and SE area. We are allocating major levels of resources - with new and additional staff, a dedicated office and full technical support," says Rinnai Managing Director Tony Gittings.
"We all need ready access to continuous supplies of safe, useable hot water and soap to ensure clean and sterile indoor environments throughout our daily lives to minimise any infection. This is paramount.
"As we are all now clearly aware the competitive horizon in building services *has changed and all sites need to maximise efficiencies especially with hot water delivery. Our research indicates that in the COVID world we still inhabit there will be a focus on anti-bacteria, anti-virus regimes - but accompanied by operational cost-cutting as the major trend."
Gittings stated that the Rinnai proposition, with specific reference to buildings services consultancy in the London area, will be:

Temperature accuracy as a means of thermal disinfection – within any industrial foodservice setting the need for temperature accurate hot water has always been paramount for the wash down facilities for hygiene reasons but during the pandemic due to poor cleaning and maintenance regimes the poor supply of hot water and disinfecting processes has been highlighted as a major concern. Localised outbreaks of intensive transmission of the virus have been seen in a variety of food handling plants.
Within the Healthcare, Care Home and Hotel environment, especially those with onsite laundries, the inability of hot water supplies that can perform against the advisory rate of 71 degrees for three minutes (for laundries) set by the HSE is both problematic and critical. It is easily foreseeable that there may well be the introduction of bacteria ratings for buildings as one possibility of categorising hotels and care facilities.

Temperature accuracy as a means of efficiency - we know the benefits of temperature accuracy. This is an added value created by our proprietary technologies. Continuous flow hot water delivery gives long term solutions for complete system efficiency and lifetime efficiency of buildings. These claims have been verified by the independent scrutiny and analysis of AECOM, the world's largest building services consultancy.

Temperature accuracy as a means of safety – Temperature to design "in" efficiency - the commercial movement towards low-temperature hot water systems as a means of creating efficiencies and carbon reductions will gather pace. This can be complemented by remote monitoring and data.
Adds Gittings, "The COVID virus has a fat-based envelope that makes it very susceptible to detergents and alcohol. Soapy water, or an alcohol-based disinfectant, are the best and easiest ways to clean hands and surfaces.
"Scientific and public health information consensus states, therefore, to use water above 25 degrees Celsius for washing hands. Hand useable hot water helps makes more foam and it is the soapy lather which kills the virus.
"Hands should be frequently washed - for a minimum of 20 seconds – after touching any surface or food, locks, knobs, switches, remote controllers, mobile phones, computers, keyboards, desks, TV, etc. And, of course, when using the toilet," says Gittings.
Rinnai manufactures over two million water heaters every year and as such is at the forefront of creating real advantages for users.
Rinnai also continues to offer full services for Essential Works support to NHS facilities, care homes, schools, and supermarkets.
Rinnai offers out of hours and weekend technical support – facility managers, building service consultants, designers, installers, site managers and end-users simply call 01928 531870 select 'Technical' and if the call is not answered immediately leave a voicemail. Response will be within one hour between 0800 – 22:30 / 7 days a week.
If there is a constant supply of gas and water the units are guaranteed to supply temperature accurate hot water in unlimited quantities for all hygiene regimes in all types of sites.
Facility managers can contact the company direct in gaining access to the supply of units:
Call 01928 531 870 or email sales@rinnaiuk.com – or engineer@rinnaiuk.com.
Alternatively use the smart online contact points
"Help Me Choose" or "Ask Us a Question"
all held on the website homepage at www.rinnaiuk.com.
Scientific Rationale of Handwashing & Hygiene Regime
"WHO recommend Lukewarm water for fighting COVID. Official definitions of LUKEWARM are between 98-105 Fahrenheit/ (WHAT IS THIS IN CELSIUS?)"
WHO. Health workers exposure risk assessment and management in the context of COVID-19 virus. 4 March 2020.
"avoiding people aggregations and crowded spaces, maintain distance, particularly if with respiratory symptoms, performing hand hygiene frequently, using soap and hot water if possible"
Santacroce L, Charitos IA, Del Prete R. COVID-19 in Italy: An Overview from the First Case to Date. Electron J Gen Med. 2020;17(6): em235.