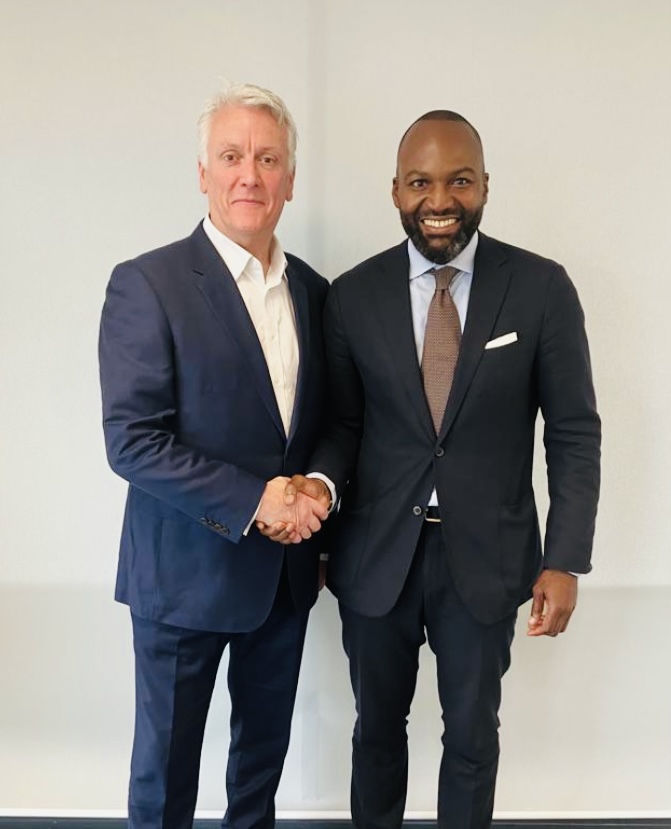 Tony Gittings, Managing Director of Rinnai UK (left) and Frankie Ugboma, Chief Executive at Dimeta shake hands on their Memorandum of Understanding for closer collaboration on energy efficient, lower carbon fuel for off-grid sites
The partnership will explore the use of renewable & recycled carbon DME in appliances to decarbonise the LPG market.
Dimeta, a global joint venture to accelerate the production and use of renewable and recycled carbon Dimethyl Ether (DME) has announced the signing of a Memorandum of Understanding (MoU) with the Rinnai, a global manufacturer and distributor of gas appliances, to explore ways to decarbonise the LPG market in Europe through the use of DME.
Renewable and recycled carbon DME is a clean-burning, sustainable fuel made from various feedstocks, such as waste, biomass or biogas, and can reduce emissions by up to 85% compared to oil and diesel. As DME is chemically similar to Liquified Petroleum Gas (LPG) and bioLPG, it can be blended with it up to 20% and 'dropped-in' to existing LPG supply chains, providing a seamless pathway to reducing emissions from the over 13m tonnes used for energy in Europe each year.
Together, Dimeta and Rinnai will explore the role for DME blended with LPG and used in existing appliances, as well as 100% DME dedicated appliances, including hot water production systems, boilers and dryers. The collaboration between Dimeta and Rinnai will initially focus on the European market and will include the two companies working together to further their knowledge and showcase the importance of collaboration across the whole value chain.
The Rinnai corporation see DME appliances joining a suite of technologies from Rinnai, who sell millions of appliances globally, particularly supporting off-grid industries including the leisure, agriculture and hospitality sectors.
The agreement shortly follows the announcement of planning approval for Dimeta's first-of-a-kind £150m renewable & recycled carbon DME production plant in the UK. Once operational in 2025, the plant will produce over 50,000 tonnes of DME from non-recyclable waste – the equivalent of 25% of LPG domestic heating in the UK. In addition to the first plant in the UK, subsequent plants are in development in Europe and the United States, as part of Dimeta's goal to achieve 300,000 tonnes of DME production capacity by 2027.
Tony Gittings, Managing Director, Rinnai UK, said: "Our LPG-fuelled products play a critical role in powering off-grid communities across the world. With more steps being taken to lower global emissions, being able to provide greener solutions is key on the road to net zero. Our collaboration with Dimeta will enable us to further explore the use of renewable liquid gases like DME and how we can deliver quality appliances that not only work efficiently and affordably for our customers, but contribute positively to the global environment."
Frankie Ugboma, Chief Executive at Dimeta, commented: "Collaboration with the whole supply chain is critical to the success of the roll out of renewable & recycled carbon DME. By having the support of world-leading companies such as Rinnai, we can maximise the opportunities for DME to support the hardest-to-decarbonise sectors, such as off-grid homes and businesses. Working together, we can harness our shared experience and knowledge to find bold ways to decarbonise the LPG market that will result in a greener future."
About Dimeta
Established in February 2022, Dimeta is a joint venture between SHV Energy and UGI International – the leading global distributors of off-grid energy – developed to further the production and use of dimethyl ether (DME) a low-carbon sustainable liquid gas.
Dimeta is committed to pioneering the advancement of renewable and recycled carbon DME technologies that accelerate the off-grid power market's transition from LPG to sustainable, low carbon energy and contribute to the establishment of a net-zero carbon economy.
By leveraging the expertise, financial assurance, innovation capabilities and distribution power of SHV Energy and UGI International, Dimeta aims to accelerate DME as a versatile and sustainable fuel solution.
About Rinnai
Rinnai Corporation is a Japanese multinational company based in Nagoya, Japan, that manufactures heating appliances, including high efficiency water heaters for domestic and commercial usage, home heating appliances, kitchen appliances, clothes dryers and commercial-use equipment such as rice cookers, grillers and fryers.
"Rinnai utilizes heating to provide society with a comfortable way of life." This is their corporate mission. For our customers, we offer lifestyles of comfort, safety and peace of mind, and for the planet, we strive to reduce environmental impact as much as possible. Rinnai aims to creates healthy and comfortable lifestyles.
In support of this mission Rinnai launched its Rinnai Innovation Manifesto 2050, in 2021 which aims through innovation in product development, manufacturing, and sales, to "help realize a decarbonized society" by transcending the boundaries of its conventional business domains. As a part of this manifesto Rinnai will explore the development and deployment of technologies that utilise electric and renewable gases like Hydrogen and renewable liquid fuels.