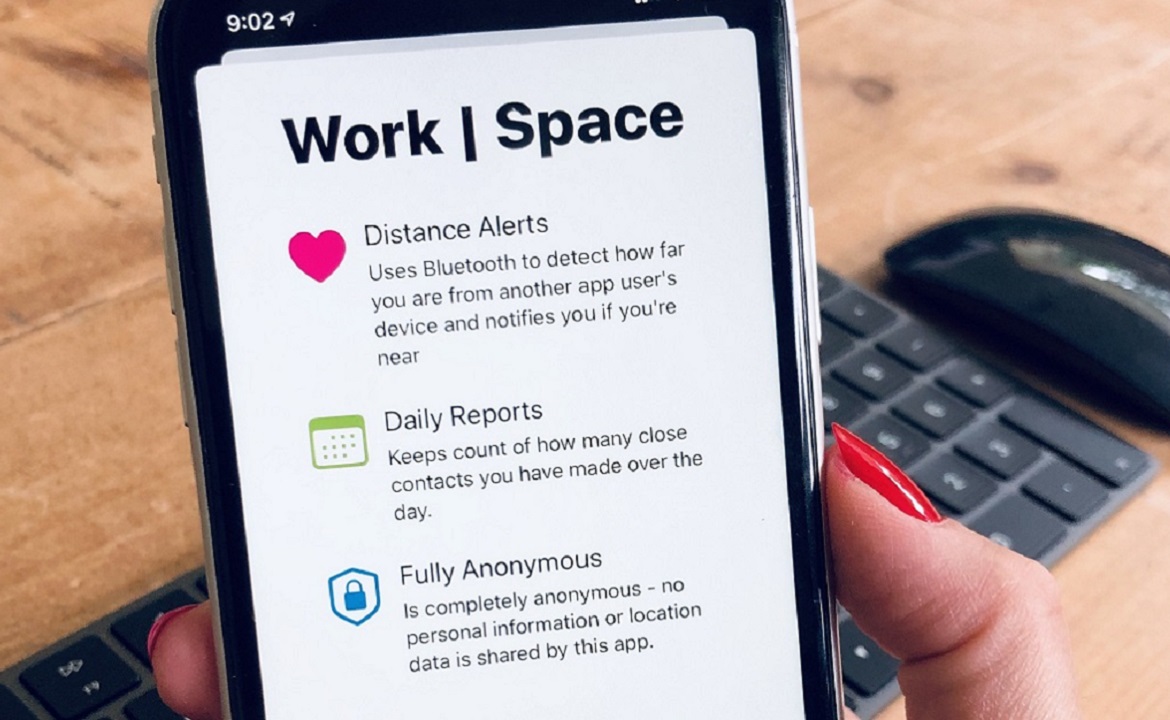 Work | Space, a free mobile app to help people return to work more safely post lockdown.

As the government begins to lift the lockdown restrictions we'll soon be seeing many more people getting back to their places of work. A new smartphone app, Work | Space, has just been launched to help workers both return to work and adapt to new social distancing requirements.
We're all used to using "Bluetooth" on our phones to connect to speakers and headphones, but Equal Experts, a UK based tech company, has found a way to use the same tech to create an app that helps with workplace social distancing.
Social distancing still remains one of the most effective ways of limiting the spread of the virus and could prove critical in minimising the disruption to businesses as more employees begin returning to places of work. Businesses face a major challenge in reassuring employees that sufficient safeguards are in place to make a safe return to work possible.
Whilst most efforts to date focus on Contact Tracing, Equal Experts is using the technology to provide smart social distancing reminders. Their new, free app looks to help employees returning to work build up a habit of social distancing.
Work | Space works by simply alerting employees who have the app installed on their device when they come within a 2m range of another user, providing a discreet reminder either via their smartphone or smartwatch. The app also acts as a kind of fitness tracker but instead of tracking steps, it tracks the number of close contacts longer than five minutes within a day.
A video demonstration of the app is on YouTube.
It's understood that by making this data visible and available to an individual, they will then be able to better understand their own behaviour and adjust to improve it.
One major area of concern with Contact Tracing and apps such as Work | Space is privacy but Equal Experts says that the app side steps these issues by simply not collecting or using any data at all. It says for the limited purposes of social distancing, data collection simply isn't needed.
Concerns over privacy have proven a major stumbling block that's limiting the mass adoption of Contact Tracing apps. Surveillance at work is now becoming the next privacy battleground as businesses consider building their own private Contact Tracing systems and attempt to balance the needs of business against the rights of employees.
Apps like Work | Space could provide a different approach which instead of attempting to enforce social distancing through monitoring, empower individuals with technology by letting them better understand their own social distancing practices.
Contact tracing is undoubtedly an important tool in fighting the pandemic, it's also a largely retroactive measure, letting you know if you've already been in contact with someone who's tested positive.
Work | Space is one of the first proactive tools being made available that helps users understand with active reminders when they're coming into close contact with others and could potentially have a greater impact by minimising infections in the first place.
Work | Space for iOS isn't on the App Store yet, but interested businesses can contact them to learn more about implementing the new app. An Android version is also said to be in the works.
The company also says it is actively seeking to work with government and public health organisations to make the app more broadly available to business and so encourages any interested organisations to contact them at workspace@equalexperts.com or to visit equalexperts.com/workspace.