Ignoring the brand-boosting value of moving to an electric fleet and focusing on the UK Government offering businesses £350 per unit, for the installation of up to 40 workplace charging points.
The electric vehicle revolution is no longer a dream – it's already happening. Across the world, electric vehicles (EV) are on their way to becoming the new normal. New EVs are being launched every month, consumer confidence is sky high and car prices are increasingly competitive. EV sales are rocketing while new registrations for internal combustion engine vehicles (ICE) are plunging.
Our zero emissions future is being driven by a combination of factors.
1. Firstly, most governments around the world are signed up to the United Nations' Paris Agreement of 2015, which commits them to limiting global temperature rise by reducing greenhouse gas emissions. Helping drive the market for EV sales will be a significant factor in achieving this. Additionally – as in the UK, for example – a combination of consumer grants for new EV purchases, changes to company car tax regulations that favour EV and 'green-shaming' are all playing their part. Put simply, it's cool to own an EV.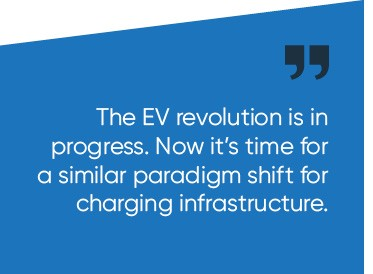 2. In July 2018 the UK government launched its Road To Zero strategy, detailing plans for ultra-low emission vehicles to achieve between 50-70% of new car sales, and up to 40% of new vans, by 2030. Within 10 years, UK consumers who make their next car purchase an EV will likely be in the majority.
It's a dramatic shift that's already well under way. From June 2019 to June 2020, new registrations of electric vehicles (Battery Electric Vehicles and Plug-in Hybrid Electric Vehicles) in the UK almost doubled
3. Just as impressively, the combined UK market share of new vehicles sales for BEV and PHEV during the same period grew from 2.1% to 9.5%.
4. By the end of July 2020, there were 330,800 Plug-in Electric Vehicles on UK roads – not including mild hybrids.
5. Globally, there were 7.2 million electric cars on the road last year. While that may only represent 1% of global car stock, it's a year on year growth of 40%. EV sales are on supercharged catch-up.
6. One ambitious campaign – EV 30@30 – is targeting electric vehicles to make up 30% of global electric vehicle sales by 2030. As the campaign is the brainchild of Clean Energy Ministerial (CEM), it's to be taken seriously. The CEM is made up of governments from some of the planet's largest EV markets, including China, Canada, Norway and India.
7. The Coronavirus pandemic hit car sales of all fuel types in Q2 of 2020, but as global lockdown measures continue to ease, the BEV/PHEV market looks incredibly resilient – although this in itself brings new challenges, not least the adequate provision of charging units. A report last year by research firm Capital Economics for Scottish Power estimated that the UK will need more than 25m electric vehicle charging points by 2050 to hit its Net Zero targets, with about 2.6m of these in public places. Installation costs will total close to 50bn GBP, the report suggests – but at present, the installation of EV charging bases is a time-consuming and costly operation.
The EV revolution is in progress. Now it's time for a similar paradigm shift for charging infrastructure – one where innovative new technology helps speed up rollout and bring down costs in line with our burgeoning EV adoption.