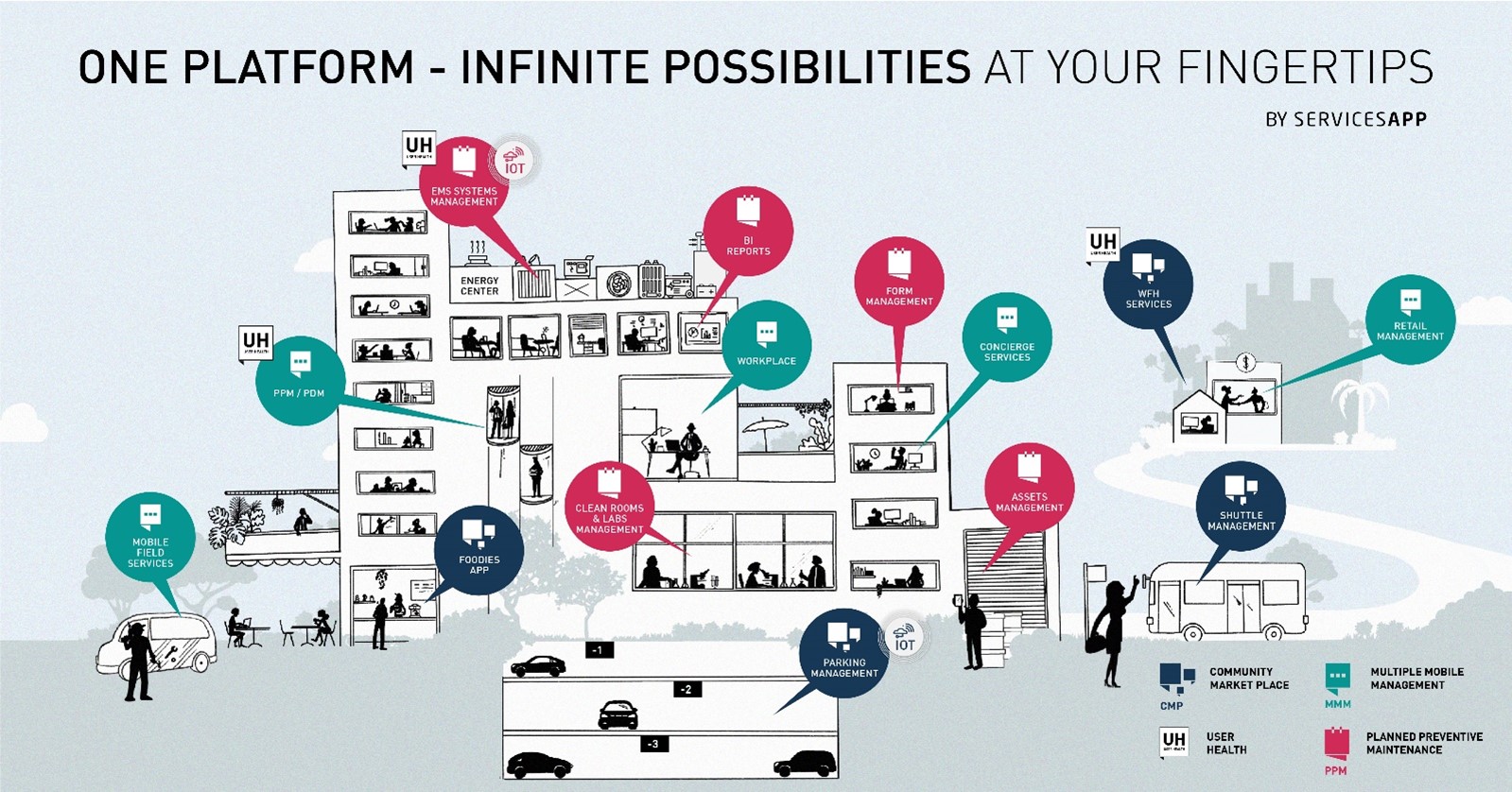 The way offices manage their operations is changing rapidly during this unique time. These days, as millions of square meters are left uninhabited or partially utilized, we must adapt and consider different ways of conducting our daily operations.
The way we operated and maintained properties just a few months ago became outdated in an instant and is no longer relevant today. We know the term "production floor" from a variety of fields, but it's also extremely relevant in the facility management and real estate spheres.
Today more than ever, it's necessary to measure and analyze data and trends in real-time.
The terms "SLA" and "KPI" are suddenly becoming more relevant and adopting new meanings.
ServicesApp is known as an innovative platform for the management and operation of service procedures.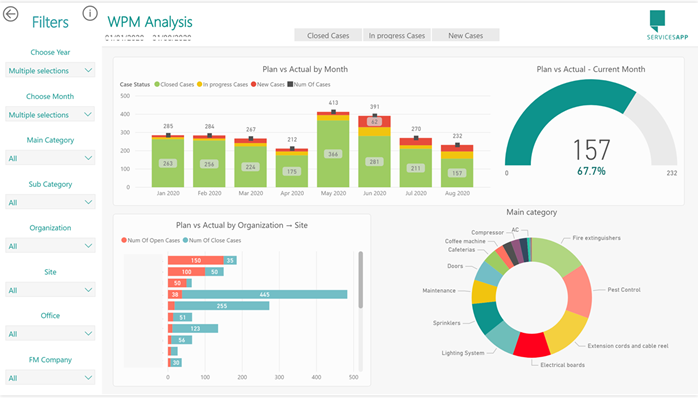 In addition to this innovation, the platform is revolutionary for its data measurement capabilities.
ServicesApp's Microsoft BI reporting system allows for a simple and easy connection to PowerPoint files, Excel, Outlook, and more. This makes the platform an extremely useful tool for organizations to track and monitor data with their characteristics of choice.
With this technology, we can transform the operating arrays and services to a type of "production floor" which we can monitor, improve, and adapt to the ever-changing market needs.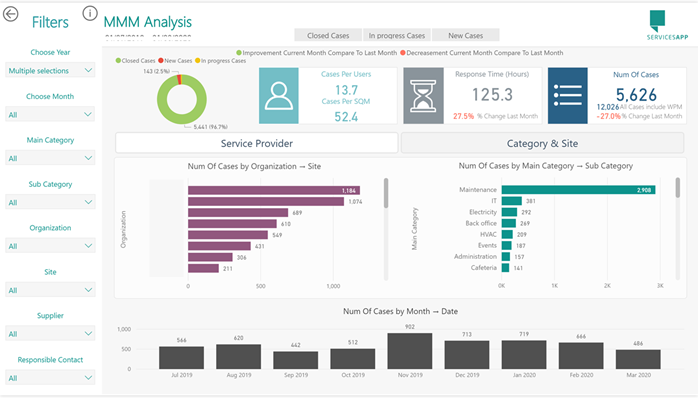 The following table outlines some of the significant organizational changes and what facility managers will see in the FM field post COVID-19, and many are already happening today:
| | |
| --- | --- |
| Pre COVID-19 | Post COVID-19 |
| Sqm based operating arrays | Capacity based operating arrays |
| Preventative maintenance based on pre-scheduled requirements | Preventative maintenance based on the organization's changing needs and site capacity |
| Ongoing maintenance of common areas such as kitchens, restrooms, and meeting rooms at a high frequency | Changing timelines for common area maintenance based on updates in local sanitation guidelines, and identification of reoccurring issues |
| Each employee having a designated desk | Hot-desk policy |
| Planning of the operations team's work schedule based on pre-decided working mechanisms and schedules that are known in advance | On-the-go planning and adapting to changing needs: sanitization procedures versus general cleaning with a focus on high traffic areas |
| Response SLA for non-critical service requests | Response SLA for highly critical service requests such as identification for COVID-19 positive employees, push notifications to those nearby, and immediate preventative action |
| Employees eating together in common areas | Ordering meals through the app, and eating in a predesignated area |
| Organizations renting parking space per overall number of employees | Smart management of parking space per usage and capacity |
| Regularly scheduled transportation | Transportation schedules depending on demand |
| Initiative and preventive maintenance based on traditional mechanisms | Transition to smart maintenance planning considering capacity and team output |
| Number of service requests in an organization providing management with a sense of what the employees need (quantity) | Data analytics of service requests to understand updated employee needs, such as ergonomic home-office equipment (quality) |
| Traditional resource management | Resource management using data analytics and according to site capacity |
| Preset budgets for infrastructure management | Allocating budgets per the changing needs of the organization |

The ability to see a bigger picture and compare and accurately measure facility management needs today, allows decision makers to do their jobs based on data, rather than doing so based on predictions or attitudes. To make this transition, organizations can utilize ServicesApp's innovative technological solution to aid them in collecting, monitoring, and analyzing significant organizational data.