Promotional Article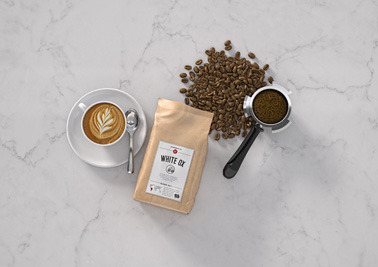 Jacobs Douwe Egberts has launched their premium bean brand, White Ox, claiming it will make an excellent office espresso or a wonderful warehouse iced latte.
Charlea Samuel, Category Marketing Manager at Jacobs Douwe Egberts, said: "Supported with barista training, branded front of house materials and on-trend recipes for menu development, caterers choosing Douwe Egberts' White Ox - Blend No.1 can confidently serve a great tasting coffee knowing that it has been developed by one of the most recognised global coffee companies drawing upon 265 years of knowledge and heritage."
Blend No.1
The first White Ox variant is Blend No.1, which features the familiar Douwe Egberts seal of quality on its craft pack design. This particular, distinctively bold and dark roasted debut coffee variant has been blended to display notes of dark chocolate and crisp red berries, characteristics that make it the perfect base for a wide variety of speciality coffee drinks, from an authentic and intense espresso, to a smooth, aromatic cappuccino or iced latte.
Samuel continued: "With consumers and retailers looking for heritage, quality, great taste and provenance, the newest brand to the Jacobs Douwe Egberts portfolio delivers on all fronts."
Heritage
"Heritage is at the very core of the brand, as White Ox takes its name from a literal translation of De Witte Os, the Dutch coffee shop first opened by Egbert Douwes and his wife in 1753," added Samuel. "From the shop's opening, their mission was to sell items that belonged to the daily joys of life - and great coffee was at the heart of this.
"Douwe Egberts' White Ox is set to continue that legacy, by giving caterers high quality coffee and supporting menu inspiration, training and sales materials to create customer experiences that honour and celebrate coffee as one of life's daily joys."
Sustainably sourced
The White Ox brand uses only sustainably sourced UTZ certified beans, demonstrating a commitment to partner with an organisation that supports the sustainable farming of coffee with better opportunities for farmers, their families and the planet.
Samuel said: "Premium brand, Douwe Egberts' White Ox, has been developed in response to the demands of today's coffee drinkers, who, in line with the explosion of today's coffee culture, have become increasingly discerning about the coffee they drink. In addition to quality and flavour, consumers also want a story behind their brands that they can relate to and be proud to support - knowing more about the environmental and socio-economic impact of the products they consume is high on their list of priorities.
Quality over convenience
Quality, rather than convenience drives modern coffee consumers, for whom good espresso is no longer a luxury but a must. Furthermore, customisation remains a significant trend, with four in five coffee consumers wanting a personalised coffee drink. Today's consumer knows what they want and how they want it. Douwe Egberts' White Ox – Blend No.1 offers both caterers and those operating coffee machines on their premises a product that suits different coffee drink styles and has the versatility to be enjoyed with syrup additions or plant-based milks.
Picture: Jacobs Douwe Egberts has launched premium bean brand, White Ox to workplace caterers and office buyers.
www.jacobsdouweegbertsprofessional.co.uk/brands/white-ox