Promotional Article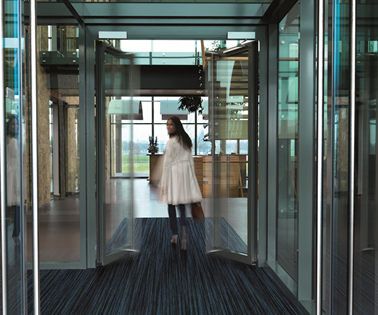 We are seeing a decrease in spending and budgets being cut across a variety of sectors and unfortunately, these cuts can have a major impact on the cleaning and maintenance regimes of a building.
However, by incorporating an effective entrance flooring system in the design of buildings, facilities managers will not only be able to create a clean, safe and healthy environment for end users, they will also be able to save on costs.

First impressions
In any sector, first impressions are key. Indeed, a clean and tidy environment looks appealing and can provide a welcoming atmosphere, whereas dirty floors on the other hand can portray a negative message. But that's not all. If dirt and moisture is tracked into a building, it can create a potential slip hazard. In fact, according to the Health and Safety Executive, slips and trips account for 31% of the most common accidents in work .
However, by installing an entrance flooring system, facilities managers can ensure that end users of a building enjoy a safe transition from outside to indoors.

Recommendations
The industry recommendation is to use at least three metres of an entrance flooring system for light use areas and up to seven metres for busy entrance areas. The general rule is the more matting used, the more effective the entrance flooring system is at preventing dirt and moisture from entering a building.
If effective measures are not taken, the repair and maintenance costs of a typical floor covering over its lifespan could be nine times the cost of the original investment.

Design
In addition to the practical benefits of an entrance flooring system, they can also help to make a great lasting first impression as they are available in a variety of patterns, shades and formats that reflect the latest design trends.

Coral entrance flooring
Forbo Flooring Systems' Coral range has been the international leader in textile entrance flooring systems for more than 50 years, as it delivers superior performance in even the toughest environments. Whether facing rain, snow, sand or soil, it keeps the outside from getting inside. In fact, testing by Cleaning Research International has shown that Coral can stop up to 95% of dirt and moisture from entering a building, with each square metre of Coral able to remove up to 5kg of dirt or 6 litres of water, which in turn can reduce the time spent cleaning interior floor coverings by up to 65%.
Consisting of eight individual ranges, the collection has been designed to cater for the soiling behaviour of various environments, from schools and offices, to healthcare buildings and shopping centres. For example, Coral Brush is the great all-rounder, as it is suitable for all types of entrance flooring areas, absorbing moisture and removing dry soiling as the weather demands. Whereas Coral Duo is the ideal solution when you need maximum dirt removal, unrivalled dirt retention and exceptional moisture absorption, all in just a couple of paces.
For those who want to create a design statement at the entrance of a building, Coral Welcome packs the style and aesthetic appeal of a luxury carpet, thanks to its contemporary linear pattern and rich deep pile, while being able to prevent moisture and dirt being tracked onto interior surfaces.
What's more, Coral Welcome is also an environmentally advanced entrance flooring, thanks to its use of 100% Econyl yarn, which is made from regenerated industrial and post consumer waste and the use of recycled PET bottles in its primary backing.
For more information - Click Here
---
Quick And Easy Adhesive-Free Flooring
Forbo Flooring Systems' sheet vinyl, Modul'up, requires no adhesive, tackifier or double-sided tape, meaning that it can be installed quickly and walked on immediately after installation.
This reduces downtime by over 50%, according to the company and minimises impact on day-to-day business. What's more, the Modul'up T.E. version can also be installed directly onto damp subfloors.
Thanks to its double structural stabilisation system, which incorporates two layers of fibre glass fleece within the construction (compared to only one layer in standard vinyl), Modul'up will not curl, ruck or roll once installed. Its single-sided tape system, which ensures the product stays tightly in place, also means Modul'up is quicker to install and can also be fitted while the premises are still in use, as there is little or no noise, dust or adhesive odours. This makes it the ideal solution for application areas within aged care and education buildings, where disruption needs to be kept at a minimum.

High traffic, low noise
The adhesive-free collection consists of a palette of 20 colours, all of which are available in the compact version, which ensures minimal indentation. This makes the product ideal for high traffic areas. There is also an enhanced Decibel (19dB) version, which is ideal for environments where impact noise needs to be minimised.

Damp subfloors
With damp subfloors a perennial issue, Forbo the Modul'up T.E. version in May this year to provide an easy, economic and hassle-free solution for damp floors with up to 97% RH.
Modul'up T.E. delivers all of the benefits of the Modul'up Compact range but with the advantage of Forbo's Aqua Block embossed layer, which allows a direct loose lay installation on damp subfloors. The Aqua Block layer enables the subfloor to breathe and directs the moisture to the periphery of the room, rather than up through the floor covering itself, which can cause damage.
Forbo also supply an easy to fit breathable skirting for use with the range to ensure that moisture is dissipated correctly in a room.
Garry Bateman, Head of Technical Sales at Forbo Flooring Systems, said: "The Modul'up range provides facilities managers with a product that will not only contribute positively to better indoor environments – as it is free from the usual constraints associated with adhesives such as odours, dust or VOCs from subfloor preparation – but it also offers an array of contemporary colour and designs to choose from."

Recyclable
Bateman continued: "What's more, at the end of its long service life, Modul'up is also instantly ready for recycling, as once lifted, there is no adhesive residue stuck to the back of the material, while the subfloor is left clean and sound for repeat installation."
Significant savings in both time and money can be achieved when it comes to replacing a Modul'up floor covering with another Modul'up floor covering later down the line, as it is quicker to remove and install; there is no subfloor preparation or drying time required and no delay in walking on the material after installation compared to a glued down floor covering.

Fast Fit collection
Modul'up is featured within Forbo's new Fast Fit collection, which encompasses a range of adhesive-free flooring solutions, all developed to reduce downtime by up to 2.5 days, based on a 100sq.m installation. All of the products within the collection require no adhesive, there is less dust and mess during the installation and end users will not be exposed to aromatics and VOCs usually associated with adhesives.
Picture: Modul'up in a care home environment.
For more information - Click Here
---
Performance & Low Maintenance - Flotex Colour's New Range
Forbo Flooring Systems has refreshed its Flotex Colour flocked flooring collection with the addition of a new design and format, as well as an array of new colours.
A high-tech floor covering inspired by smart cities and urban landscapes, Flotex Colour is available in five different semi-plain textural designs, including the latest design, Canyon, all created to complement any interior scheme while maximising soil-hiding potential.
The new Flotex Colour range now offers even more flexibility to create contemporary interiors. As well as a varied palette of 96 hues, Flotex Colour is now also available in a plank format. This is in addition to the existing sheet and tile formats, offering great design flexibility and a wider range of options for raised access floors.

Traffic
Flotex has been specifically designed to withstand high traffic. With over 70 million Nylon 6.6 fibres per square metre, it is extremely hardwearing and is built to last. It is also extremely easy to clean and maintain. In fact, the highly dense pile of upright fibres in Flotex minimises the potential of soiling deposits, while the waterproof substrate makes it completely impermeable and therefore a truly washable textile floor covering.

Allergy UK Seal of Approval
Indoor environments are just as important as outdoor environments in terms of reducing emissions and enhancing wellbeing for end users. With ultra-low VOC emissions, zero phthalates and the only textile floor covering to have the prestigious Allergy UK Seal of Approval, Flotex covers all ground, creating better indoor environments for all.

Choice
This hybrid flocked flooring combines the warmth, acoustic and underfoot comfort properties of a textile with the durability and cleanability of a resilient flooring, offering end users and facilities managers the best of both worlds.
With a refreshed, contemporary colour palette available in three formats, Flotex Colour provides a wealth of choice and creative freedom. This floorcovering also offers unparalleled performance benefits that will reduce maintenance time and costs.
Why compromise on style or functionality when you can have both?
To learn more about the newly launched Flotex Colour collection - Click Here