Promotional Article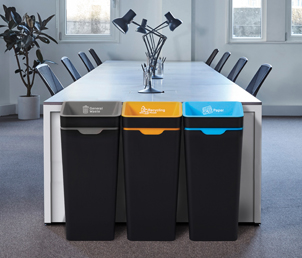 Recycling is often perceived to be difficult, time-consuming and costly - it often seems as though there are more pressing issues and ideas to dedicate your time and resources to. So why should FM's care about recycling?
Around the world, the focus on sustainable business practices continue to grow and there is pressure from all sides. Customers' purchasing decisions are increasingly influenced by environmental efforts, governments are increasing waste levies and requiring organisations to take ownership of their environmental impact, organisations want to outwardly display their commitment to making a difference and environmental KPIs are being introduced in most industries.

Recycling redesigned with FMs in mind
Method developed the philosophy of Open Plan Recycling, bringing bright colour-coded recycling stations out into the open plan design of modern spaces. This increases awareness and changes the way individuals interact with waste and recycling in any facility.
Traditional recycling and waste solutions such as desk bins and bins hidden in cupboards mean that users often throw all of their waste mindlessly into the nearest bin. With Open Plan Recycling you remove these convenient general waste options and place recycling stations consistently throughout a space.
Method's beautiful bins and recycling stations make recycling a part of the furniture. Being out in the open as a visible statement of your organisation's commitment to recycling and sustainability.

Close by
Method recommends one recycling station per 30-50 employees, which is around a 10-second walk from their desk. This means when an individual needs to dispose of something, each recycling and waste option is available to them. This increases awareness and recycling rates while reducing contamination. You can also place single bins where recyclables are produced, such as a paper bin next to the photocopier to maximise results.

Modular
The design of Method's system means that you can easily move and introduce additional bins and streams as your needs change, or based on employee feedback. With Method, recycling becomes an unconscious behaviour with uniform bins placed consistently throughout a space or building.

Financial viability
At the inception of the Method system, co-founders Steven and India Korner knew that to be a truly sustainable solution, it needed to be financially viable. Open Plan Recycling can have a significant impact on your bottom line. With Method's communal recycling stations there are fewer bins and liners to purchase and service, saving time and money. Further, you reduce the number of plastic liners sent to landfill or incinerator by up to 90%. As you recycle more and waste less, the cost of waste disposal will be reduced.
For example, Westpac Bank in New Zealand reduced their waste to landfill from 70% to 30% with the introduction of Method bins - and are on a mission to keep reducing this further.

How to achieve results
Method's innovative solution will change the way individuals interact with recycling and waste, but there is always more you can do to improve your results and report improvements on your KPIs.
Method recommends you measure what matters, as this is the only way to see the true benefits of any system. This can be as simple as taking basic measurements of your waste and recycling to demonstrate your 'diversion rates'. Diversion rates demonstrate how much of the total 'waste' that has been produced in your facility has been sent for recycling or composting instead of going to the landfill or incinerator. Many organisations that have switched to Method bins have simply purchased scales that their cleaners use to measure the waste periodically with the time saved servicing fewer bins.

Green Team
Another great way to simplify waste and recycling is to leverage the passionate and committed individuals that are a part of most organisations. Method recommends each organisation form a 'Green Team' with volunteers from across the business that serves as the communicators of your new system and future sustainability endeavours. They can assume the role of educating people from across the business about how to recycle, why the change is being made, and answer any questions. Your Green Team can also take advantage of the numerous resources available on the Method website. There are inevitably passionate people in any business and they can be your greatest allies - while reducing your workload.

Beautiful recycling in practice
Method are the long term sustainability partner of leading organisations around the world. The considered design of their bins means that they effectively divert recyclables in any open-plan space. From the world-renowned British architecture firm Foster + Partners, the Sydney Cricket Ground, large London coworking provider The Office Group, to airports, universities, banks, hospitality venues and so many more.

Canva
Design giant Canva implemented Method bins when they were looking for a recycling solution that complemented their modern aesthetics, while helping to achieve their lofty sustainability goals - with the added complication that their business continued to grow rapidly around the world. They found 'Method's beautiful bins allow the sometimes daunting task of having four waste and recycling options to be manageable and scalable across our ever-expanding offices'.
Is it time to transform waste and recycling in your space? Get in touch with Method - methodrecycling.com