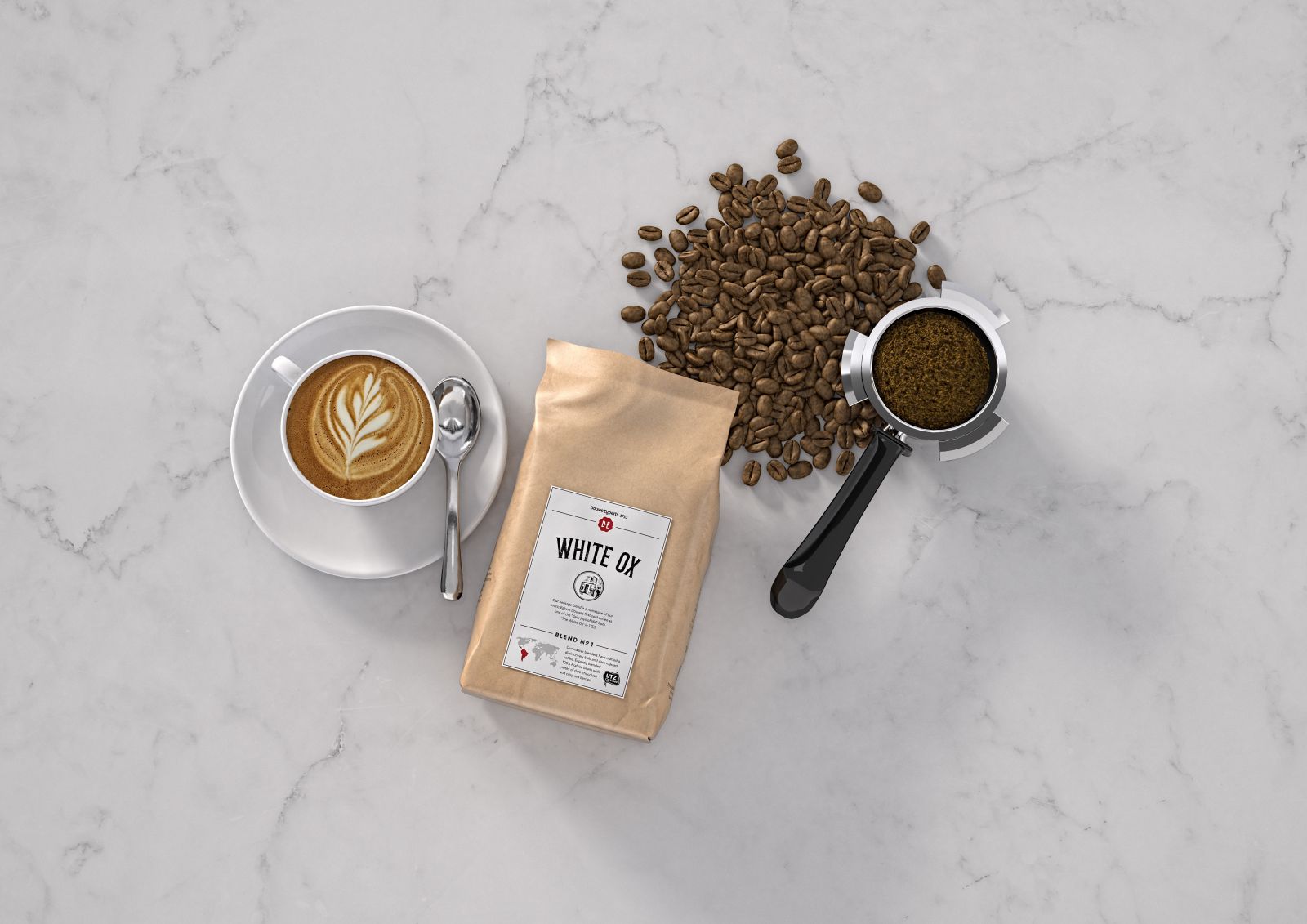 The fuel of productivity and positivity, great tasting coffee is at the very heart of every workplace. Whether it is powering project meetings or facilitating an informal catch up with the team, the right beverage sets you up for the day ahead. With 75% of office workers drinking coffee [1], quality is crucial. 29% of all office workers say that great coffee improves overall motivation [2] – so making the right choice can truly drive business success.
And it's not just your staff, 50% [3] of consumers are likely to view a business more favourably if it serves high quality coffee in reception on arrival. When it comes to making a lasting impression, convenience is a perk, but quality is a necessity.
As experts in coffee, Jacobs Douwe Egberts understands the benefits good quality coffee can bring and we have the best brands and equipment to make your coffee the very best it can be.
Crafted with passion and enriched with experience, Douwe Egberts' White Ox Blend No.1 has been masterfully blended to display notes of dark chocolate and crisp red berries. Developed in response to the demands of today's increasingly discerning coffee drinkers, these characteristics make it the perfect base for a wide variety of speciality coffee drinks, from an authentic and intense espresso, to a smooth, aromatic cappuccino or iced latte.
With more than 265 years of expertise in the coffee market, Douwe Egberts' White Ox can help forge the balance between great taste and great results. With the familiar Douwe Egberts' seal and signature found on the pack, there is an assurance of the high quality in our products, equipment and support that speak far beyond the packaging.
If you need more reasons to review your coffee offering as a way to improve wellbeing and increase productivity, here are five great ways that coffee can optimise your workplace:
1. Productivity at the press. More than half of office workers admit that taking a coffee break makes them feel more productive and good quality coffee at work directly makes a positive impact on their motivation across the day [4]. Encourage staff to take regular, communal breaks in a designated social space and connect over a coffee.
2. Offer a great selection of premium blends. Customisation remains a significant trend with four in five coffee lovers looking for a personalised coffee drink [5]. Why would employees need to hit the high street for their caffeine fix if they can get the same quality beverages in the office? Using a premium coffee system, such as the Barista One bean to cup machine, L'Or Lucente Pro, or Cafitesse Excellence Touch, employees who can enjoy their preferred cup of coffee are more likely to enjoy their work – all at the push of a button.
3. Catering for all. With consumers looking to enjoy their coffee, their way, as well as following dietary requirements and lifestyle choices, alternative, non-dairy milks such as soy, almond, coconut and oat are quickly gaining traction[6]. Developed using centuries of quality coffee expertise, Douwe Egberts' White Ox Blend No.1 complements any milk, plant-based dairy alternatives and flavoured syrups to always deliver our premium coffee, any way you want it. This can help operators keep coffee spend onsite and employees happy.
4. Coffee is calming. 61% of workers say coffee helps them to relax or de-stress [7], so offering a premium blend is not just an investment in a desired quality taste, but can bring a positive attitude to your workforce as a result.
5. Good coffee connects colleagues. Our heritage blend is a namesake of our roots. Egbert Douwes first sold coffee as one of the 'daily joys of life' from 'The White Ox' coffee shop in 1753. With 64% of office workers that drink coffee saying that having a coffee break helps them to connect with colleagues and team mates [8], that 'daily joy' is as vital as ever for creating a strong and social workplace.
It's amazing what can happen over the right cup of coffee. At Jacobs Douwe Egberts, we can offer you the perfect fit solution for your business. Our broad coffee machine portfolio means that we have all the bases covered and that we can apply our tailored approach to find the right business coffee solution to meet your needs.
Article written by Charlea Samuel, Category Marketing Manager Premium Coffee, Jacobs Douwe Egberts
---
[1] One Poll sample of 2,000 workers 24.10.2018
[2] One Poll sample of 2,000 workers 24.10.2018
[3] InSights Consulting research for Jacobs Douwe Egberts, 2017
[4] OnePoll survey of 2000 office workers 24.10.18
[5] Mintel report – Coffee Shops UK, December 2018 – p. 13
[6] Allegra Project Café UK, 2018
[7] OnePoll survey of 2000 office workers 24.10.18
[8] OnePoll survey of 2000 office workers 24.10.18