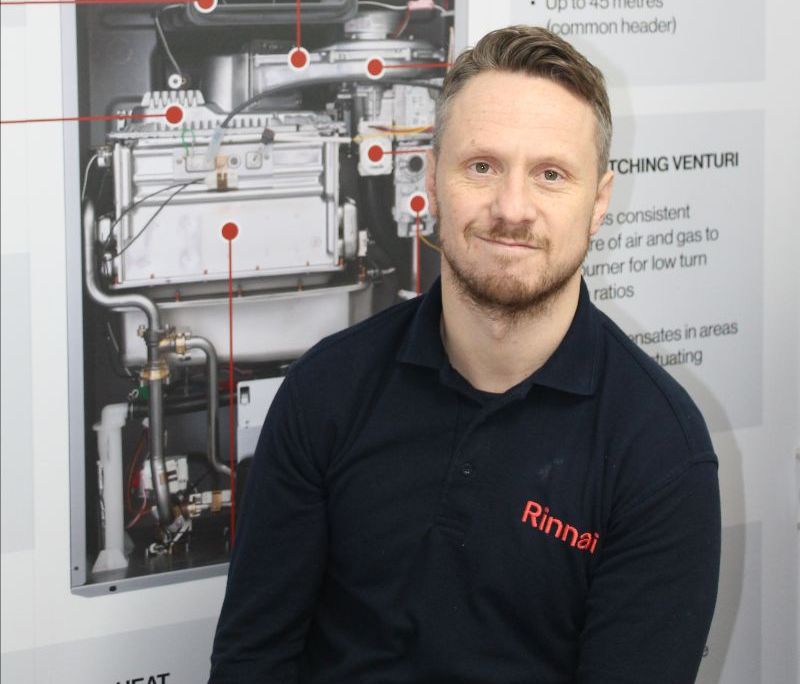 Chris Goggin of Rinnai looks off-grid at what's available in cleaner drop-in fuels
UK environmental pledges are committed to net zero by 2050. For decarbonisation of global fuel sources current consumers must now be made aware of separate avenues of heating and hot water provision.
85% of domestic energy consumers access their fuel by a connection to the national gas grid. 15% of listed UK domiciles which are not connected to the gas grid, an estimated 4 million homes, have to rely on alternative forms of domestic fuel to heat their residence and water. It is widely thought to be the same ratios and proportions in the commercial sector.
Bio-LPG is an ideal source of energy for off-grid heating and hot water solutions. Bio-LPG is constructed from a mixture of residues and sustainably sourced materials. Bio-LPG can be described as an eco-propane. The chemical makeup of this gas is identical to LPG and is therefore compatible with existing in situ LPG products.
Off-grid building envelopes can benefit from high efficiency LPG fired water heaters, as noted in a recent report called 'Bio-LPG a viable decarbonisation pathway' commissioned by Rinnai UK. The report focuses on carbon savings that can be achieved by shifting from oil heating systems to LPG and then upgrading to Bio-LPG.
Using another example in Scotland's distilleries, the WPLGA, (The World Liquid Gas Petroleum Association), published expected financial gains when switching from oil-based fuels to LPG and Bio-LPG in their 2019 report: The Role of LPG and Bio-LPG in Europe.
The WPLGA Report
The report states Scotland's distilleries and brewing companies contribute £3.9 billion to the national economy, equating to 3% of total Scottish GDP. Many companies are based in rural locations using oil to produce steam needed for the distillation process.
Islay, a Scottish island off the West Coast contains nine distilleries that annually consume 15 million litres of oil-based fuels costing £8 million. A conversion to LPG will result in a 20% reduction in carbon emission savings and 2.5% off the yearly running costs, rising to 3% when considering saved servicing and maintenance costs. If distilleries were to utilize Bio-LPG from 2030 onwards carbon emissions would fall by 81%.
Bio-LPG offers identical performance to LPG systems whilst not compromising on the release of emissions. Buildings in the off-grid leisure and hospitality sector that require a constant supply of heating and hot water will find this ideal when considering the purchase of alternatives in energy provision.
Liquid Gas UK – the trade association for the LPG and biopropane industry – has published an industry census revealing over £100 million is currently being invested in Bio-LPG, with a further £600 million being invested into the LPG industry over the next five years.
The industry is also expected to increase its expansion due to investment that focuses on diversifying production methods. This investment includes the design and construction of both imported and localised Bio-LPG yielding facilities.
Potential for Rapid Upscaling of Production
A bio-economy consultancy firm NNFCC has published a further analysis of the industry concluding there is significant potential for a rapid scale-up in production of indigenous UK Bio-LPG. UK governmental environment pledges enforced by international policy means that the alternative fuel market is predicted to increase.
Bio-LPG supply to the UK is beginning to formalise itself into the chain of consumer demand. Available volumes are increasing throughout Europe. In March 2018, Finland based oil refiner and renewable fuel producer Neste, commenced construction on the world's first renewable LPG (Bio-LPG) production facility in Rotterdam. The facility is expected to maintain a yearly yield of 40,000 tonnes, supplying an additional 16,000 tonnes over the next four years.
A new green economy will soon be globally functioning. When considering the contemporary consumer demographic, who are climate conscious businesses that publicise their green credentials could potentially attract additional customers. End users and installers should be aware that a post energy transition economy that demands eco-friendly sources of fuel can potentially be translated into profit due to significant industry advancements and increased international demand.
LPG and Bio-LPG products are suited to the modern climate conscious consumer who does not want to compromise on performance and cost. There is global acceptance throughout industry and government that a cleaner source of fuel must be incorporated to limit environmental damage. LPG and Bio-LPG are pure forms of domestic and commercial energy that are projected to substantially grow in the future across all continents.
An LPG market analysis carried out by Grandview Research had the LPG market size value at $122.29 billion in 2020. In 2027 projected revenue will be $164.36 billion, a revenue-based growth rate of 4.4%. Global market demand was calculated at 331.29 million tonnes in 2020, the volume of LPG demand is forecast to rise to 417.11 million tonnes by the year 2027. Both LPG and Bio-LPG are set to play a major role in domestic and commercial energy supply, now and in the future across the globe.
Rinnai is the world's leading manufacturer of continuous flow hot water systems - it makes and sells 2 million units each year.
alternatively, use the smart online contact points
"
Help Me Choose
" or "
Ask Us a Question
", all held on the website homepage at
www.rinnaiuk.com
.