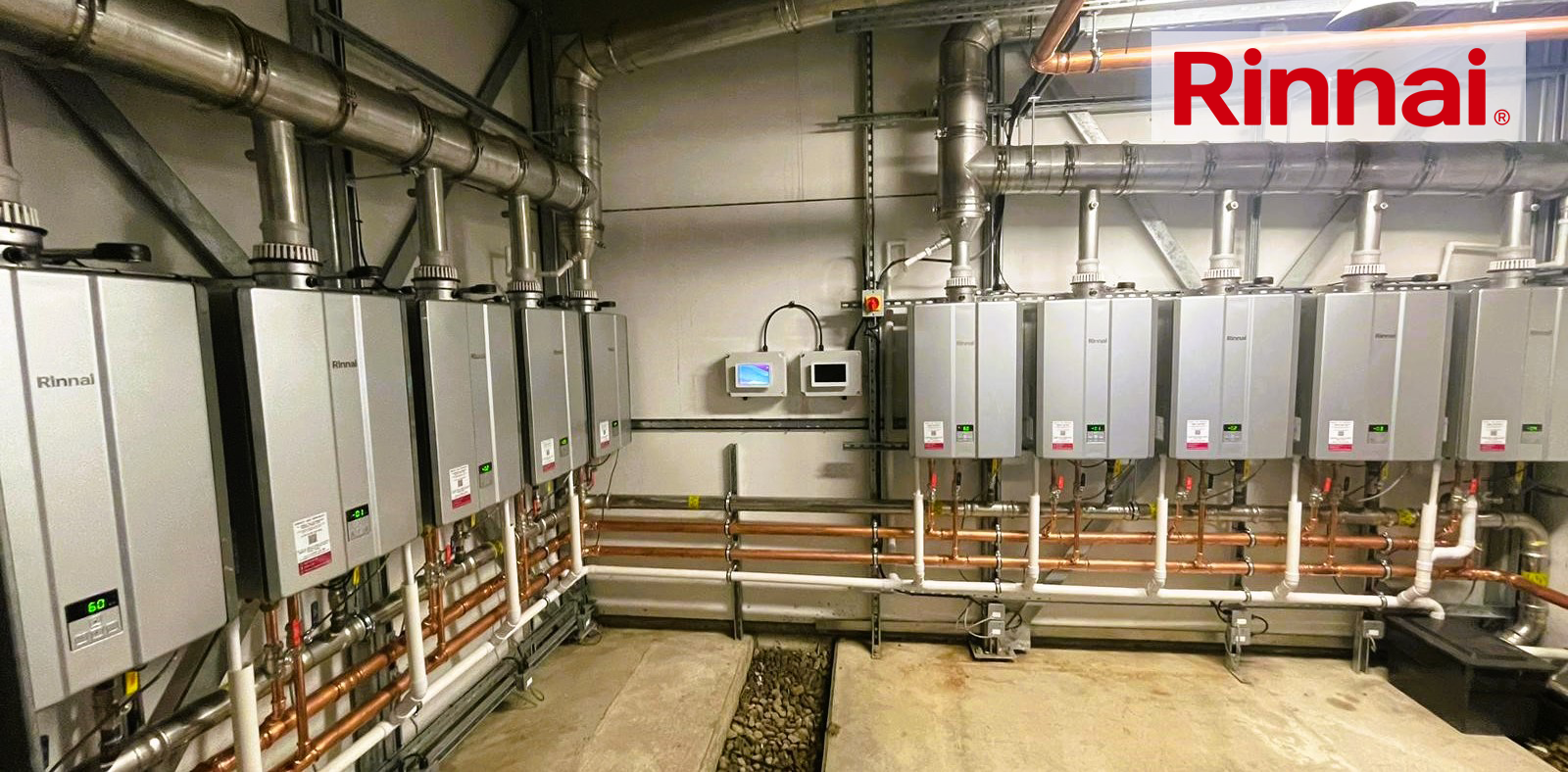 Property experts and contractors have completed the installation of a complete new hot water delivery system at a top London Premiership football club, replacing an outdated stored cylinder configuration with a practical and economic hot water solution. The renowned club replaced their old traditional system with a specifically designed new energy efficient Rinnai continuous flow delivery on demand water heaters that offer and are certified for Hydrogen blends of up to 20%.
Rinnai water heating systems have been installed in almost all top UK Premiership clubs in the UK. The latest installation was completed at a stadium which is less than 20 years old and was considered 'state-of-the-art' once completed. The club had initially utilised a traditional stored system where hot water is kept heated until required. The new system is capable of delivering over 9000 litres of temperature controlled hot water each and every hour, non-stop.
A premiership football club will have huge peaks of demand and the site simply cannot afford to run out of hot water on match days. The demand is for the kitchens, the catering, the hospitality, the toilets and the extensive wash and showering facilities.
Continuous flow systems heat water upon demand meaning that fuel is only used when the system is operational.
The installation completed at the London premiership club pictured included a manifolded bank of 10 Rinnai Sensei N series 1600i continuous flow water heaters together with the Nexus scale protection and a BMS Integration. All units featured Rinnai commissioning to secure long term warranty guarantees.
For Rinnai Ricky Lewis, Associate Director Corporate Sales, said, "We were able to demonstrate that the Rinnai system can yield financial reductions of nearly 20% of the running cost, over 30% of the upfront cost, over 15% in carbon footprint, over 75% in space, over 85% in weight compared to heated storage systems, creating a highly practical and economic solution for the client whilst lowering onsite carbon."
Rinnai continuous flow water heaters are an integral part of the organisations H1 initiative which aims to utilise natural gas, Hydrogen blends, Hydrogen, LPG and Bio-LPG to lower onsite emissions. Rinnai continuous flow units are typically 30kg - a one-man lift, making the entire installation process far easier. Two sizes are available - 47kW and 58kW. Both produce 774 and 954 litres per hour at a 50-degree rise respectively. .
Rinnai H1 continuous water heaters and boilers offer practical and economic decarbonization delivered through technological innovation in hydrogen and renewable liquid gas ready technology. Rinnai's H1 option is centred on hydrogen, as it is anticipated that clean hydrogen fuels will become internationally energy market-relevant in the future; Rinnai water heaters are hydrogen 20% blends ready and include the world's first 100% hydrogen-ready hot water heating technology.
Rinnai's range of decarbonising products - H1/H2/H3 - consists of heat pump, solar, hydrogen in any configuration, hybrid formats for either residential or commercial applications. Rinnai's H3 range of products offer contractors, consultants and end users a range of efficient, robust and affordable decarbonising appliances which create practical, economic and technically feasible solutions. The range covers all forms of fuels and appliances currently available - electric, gas, hydrogen, BioLPG, rDME solar thermal, low GWP heat pumps and electric water heaters.
Visit www.rinnai-uk.co.uk or email engineer@rinaiuk.com.