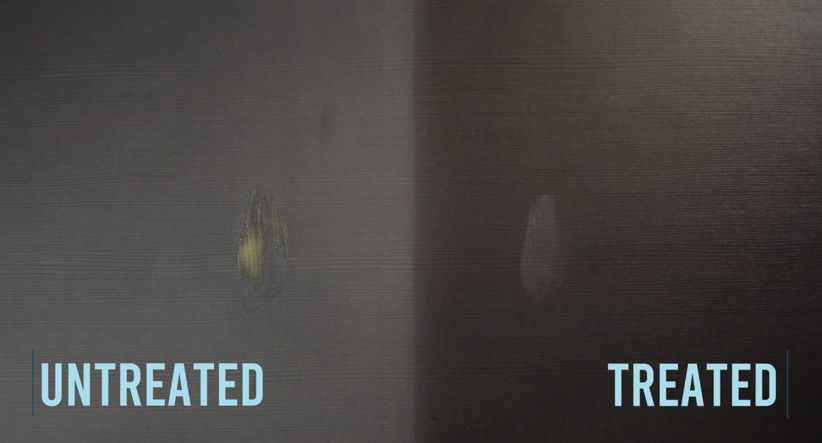 In a world of increased awareness and concern, people have become more aware of the surfaces that surround them. Each day a person is met with several undesirable surface interactions, for instance when they touch a visibly dirty surface or a surface known to be frequently touched by others, such as in an office environment or on public transport.
Nordic Chem which is a product and solution has been at the forefront of combating the pandemic on surfaces throughout the UK. The product is a surface coating that once applied has been certified to consistently terminate the coronavirus for up to 90 days after only one application. A claim that is an industry leading achievement for antimicrobial coatings. Nordic Chem is predominately used in commercial environments such as offices, schools, universities, government institutions, care homes and the transport sector however it can also be used in private homes as effectively.
Until now, this product and other forms of antimicrobial coatings have been applied on a surface as an unnoticeable transparent barrier. However, the company behind Nordic Chem, HydroSilex Europe, have taken their years of experience of formulating aesthetic water based coatings in the automotive sector and combined this technology with the current antimicrobial solution in an attempt to revolutionise surface protection in the general marketplace.
An example of the aesthetic protection the product offers are shown in this short video clip, which shows the product on carpet and the results speak for themselves.
The results of the product which is aptly called Nordic Chem 2.0 is a coating formulation that is not only backed up by comprehensive laboratory tests and certifications from over 20 countries as a highly effective antimicrobial coating, but now also visually enhances and protects the surface it is applied to. Nordic Chem 2.0 transforms any substrate into a more vibrant surface that feels cleaner to touch and smoother to feel, without changing the intended colour or texture. Customers, employees and anyone that comes into contact with a treated surface will surely notice the enhanced effect and come to understand what a clean and hygienic surface should look and feel like.
The implications of this product are endless as it ensures a more hygienic surface from a scientific pathogen scale while also going a long way to providing comfort and peace of mind to people from an aesthetic perspective.
The product which was only officially launched on September 1st of this year has been eagerly welcomed by the nations most prominent commercial cleaners. It is expected to save the commercial cleaning industry upwards of 30% in labour due to the coating's anti-stain and contaminate resistant properties while at the same time increasing customer satisfaction.
To find out more regarding the new product and solution you can view the following video;
Watch now...
Visit the website at nordicchemistry.com or contact Matthew Cooper on +44 7305 075993 for general enquiries.