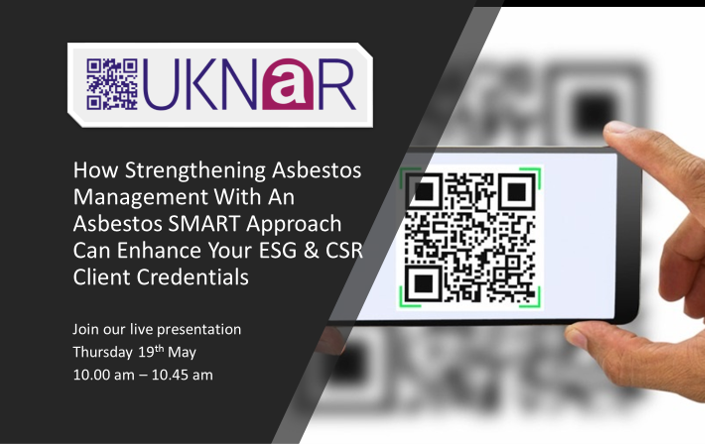 Where is it?
Online.
When is it?
Thursday 19 May 2022, 10:00AM – 10:45AM.
The details:
The importance of demonstrating your ESG (Environmental, Social and Governance) or CSR (Corporate Social Responsibility) credentials has never been more important - whether to staff, shareholders, or clients!
As a non-profit social enterprise, UKNAR CIC is dedicated to saving lives, time, and money, by helping prevent the many thousands of accidental asbestos exposures that happen every year, in the one in five UK workplaces where asbestos still remains.
We believe that our Asbestos SMART technology presents a win-win-win proposal for all your key stakeholders.
Asbestos SMART uses QR technology to provide you with a simple and inexpensive means by which to make key asbestos information instantly and freely available to all those that need it. It helps you fulfil your legal obligations and demonstrate your corporate social responsibility, whilst helping you reduce the likelihood of potentially fatal asbestos exposures occurring in your properties.
In addition, five per cent of all Asbestos SMART revenues go to Mesothelioma UK the leading charity in support of the 2,600 people, who die of one of the UK's deadliest but most preventable cancers every year.
Join our webinar to find out why so many people are saying Asbestos SMART is a "No Brainer". Whether you are a property professional, FM or building services provider, an asbestos or health and safety professional this really is relevant to you!
---
Share
---