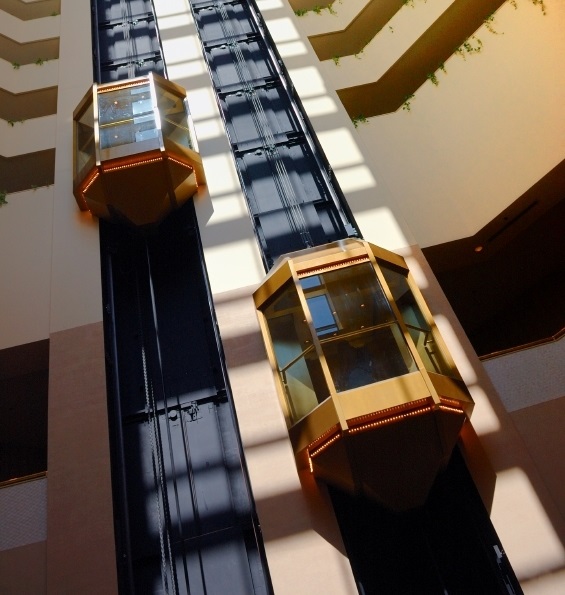 The Lift Life Cycle And How To Cope With The Maze Of Obligations

EUR ING (European Engineer) Dave Cooper, MD of LECS (UK), explains the heavy load of documentation, legal obligations and standards required during the life cycle of a lift.
The responsibility involved and extensive range of documentary obligations required to manage a single lift, let alone a portfolio of lifts, can be migraine inducing!
Adding to this burden is the variation of requirements depending on the environment that the lift(s) operate in - office block, retail outlet, airport, ski resort or any combination of these, as well as the type of equipment used. With the increase of personal accident claims and contractual disputes it's exceptionally important to get it right from the outset.
An early replacement of a lift means an early high capital spend as well as the interruption that goes with it. As per this simple matrix, the 'well installed' and 'appropriate quality' box is where everyone should be!
| | | |
| --- | --- | --- |
| | Well Installed | Badly Installed |
| Appropriate Quality | Maximum Longevity | Reduced Longevity |
| Inappropriate Quality | Reduced Longevity | Disaster! |

Installation Phase

This matrix is vital at the installation phase. You can employ a consultant to assist you but ensure they are offering truly independent advice, not having a sales biased or receiving a commission from a lift contractor.
During the installation phase the lift needs to comply with The Lift Regulations and the easiest way to do this is to ensure compliance with the EN81 series of European Standards.
More recently EN81-1 and EN81-2 (traction and hydraulic lifts respectively) have been replaced by EN81-20 and EN81-50. To ensure the lift is installed to the requirements of these standards there is a parochial British Standard BS8486 where a number of tests and checks will ensure compliance. Caveat: while this standard will make sure that components are functional it may not always pick up on poorly installed components - that is where a qualified consultant comes in. A new lift should also come with a Technical File as a requirement of The Lift Regulations. This documents how to operate, maintain and manage the lift in accordance with the manufacturers and designers' requirements.

Service Phase

The lift is now in service. Passengers are introduced into the risk profile and owners need to protect themselves against accidents such as being hit by doors, slips and trips, mid flight stops and so on. A good start is to make sure that you have all of the appropriate documentation available and that you employ a reputable maintenance contractor.
It is alarming how many times I have encountered a lift owner not being able to lay their hands-on vital paperwork following an incident. During the service phase the requirements of The Lifting Operations & Lifting Equipment Regulations (LOLER) and The Provision & Use of Work Equipment Regulations (PUWER) may apply, as well as the overarching Health & Safety at Work Act. In addition, the Occupiers Liability Act and the Defective Premises Act need to be considered.
In 2006 the precedent was set that a lift in an office building falls under PUWER as the lift is only being used as part of an employee's work. I remember it well as I gave evidence in the case. The lift needs to be maintained in good condition and a sound maintenance contract needs to be entered into. The maintenance should be appropriate in terms of what the contract covers and also the number of visits per annum that the contractor attends to undertake the maintenance. Similar to servicing you car, this generally involves cleaning, adjusting and lubricating. Contracts vary and sometimes include the cost of parts and labour, other contracts simply undertake these requirements (cleaning, adjusting and so on) and anything else is chargeable.
Similarly, a lift in a workplace is subjected to the equivalent of an MOT test. In the lift world this means LOLER - where a competent person will undertake a periodic thorough examination and issue a certificate. Passenger carrying lifts are normally subjected to six monthly examinations and non-passenger carrying lifts every 12 months. There is an option to vary this but it is rarely used.
During the service phase there is an additional requirement for supplementary tests. These first appeared in 1984 in a document issued by the HSE known as PM7 and subsequently replaced by the SAFed LG document. It is recognised that the competent person undertaking the LOLER examination is unable to access or examine certain components and therefore the LG system allows them to call for supplementary tests on components such as gearboxes, shafts and pulleys, door locks, over-speed governors, safety gears etc.
After a few years in service, and the length of time varies with the appropriate equipment versus quality of installation, the lift will require attention. CIBSE guide D gives estimated longevity for lifts but also acknowledges that low cost budget equipment can give a reduced life span. In reality, I have seen this as low as just three years. However, on a general basis you could expect to get around 10 years from a budget lift package and more for a better-quality design.

Modernisation Vs New Installation Phase

The lift will then go into a phase where modernisation or replacement is required. Replacement may seem drastic - particularly after a reduced longevity period where one would hope you could make do and mend. Unfortunately, if the lift was originally badly installed and don't get the guides right it will never be right.
The choice between entering a modernisation phase or going back to a new installation phase is often generated by reliability problems, component wear, obsolescence, a lease requirement and so on. This is the optimum time to seek advice from a well-qualified independent consultant.
If the lift was installed after 1997 the modernisation needs to achieve the safety requirements originally met by its compliance with The Lift Regulations. If the lift was installed pre-1997 there is a standard known as EN81-80 (Improvement of safety of existing lifts) where an assessment should be undertaken to identify any areas where safety could be improved such as levelling, door protection and so on.
It's a maze but keeping a sound document management system is important to maintaining the lift to a good standard and being able to prove it in the event of an incident. Fortunately, incidents are reasonably rare but they do happen. From 38 years of experience in the sector, it's always best to get advice from an independent engineering consult – not only will you save time and money but you won't have to reach for those painkillers quite so often!

Article written by Eur Ing David Cooper, EurIng David. A. Cooper
BSc (Hons), MSc, MPhil, CEng, FIET, FCIBSE, FCGI, FRSA, FCABE, FSOE