Promotional Item
Breaking Down Desk Utilisation Data

Facilities management have a huge opportunity to influence decision making at c-suite level using space utilisation data to drive those conversations. From understanding the busiest days of the week to repeatedly underused desk space, will help improve space planning processes, as well as help you make informed decisions on real estate investment.
Office space optimisation is set to be top priority for many global brands in 2020. Changing work patterns and advancement in technology has put a spotlight on organisations to do more to reduce their carbon footprint and create workplaces that attract and retain talent.
With buildings contributing to 39% of the world's CO2 emissions and a greater focus on employee productivity, space utilisation initiatives will be game changers.
Join us in this webinar to:
- Strengthen your understanding of space utilisation data.
- Understand how to compare data by floors or departments across building locations.
- Learn how to identify opportunities to optimise desk utilisation.
- Explore how to use desk utilisation data to make space planning decisions.
Join This Webinar - Click Here

---
Best Practice In Using Sensors To Measure Workspace Occupancy

OpenSensors has produced a best practice guide that discusses how to solve the space utilisation challenge with technology.
The guide explores the key buying decisions when integrating workspace occupancy technology and covers everything from types of space utilisation sensors, key metrics to monitor and how to get started on a project.
The task of ensuring available space by monitoring desk and meeting room utilisation has been a logistical challenge for many facility and real estate teams. The advent of new low power wireless connectivity and the unobtrusive GDPR compliant occupancy sensors that are replacing cumbersome manual tactics to solve this problem are also covered in the OpenSensors' best practice guide.
To download the best practice guide - Click Here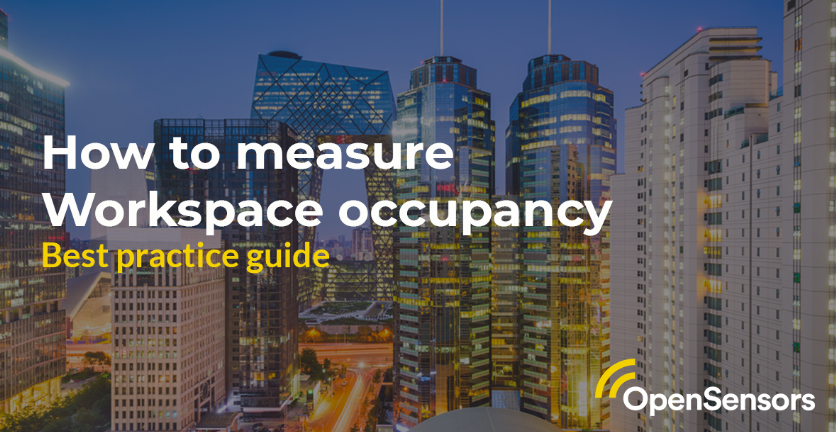 ---
Making Data Driven Workplace Change Decisions
In a previous webinar, OpenSensors provided tips on how to leverage space utilisation data to optimise desk occupancy and space management planning.
If you follow he registration process, you will now be able to access a full recording of the session which was led by Daniel Hummelsund, Business Operations Manager for Opensensors who works with customers to understand business objectives and to ensure best space utilisation.

How To Measure Desk Utilisation Rates
Daniel explained how to measure desk utilisation to understand which offices in your real estate portfolio are mostly used compared to those with lower usage.
The session also covered using data to make evidence based workplace change decisions and strategies that allow you to work smarter and efficiently as well as:
Reduce real estate cost - Identify which office location use their desk space the least and reduce office size accordingly.

Accommodate new headcount - Use occupancy data to quickly allocate space when needed and improve your space planning management process.

Real time data - 24-hour access to data on how desk space is used across your real estate portfolio.

Monitor trends - Build up a bank of data to identify patterns of usage. Understand your asset distribution and monitor utilisation by day of the week.
To post-event register and gain access to the Webinar Recording - Click Here