Latest News
Welsh Businesses get Local Transport Support with Europcar Van Supersite in Cardiff
Dedicated Van hire centre gives Welsh businesses access to local experts and fleet of specialist vehicles on their doorstep.
Demonstrating its vision of providing a local service for local businesses, Europcar Vans and Trucks, part of Europcar Mobility Group UK, has made a significant investment to open a dedicated Van supersite in Cardiff. The new Van supersite, opened ahead of the easing of lockdown measures by the Welsh government, is staffed by a team of commercial vehicle experts and offers an extensive fleet of commercial vehicles to keep Welsh businesses moving.
Lewis Grand, Territory Manager South West & Wales, Europcar commented: "The Welsh economy is fighting back from the impact of COVID-19 with recent data suggesting that there is a real boom of entrepreneurs setting up their own businesses; many tapping into the online marketplace. For those businesses, as well as other enterprises supporting the important infrastructure projects going on in the country, there is a need for vans and other specialist vehicles. But what these organisations want to avoid is long-term financial commitments to vehicles, particularly as the fluctuation in demand over the last year has proved to be hugely draining on cashflow.
"For businesses that are not sure about committing to a new lease agreement, access to a new or nearly new, low emission vehicle, as and when it is needed makes commercial sense. It gives companies the flexibility they need to meet customer demand, while allowing them to keep cash where it is needed most - within the business. Unlike traditional leasing arrangements or outright purchase, rental allows businesses to benefit from 'usership' without the associated and often costly downsides of ownership."
The new Europcar Van Supersite is conveniently located just two miles from Cardiff city centre and is the latest in a chain of 12 Van Supersites across the UK. Offering tailored services and access to specialist expertise, the Cardiff Van Centre's knowledgeable staff are on-hand to help businesses identify the right vehicle for every job.
Standard short and long wheel base vans are available from as little as 4 hours after booking. For businesses looking for bespoke specialist vehicles there is a range of optional features on offer such as full livery, built in racking, tow bars and beacons. Chapter Eight vehicles are also ready and waiting for businesses that operate on the roads or railways.
Stuart Russell, LCV Sales Director at Europcar Vans & Trucks added: "As we continue to see sustained growth for our commercial vehicle services through 2020 and into Q1 2021, with no foreseeable let-up in demand, we have quickly recognised the need to expand our existing Network of Van Supersites to give us a better footprint across the UK.
"Where we had historically serviced demand from South Wales through our Bristol operation, our geographical heat map based on the number of deliveries over the past 12 months, told us that we needed to focus on providing a strong local centre in Wales.
"The new Cardiff Van Supersite will therefore address several key issues. We can provide a more local, on the doorstep, service for urgent bookings from businesses in South Wales as well as reduce the Delivery & Collection miles driven which in turn reduces our customers' fuel costs. We will also be strengthening our Welsh supply chain for vehicle repairs to improve our vehicle down time management in the region. Welsh repairs will be done in Wales providing another important boost for local businesses."
---
Europcar Renews its Alliances with ECO Rent a Car in India and Shouqi Car Rental in China
Europcar Mobility Group is proud to announce the extension of its strategic alliances with ECO Rent a Car in India and Shouqi Car Rental in China for its Europcar® brand.
Europcar Mobility Group is present in more than 140 countries, with wholly owned subsidiaries, franchisees and a strong network of alliance partners. The aim is to cover the entire world, serving as many customers as possible with the same high standards of quality of service.
Europcar Mobility Group partners with ECO since 2018 and with Shouqi Car Rental since 2017. ECO Rent a Car is India's leading professional car rental since 1974, based in New Delhi. It offers a 5,000+ vehicles fleet across all categories and its services are spread across another 45 cities in India. Shouqi Car Rental is one of the leading mobility players in China with a fleet of more than 70,000 vehicles with its network of 79 stations across China.
With COVID-19 vaccination campaigns being currently rolled out, international travels will soon resume. The Group is therefore preparing for the market rebound, renewing these two solid partnerships which will allow the Europcar brand to benefit from the strong inflow of Indian and Chinese tourists throughout the world in the years to come.
As a reminder, China has been the largest source market over the past 10 years, characterized by a rapid and steady double-digit growth. As an illustration, in 2018, there were around 150 M outbound trips* from China and Chinese tourists. At the same period, India represented approximately 25 M of tourists* travelling abroad each year, with an equivalent pattern of rapid growth compared to China. India and China are expected to recover pre-COVID levels of travels before end of 2021.
Rajesh Loomba, ECO Rent a Car's Managing Director says: "We are delighted to extend and strengthen our strategic partnership with Europcar. Our combined strength and expertise have been a perfect fit with our strategic agenda to bring global standards to India. We are glad to continue travelling together to serve our customers with the finest high-quality mobility solutions."
Yang Jun Wei, Shouqi Car Rental CEO comments: "We are very pleased to start the fifth year of close cooperation with Europcar. Since 2017, the two parties have been providing high quality transportation services with a highly compatible service tenet, allowing more Chinese customers to experience professional global car rental services from Europcar, and at the same time providing a truly "global car rental service, available on one site". In the future, Shouqi car rental will continue to work with Europcar to provide professional and convenient global car rental services to more corporate and direct customers."
Fabrizio Ruggiero, Europcar Mobility Group Deputy CEO adds: "Europcar Mobility Group is delighted to have renewed our strategic alliances with our partners Shouqi in China & ECO in India. Both these partners have our mutual customers at the heart of their operations to ensure best in class service excellence within their countries and also know that their customers will receive a consistent high service experience throughout our worldwide network. We look forward to continuing and growing our successful relationships as we emerge from the global pandemic."
---
Construction Firms Can Tackle Fleet Optimisation with New Offer from Europcar Van and Trucks
Six months of free telematics and dash cam data will help construction employers focus on driver safety.
Europcar Vans and Trucks, part of Europcar Mobility Group UK, has partnered with telematics leader, Geotab and dash cam provider, SureCam, to offer a six-month free telematics and dash cam video data subscription on new long-term commercial vehicle agreements[i]. The solution gives fleet managers a street-level view of their fleet with actionable insights to reinforce great driving practices and respond quickly to critical events with instant alerts and video evidence.
As 2021 has started with another lockdown, and with the added complications that Brexit brings, the construction industry needs to remain adaptable and able to meet changes in demand quickly. One of the current issues for construction companies is effectively managing fleet utilisation as requirements change and fluctuate across different sites and projects. In response, Europcar Vans and Trucks has enhanced its long-term vehicle solutions for the construction sector by delivering essential vehicle tracking and insights into driver behaviour to help achieve optimal fleet utilisation.
With no onerous financial commitments and the ability to select the latest Euro VI compliant vehicles, long-term rental is an ideal and sustainable solution for construction firms. And the addition of telematics and dash cam data gives construction firms vehicle usage insights that traditionally would only be available in vehicles that have been outright purchased or leased for a minimum of three years.
Commenting on how Europcar is working to support the construction sector, Stuart Russell, Light Commercial Vehicle Sales Director at Europcar Mobility Group UK said:"Our latest offer of six months free telematics and video dash cam data subscription from Geotab & SureCam provides vital insights to help construction firms manage fleet usage as well as look after the welfare of their drivers.
"As an experienced partner for the construction industry, we are able to offer a comprehensive range of cost-effective and flexible LCV solutions which can be tailor-made to meet specific requirements. This includes access to the latest and greenest vehicles which will help contribute to sustainability goals. And having the ability to monitor vehicles through the telematics and dash cam data gives an additional level of insight to help ensure optimal fleet use.
"When time and resources have a huge impact on the bottom line, flexible access to vehicles could be that extra step to a successful and profitable project."
Europcar Vans & Trucks offers nationwide coverage with more than 70 UK stations providing LCV services, including a network of well-equipped Van Supersites. Flexible rental durations are available on a wide range of vehicles – from 3.5 tonne double cab tippers to 5-seat crew vans and cars - all of which can be delivered direct to the driver.
---
The Fleet Cost of Covid-19: 52% of Fleet Managers Paid Increased Termination Fees on Leased Vehicles
As alterations to the business landscape continue and fluctuations in demand remain the norm, research of fleet managers has highlighted the benefits of staying flexible.

The research commissioned by Europcar Mobility Group UK in August 2020 found that 75 per cent of fleet managers had to review their fleet acquisition policy as a result of the pandemic. The financial impact of COVID-19 is particularly highlighted by the over half who admitted that they have had to pay increased termination fees on leased vehicles.
With economic uncertainty continuing well into 2021, an optimised vehicle fleet that can be changed as requirements vary will be key to ongoing success for many businesses. And flexible long-term rental addresses this need particularly well, providing access to a range of up-to-date vehicles but without the need for a long-term financial commitment.
Another challenge for fleet managers is vehicle supply, with the 'perfect storm' of COVID-19 and Brexit having a severe impact on access to new vehicles. Indeed, the Europcar research found that 62 per cent of fleet managers had to extend existing contracts in 2020 due to issues with supply of new or replacement vehicles. And this situation is likely to be exacerbated in the early part of 2021.
At times when supply lines cannot be guaranteed, vehicle hire is a cost-effective way of plugging the gap and allowing companies to utilise safe, well maintained vehicles with the minimum of disruption to their day-to-day business as Stuart Russell, Specialist Vehicle Director, Europcar Mobility Group UK explained:
"The Greek philosopher Heraclitus said 'The only constant in life is change' and as we enter a new year and another period of uncertainty due to the ongoing pandemic, businesses will need to remain as agile and adaptable as ever. At Europcar Mobility Group UK our long-term solutions provide options for businesses to expand and contract their vehicle fleets as and when demand requires, offering a cost-effective alternative to leasing or outright purchase so that they can concentrate on running an efficient business and meeting customer expectations."
---
Europcar Announces Solus Tyre Agreement with Kwik Fit for Selfserve Tyre Bookings
Europcar Mobility Group UK is the only rental company in the UK to launch a solus tyre agreement with Kwik Fit Fleet to enable Europcar customers to access a selfserve tyre replacement facility.
Ben Spokes, Maintenance & Administration Manager at Europcar stated, "This new web portal enables customers to book their tyre replacements directly with their nearest local Kwik Fit centre, meaning it saves them time and ensures it is on a day and time that works for them."
He continued, "Previously our customers would have to contact a member of our team who would then organise an appointment, which may not always be convenient for the customer. Now that's in the past, the process has been streamlined, which creates greater customer satisfaction."
Matt Genese, National Rental Account Manager at Kwik Fit Fleet added, "With vehicle registrations added to our "Fleet Web Bookings" portal as they come on fleet with Europcar, it means when customers put their registration number in, all of the details are there for confirmation, including the tyre sizes. The customer has the option of an appointment via Kwik Fit Mobile or visiting a centre at their choice of date and time. All repairs are logged to the vehicle and billed in accordance with Europcar's agreed billing method."
Matt finished by saying, "By offering an appointment-based service at Kwik Fit centres to complement our on-demand/drive-in service, and by including Kwik Fit Mobile, we can ensure that Europcar customers get the level of service that is appropriate for their demands. It helps us to ensure we get the customer back on road quickly and safely. This service is now in place an available to all Europcar customers.
---
About Europcar Mobility Group

Trusted For 70 Years

Europcar Vans & Trucks

You already know us for car rental, but did you know we have a huge fleet of vans and specialist vehicles too? Our specialist vehicle fleet of tippers, dropsides, 4x4 pick ups and Chapter 8-compliant vehicles are ready and waiting for you, usually within a few hours of ordering.

Why use Europcar Vans?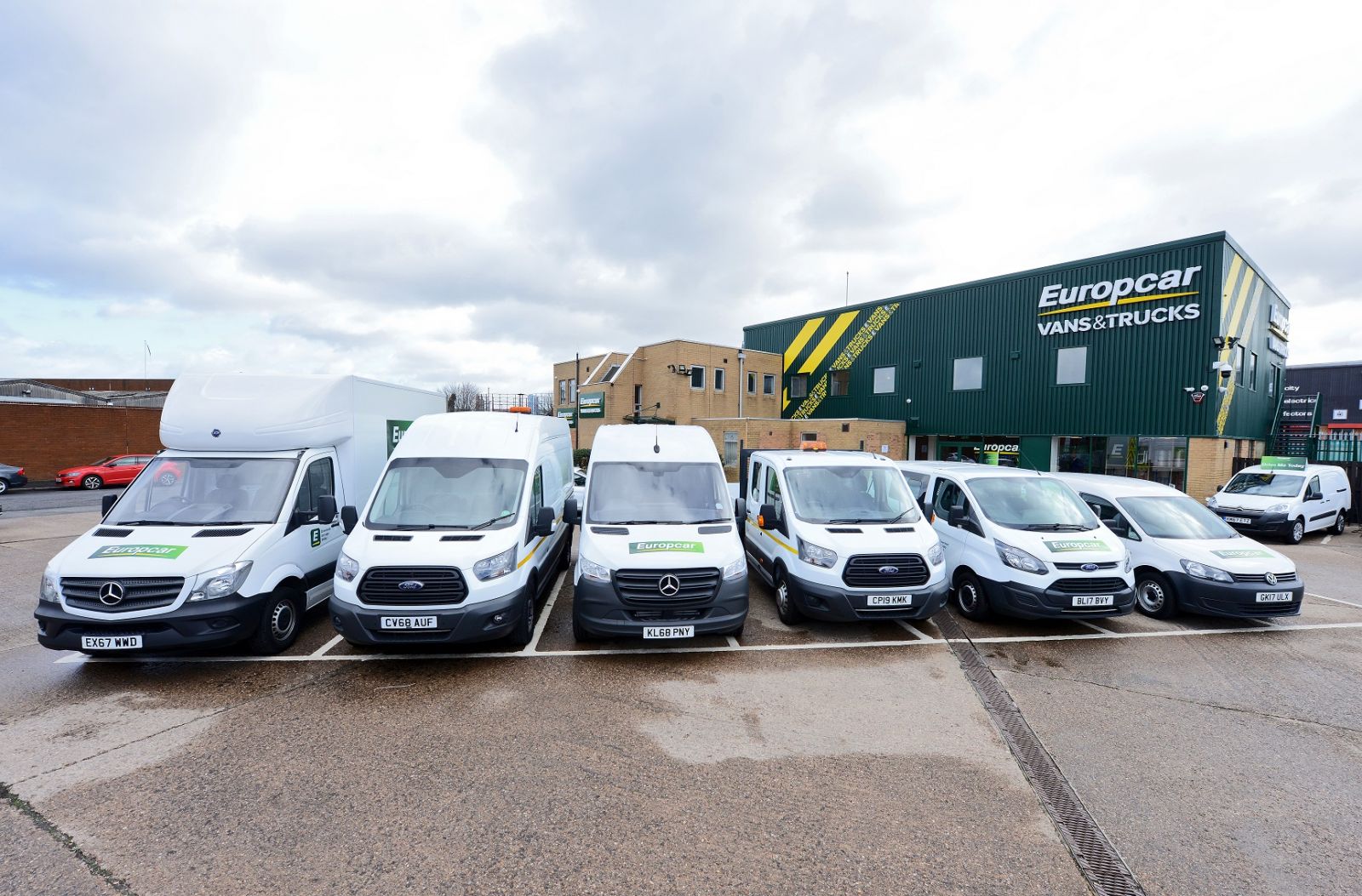 - Rent the vehicles you need, when you need them - don't tie up your cash flow in leased vehicles.
- Competitive rates and fixed prices - allowing you to budget effectively, with no early termination penalties.
- Our vehicles are Euro 6 compliant - embracing all the latest manufacturer technology so you meet Clean Air Zone requirements for central city location access.
- A nationwide network of stations - enabling you to access vehicles where you need them.
- All vehicles are the latest makes and models - ensuring you have the most reliable vehicles for your job.
- Geotab, industry-leading telematics - offering the ability to measure, monitor and manage your fleet.
- Need racking, tow bars and beacons? Adapt your vehicle to meet your bespoke requirements.
- 24/7 breakdown support - Service Maintenance and Repair service via Rivus Fleet Solutions (formerly BT Fleet) a nationwide garage solution partner supported by over 50 mobile servicing units that keeps you on the road and minimises vehicle downtime on business critical, revenue-generating assets.

Addressing Your Issues

The UK economy is undergoing a period of change and growing uncertainty. Many businesses are facing challenging decisions about the future of their fleet and the mobility of their workforce. The change in how vehicle emissions are measured is raising unanswered questions about what tax bands vehicles will fit into. There's a question too over Benefit-in-Kind for company cars beyond April 2023.
External pressures such as an increase in congestion and introduction of new Clean Air Zones, a reduction in on-street parking and the introduction of traffic restrictions in more and more cities are also adding to the climate of uncertainty.
For these reasons, many businesses are turning away from vehicle ownership, and even long-term leasing, towards more flexible alternatives.


Europcar Advantage

Offering the newest cars on the road, whether you want to replace your entire leased/owned fleet, just a few vehicles or to simply top up your fleet during peak times, Europcar Advantage provides options and choices.
- Advantage vehicles can be available in as few as 3-5 days – rather than the 12 weeks typical for a lease vehicle.
- Brand new, plain vans are available in 10 working days.
- The Advantage fleet includes the latest models and technologies and a mix of low-emission petrol and diesel vehicles as well as hybrids.
- All vehicles in the Advantage fleet are 'business ready' fitted with Bluetooth and Sat Nav.
- And with our deliver and collect service, we will bring the vehicle to you at work or at home.
Europcar Advantage offers clear, fixed monthly rates to help you manage your budget effectively. There are no upfront costs and, after 3 months, no penalties for early return. With a consistent pricing structure, you know precisely what you're paying for. And you choose how long you keep the vehicle (from 3-36 months). With Europcar's dedicated Advantage team offering 24/7 support, your long-term vehicle hire is always hassle and worry-free.

View Europcar Advantage Brochure

In Safe Hands


Visit Europcar Mobility Group Website
---
Share