Businesses are facing more diverse challenges than ever when it comes to meeting mobility needs. Mitigating these challenges alone is not easy. However, with the right mobility provider, these challenges can be overcome.
Europcar Mobility Group is the mobility provider that your business needs. We have over 70 years' experience in mobility and have extended our offering in recent years to become a bigger and stronger group, incorporating 10 brands across 133 countries. By capitalising on the latest developments in technology, our mission is to deliver an experience of open mobility for all through a diversified range of mobility options, from short- and long-term car and van rental to taxi and chauffeur services and carshare.

Trusted For 70 Years

Europcar Vans & Trucks

You already know us for car rental, but did you know we have a huge fleet of vans and specialist vehicles too? Our specialist vehicle fleet of tippers, dropsides, 4x4 pick ups and Chapter 8-compliant vehicles are ready and waiting for you, usually within a few hours of ordering.

Why use Europcar Vans?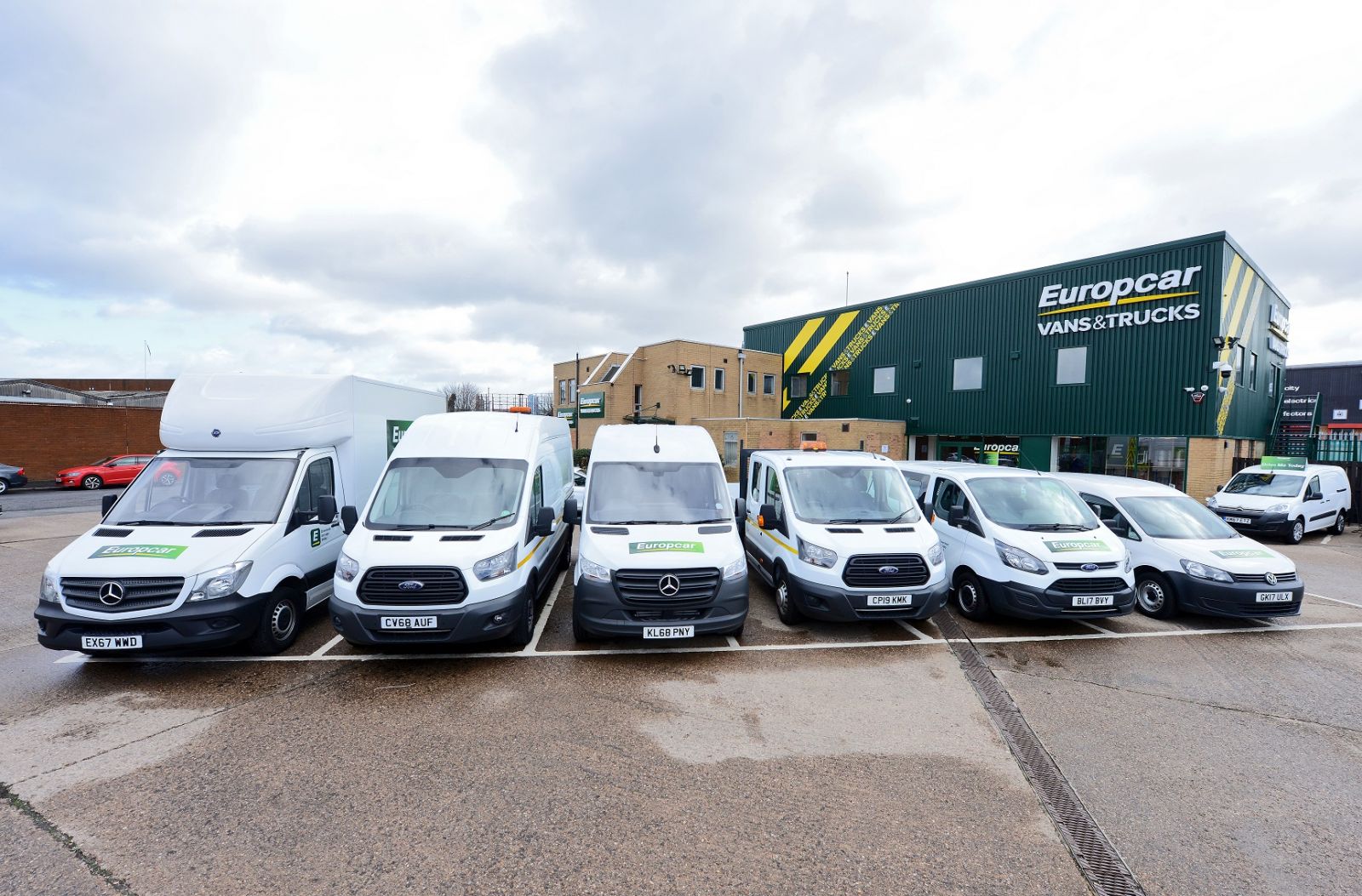 - Rent the vehicles you need, when you need them - don't tie up your cash flow in leased vehicles.
- Competitive rates and fixed prices - allowing you to budget effectively, with no early termination penalties.
- Our vehicles are Euro 6 compliant - embracing all the latest manufacturer technology so you meet Clean Air Zone requirements for central city location access.
- A nationwide network of stations - enabling you to access vehicles where you need them.
- All vehicles are the latest makes and models - ensuring you have the most reliable vehicles for your job.
- Geotab, industry-leading telematics - offering the ability to measure, monitor and manage your fleet.
- Need racking, tow bars and beacons? Adapt your vehicle to meet your bespoke requirements.
- 24/7 breakdown support - Service Maintenance and Repair service via Rivus Fleet Solutions (formerly BT Fleet) a nationwide garage solution partner supported by over 50 mobile servicing units that keeps you on the road and minimises vehicle downtime on business critical, revenue-generating assets.

Addressing Your Issues

The UK economy is undergoing a period of change and growing uncertainty. Many businesses are facing challenging decisions about the future of their fleet and the mobility of their workforce. The change in how vehicle emissions are measured is raising unanswered questions about what tax bands vehicles will fit into. There's a question too over Benefit-in-Kind for company cars beyond April 2023.
External pressures such as an increase in congestion and introduction of new Clean Air Zones, a reduction in on-street parking and the introduction of traffic restrictions in more and more cities are also adding to the climate of uncertainty.
For these reasons, many businesses are turning away from vehicle ownership, and even long-term leasing, towards more flexible alternatives.


Europcar Advantage

Offering the newest cars on the road, whether you want to replace your entire leased/owned fleet, just a few vehicles or to simply top up your fleet during peak times, Europcar Advantage provides options and choices.
- Advantage vehicles can be available in as few as 3-5 days – rather than the 12 weeks typical for a lease vehicle.
- Brand new, plain vans are available in 10 working days.
- The Advantage fleet includes the latest models and technologies and a mix of low-emission petrol and diesel vehicles as well as hybrids.
- All vehicles in the Advantage fleet are 'business ready' fitted with Bluetooth and Sat Nav.
- And with our deliver and collect service, we will bring the vehicle to you at work or at home.
Europcar Advantage offers clear, fixed monthly rates to help you manage your budget effectively. There are no upfront costs and, after 3 months, no penalties for early return. With a consistent pricing structure, you know precisely what you're paying for. And you choose how long you keep the vehicle (from 3-36 months). With Europcar's dedicated Advantage team offering 24/7 support, your long-term vehicle hire is always hassle and worry-free.

View Europcar Advantage Brochure

In Safe Hands


Visit Europcar Mobility Group Website
---
Share