Latest News

COVID-19: The New Ways to Rent a Vehicle

Europcar Mobility Group UK introduces the 'new normal' with the launch and promotions of alternate ways to rent a vehicle.
Consumer behavior has irreversibly changed during lockdown as we have become a nation of 'home delivery shoppers.' In direct response to this trend, Europcar Mobility Group UK has enhanced their 'Deliver & Collect' service, creating a new normal in the rental industry.
As part of their group wide 'Safety Programme', and to support the ongoing focus on customer experience and hygiene, they have introduced an enhanced safe distance 'Deliver and Collect' service, quoted as 'the most convenient and safest way' to rent a vehicle in the market today.
From the comfort of their home or workplace, and at a time that suits the customer, the Europcar 'Deliver and Collect' service is available throughout summer from only £1 each way - less than half the price of the nation's favourite take-away coffee.
In addition, a 'Click & Collect' option has been introduced providing customers with the ability to bypass the need to enter a rental station to pick up a vehicle. Customers are met in a designated 'Click & Collect' area of the car park where a member of staff hands over the keys and rental agreement at a safe distance.
Gary Smith, Managing Director, Europcar Mobility Group UK stated, "At Europcar Mobility Group we recognise that things have changed during the Coronavirus pandemic, and so have we. Our 'Click and Collect' and 'Deliver and Collect' services offer our customers options that offer peace of mind, safety and convenience."
---
Bureau Veritas And Europcar Mobility Group

A new partnership to consolidate hygiene and sanitary measures for stations & vehicles fleet.
Europcar Mobility Group and Bureau Veritas announce today they have signed a business partnership for the entire Europcar Mobility Group's corporate network, to ensure that the company's facilities and vehicles comply with Health Authorities' safety recommendations and follow best-in-class cleaning standards and protocols.
Bureau Veritas, a global leader in testing, inspection and certification services, will provide Europcar Mobility Group, a major player in mobility markets, with support across its operations.
"As we were actively preparing for the full restart of our activities, anticipating the progressive lift of lockdowns and travel restrictions that the world is currently going through, we decided, as the European leader, to design and implement a highly demanding "Safety Program". This provides material evidence of our commitment that safety is our #1 priority for our employees and our customers. Thanks to this partnership with Bureau Veritas, we will ensure that we flawlessly deliver this promise, so that you can book and travel with us in full confidence." declares Olivier BALDASSARI, Group Countries & Operations Director, member of the Management Board of Europcar Mobility Group.
"We are proud to stand by Europcar Mobility Group in order to help them make a difference and demonstrate they are fully prepared to serve their clients in a healthy and safe environment. By leveraging our 200 years expertise in conformity assessment and certification, Bureau Veritas is committed to support all sectors of the economy to cope with this
"New Normal". Our teams around the world are engaged to help our clients in addressing society's new expectations in terms of health, hygiene and safety as well as transparency" explains Didier MICHAUD-DANIEL, Chief Executive Officer of Bureau Veritas.
The partnership covers operations across 14 countries and relies on two main axes:
Assess and challenge Europcar Mobility Group guidelines and processes, to ensure safety for customers and employees, in line with local regulations and scientific recommendations.
Support the deployment of best-in-class sanitary protocols in Europcar Mobility Group's corporate geographies.
---
Europcar continues to see Vans & Trucks demand growth during Covid pandemic

Europcar's UK Vans & Truck business continues to see sustained double digit YOY growth throughout the government-enforced COVID-19 lockdown period.
Europcar has been quick to launch a number of new initiatives to help support UK Business, especially in the SME and Micro Business Sector. This has been coupled with the continuation of its unbroken period of growth.
Strong demand from new and existing customers from sectors such as the home delivery market, UK crop growers, in addition to the continuity of a number of key infrastructure and ground transportation contracts, has meant the doors at Europcar have remained open, the length and breadth of the UK. This is in contrast to a number of UK rental companies who have chosen to limit their offering or even close their doors.
In addition, Europcar has moved quickly to support the British public with several new products being launched to assist front line workers, such as their 'Van & Driver' product, their heavily subsidised 'Emergency Services' product, and their latest 'Back to Work' product, for those that can go back to work, live too far away to walk or cycle, and want to avoid public transport. The latter two offers provide workers with an affordable and safe way of getting to and from work.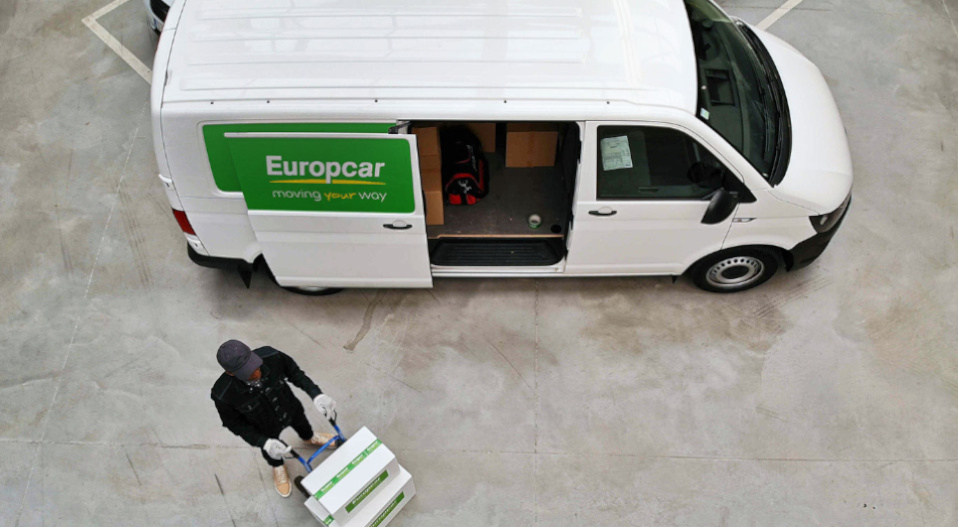 Furthermore, the hygiene of all Europcar vehicles has been of paramount importance for all customers and has been stepped up to exceed the government's guidelines. Europcar has introduced new protocols for customer interaction with their 'safe distance' deliveries and collections; in-station deep cleaning, social distancing measures, PPE, including screens, masks and sanitisers; and vehicle deep cleaning. As a result, Europcar has been consulted by the BVRLA regarding these upgraded protocols to advise rental businesses as part of their new publication 'The BVRLA's Guide to Operating during the Covid-19 Pandemic'.

Stuart Russell, Director, Specialist Vehicles said "We have not been immune to the effects of the COVID-19 lockdown. However, the fact that we have been able to offer our customers continuity of service across all of our product range throughout this challenging period, while keeping our teams safe at work, is testament to the dedication and devotion of all our staff. This coupled with the loyalty of our customer base has given us confidence that the Van & Truck strategy will continue to pay dividends".
Europcar Mobility Group recently confirmed €307m additional financing facilities to ensure liquidity across its global operations in the face of the current COVID-19 crisis, and to meet future plans for the business.
Stuart Russell, continued, "The financial news is good for the Group, and we're delighted to be making a positive contribution. We are over and above our planned year-on-year growth for 2020, and the pipeline indicates that this will carry on for the duration of this year."
Europcar continues to provide a range of vans, specialist vehicles, and cars, to support a variety of needs, on flexible tariffs, and at short notice.
---
About Europcar Mobility Group

Trusted For 70 Years

Europcar Vans & Trucks

You already know us for car rental, but did you know we have a huge fleet of vans and specialist vehicles too? Our specialist vehicle fleet of tippers, dropsides, 4x4 pick ups and Chapter 8-compliant vehicles are ready and waiting for you, usually within a few hours of ordering.

Why use Europcar Vans?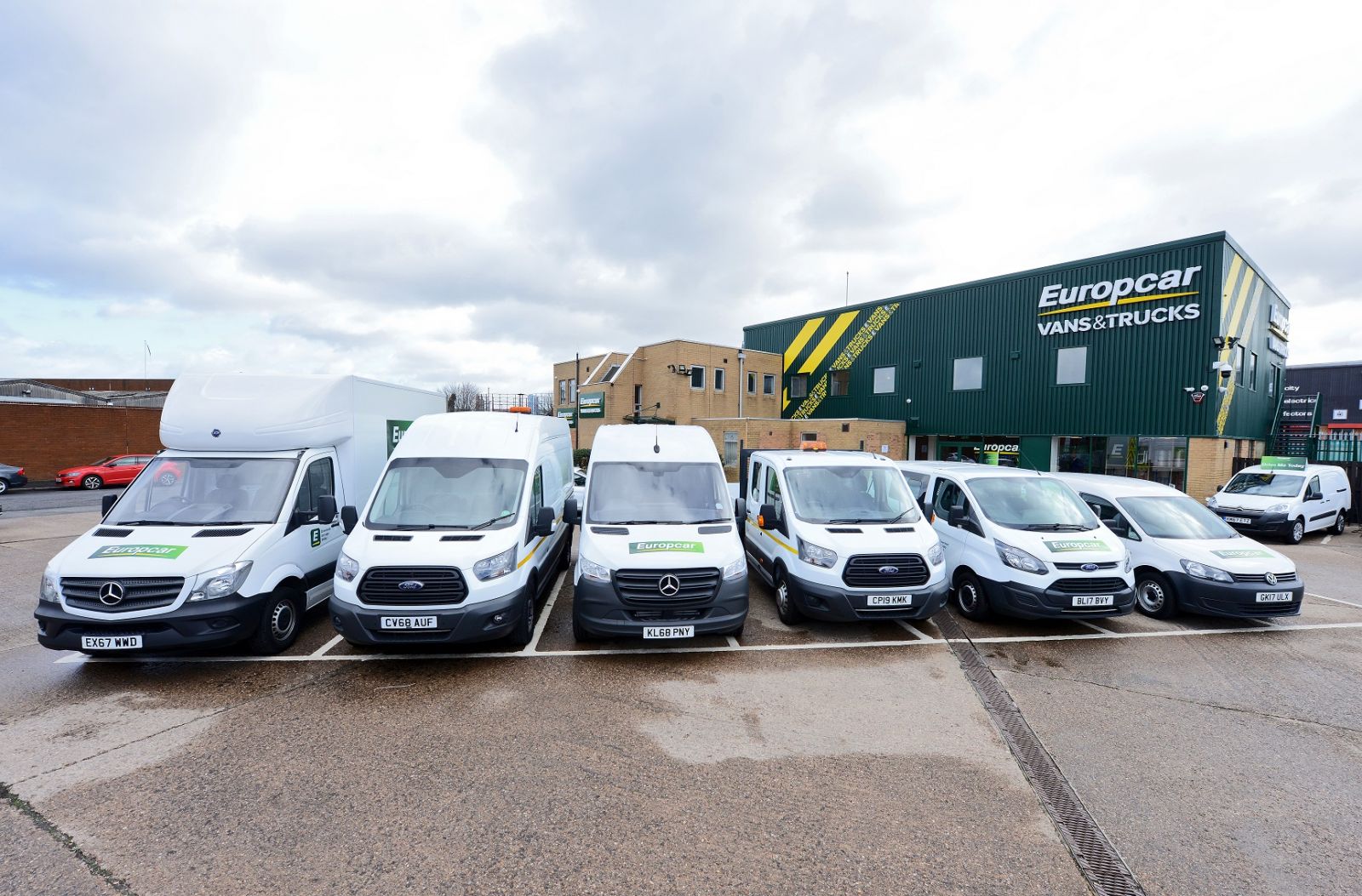 - Rent the vehicles you need, when you need them - don't tie up your cash flow in leased vehicles.
- Competitive rates and fixed prices - allowing you to budget effectively, with no early termination penalties.
- Our vehicles are Euro 6 compliant - embracing all the latest manufacturer technology so you meet Clean Air Zone requirements for central city location access.
- A nationwide network of stations - enabling you to access vehicles where you need them.
- All vehicles are the latest makes and models - ensuring you have the most reliable vehicles for your job.
- Geotab, industry-leading telematics - offering the ability to measure, monitor and manage your fleet.
- Need racking, tow bars and beacons? Adapt your vehicle to meet your bespoke requirements.
- 24/7 breakdown support - Service Maintenance and Repair service via Rivus Fleet Solutions (formerly BT Fleet) a nationwide garage solution partner supported by over 50 mobile servicing units that keeps you on the road and minimises vehicle downtime on business critical, revenue-generating assets.

Addressing Your Issues

The UK economy is undergoing a period of change and growing uncertainty. Many businesses are facing challenging decisions about the future of their fleet and the mobility of their workforce. The change in how vehicle emissions are measured is raising unanswered questions about what tax bands vehicles will fit into. There's a question too over Benefit-in-Kind for company cars beyond April 2023.
External pressures such as an increase in congestion and introduction of new Clean Air Zones, a reduction in on-street parking and the introduction of traffic restrictions in more and more cities are also adding to the climate of uncertainty.
For these reasons, many businesses are turning away from vehicle ownership, and even long-term leasing, towards more flexible alternatives.


Europcar Advantage

Offering the newest cars on the road, whether you want to replace your entire leased/owned fleet, just a few vehicles or to simply top up your fleet during peak times, Europcar Advantage provides options and choices.
- Advantage vehicles can be available in as few as 3-5 days – rather than the 12 weeks typical for a lease vehicle.
- Brand new, plain vans are available in 10 working days.
- The Advantage fleet includes the latest models and technologies and a mix of low-emission petrol and diesel vehicles as well as hybrids.
- All vehicles in the Advantage fleet are 'business ready' fitted with Bluetooth and Sat Nav.
- And with our deliver and collect service, we will bring the vehicle to you at work or at home.
Europcar Advantage offers clear, fixed monthly rates to help you manage your budget effectively. There are no upfront costs and, after 3 months, no penalties for early return. With a consistent pricing structure, you know precisely what you're paying for. And you choose how long you keep the vehicle (from 3-36 months). With Europcar's dedicated Advantage team offering 24/7 support, your long-term vehicle hire is always hassle and worry-free.

View Europcar Advantage Brochure

In Safe Hands


Visit Europcar Mobility Group Website
---
Share