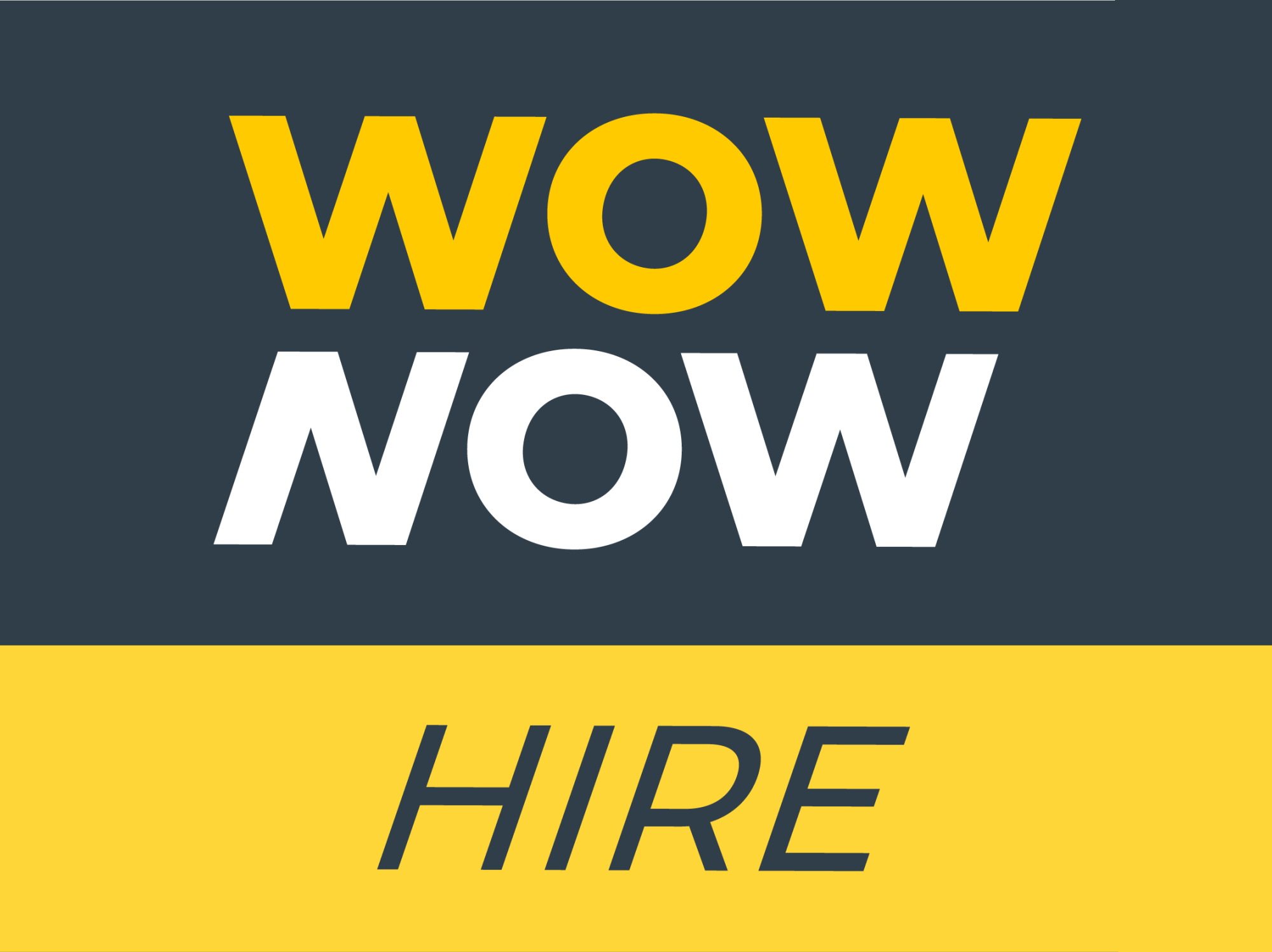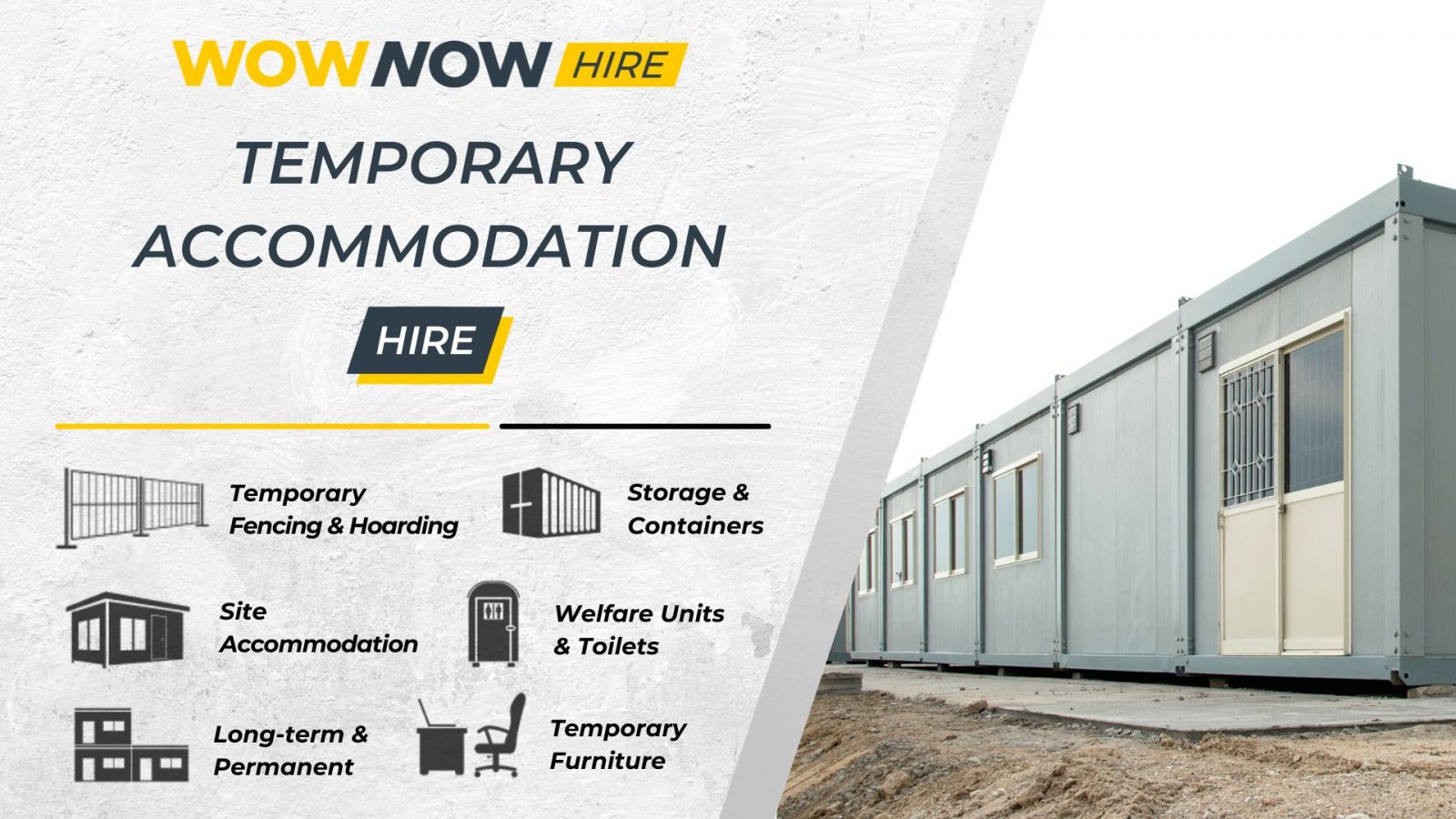 Whether it's your first time needing or you're looking for a change of supplier and need a temporary accommodation solution that suits your individual needs, our expert team can coordinate all your hire and temporary accommodation requirements, on a short, long-term or permanent hire, end to end, nationwide.

✔️ Site Accommodation
✔️ Long-Term & Permanent Solutions
✔️ Storage & Container Hire
✔️ Welfare Units & Toilets/ Portaloo's
✔️ Temporary Furniture
✔️ Fencing and Hoarding

Whatever your challenge, we'll get it sorted. Click here to find out more.
---
WowNow Hire is a managed intermediary hire service covering the whole of UK and Ireland. We manage the sourcing, delivery and collection of hired assets across powered access, plant, tools, waste and site accommodation. Our loyal customers include everyone from facilities management companies and construction firms to event organisers to shop and office fitters. WowNow Hire holds no less than five million products, sourced from over 4,000 suppliers and 9,000 delivery locations across UK and Ireland.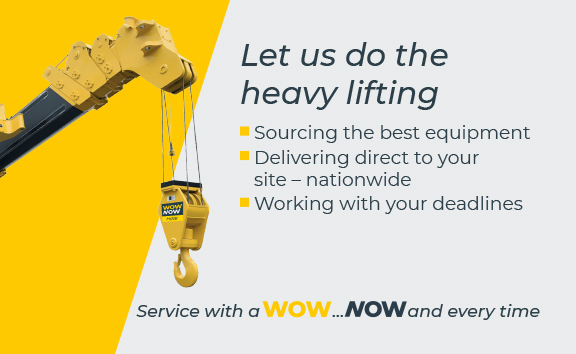 Wide Availability – 5 million hire products.
Any Day, Any Place – Nationwide.
World-Class Service – Rated 'Excellent' on Trustpilot.
ISO Accredited – ISO 9001 and ISO 14001.


WowNow Hire (formerly known as Nationwide Hire) was founded in November 1995 by Howard Piper in response to increased demand by shopfitters for help with hire in different and unfamiliar locations. The help that shopfitters needed was for any hire and this included tools, waste, powered access, and accommodation.

POWERED ACCESS
Telescopic & Articulated Booms - Trailer or Self Propelled | Scissor Lifts - Electric, Diesel, Be-Energy | Personal Platform | Material Lifts Van / Truck Mounts.
PLANT
Compressors | Forklifts | Dumpers | Rollers | Generators | Excavators | Skid Steer Loaders | Telescopic Handlers.
WASTE DISPOSAL
Roll on - Roll off Containers - to 40 cu yard | Skips - open, lockable, covered and walk in | Wait and Load | Grab Loaders | Permit Arrange | Rubbish Clearance Vehicle.
TOOL HIRE
Drilling | Breaking | Heating | Drying | Cooling | Lighting | Cutting | Cleaning | Welding | Woodworking | Fixing | Lifting.
TEMPORARY ACCOMMODATION
Anti Vandal Stores | Canteens | Showers / Washrooms / Toilet Units | Perimeter Fencing | Site Offices | Executive Suites.
OTHER SERVICES
Emergency Cleaning | Pest Proofing & Control | Winter Gritting, Ice & Snow Removal.

WHY WE CALL OURSELVES WOWNOW
WowNow was chosen because we wanted a bold name that conveys who we are and what we deliver for our customers. WowNow means exceptional service delivered with certainty, reliability, ease and speed.
The 'Wow' certainty and reliability are represented by our ability to satisfy any order across all products anywhere in the UK and Ireland, and our excellent service delivery.
The 'Now' ease and speed reflects our hassle-free hire delivery service.

---
Share