All Electric SUV is Dawn of New Motor Era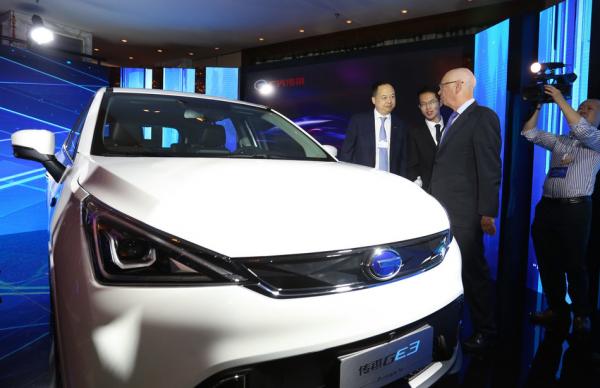 28 July 2017 | Updated 01 January 1970
GAC Motor has officially released its first smart all-electric SUV GE3 into the Chinese market.
The GE3 is based on a new EV platform and positioned as a medium to high-end electric SUV. it has a Ternary lithium battery that fast charges to 80 per cent in 30 minutes. The battery layout is flat to allow for maximum cabin space.
It has a range of 310km (192.62 miles) with electric power only; acceleration from 0-100 km (0-60 miles) within 9.3 seconds and a braking distance 12.8 meters (42 feet); peak power is 120 KW (163.2 Horsepower), peak torque at 290 Nm (214 ft-lb); while general power consumption is 16.6 kwh/100km (16.6 kwh/60 miles).
The car comes fitted with a 'smart car companion' Little Trumpchi, T-BOX Internet of Vehicles 3.0 and INJOY smart entertainment system.
Company President Yu Jun said: "Since GAC Motor launched the first hybrid vehicle in 2012, our company has mastered the five core technologies in battery, motor, control unit, electro-mechanical coupling systems and system integration. Developing new energy vehicles is a key strategy of GAC Motor."
GAC has set the goal of achieving 1 million in sales volume by 2020, 20 per cent of which will be new energy vehicles. GAC Motor plans to open a new smart energy car industrial park in 2019 and establish a new energy subsidiary company.
"GAC Motor's strategic emphasis in the next five years include launching new energy sedan and SUV models in all markets, achieving 400-500km mileage with electric power and fully charge the batteries in under 30 minutes to solve the consumers' travelling concerns," said Yu.
Picture: GAC's all electric SUV
Article written by Robin Snow | Published 28 July 2017
Share
---
---