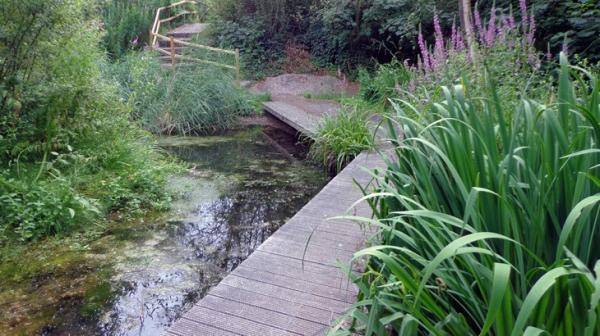 20 March 2017 | Updated 01 January 1970
Tottenham Hotspur Football Club (THFC) have submitted planning for it Environmental Centre and Nature Reserve to the London Borough of Enfield.
The scheme represents a major long-term investment by the club and builds on its Enfield community programming over the last six years which it committed to when seeking planning permission for it massive training centre in the area.
The facility would include an education facility with classrooms and a nature reserve with boardwalks, wildflower walks and meadow and ponds for outdoor learning alongside a top level multi-use sports pitch.
The Nature Reserve would be managed by Capel Manor College (a renowned horticultural college, again based in the district) who would offer a dedicated education programme that will be designed and delivered in consultation with teachers from Enfield and linked to the National Curriculum
Premier League first
The Tottenham Hotspur Environmental Centre and Nature Reserve would represent a Premier League first and see the club working with schools across the Enfield Borough to visit and explore at key points during their educational lives.
This facility would build on the significant success that has been achieved by the football club and its charitable body, the Tottenham Hotspur Foundation and go beyond its contracted community and education commitments.
The scheme
Enfield Council, Capel Manor, Lea Valley Regional Park Authority and the THFC have sought to encompass the Dickenson's Trough Meadow which runs alongside the training facility and also alongside the 'Western Field' which was land designated for this purpose back in 2011.
As well as the multi-purpose, fully accessible and flexible education building including two classrooms, four changing rooms, staff facilities and outdoor teaching space will be developed. It would include the creation of a new, organically-managed nature reserve and nature conservation area bringing wildflower walks, natural flora and fauna and wildlife to this part of Enfield. The scheme will also include a Desso pitch (natural grass and artificial fibres), maintained to Premier League standards.
Daniel Levy, Club Chairman, said: "The location of the Club's Training Centre has provided us with an unrivalled opportunity to deliver something truly outstanding for the young people of Enfield. "Through our commitments in Enfield we have already been able to engage with thousands of young people from across the Borough. This facility represents a sustainable long-term investment into the next generation and will ensure schoolchildren from across the area will be able to study and enjoy nature and the countryside right in the area in which they live."
A 30 strong Headteacher joint letter submitted with the application said: "Childhoods are dramatically changing, with fewer opportunities to spend time and learn outdoors. Busier family lives, combined with an increased sense of fear in society, children are having fewer opportunities to explore their surrounding natural environment.
"This wonderful base would provide a unique and high quality educational experience. They would be able to leave the stresses of urban life behind and spend a day studying outside, in woodlands, beside still water, in meadows and grasslands and have an amazing 'hands on' experience of the science curriculum."
Picture: Plans for a Premier League environmental centre have been submitted
Article written by Cathryn Ellis | Published 20 March 2017
Share
---
---