Facilities Show returns to ExCeL London
12-14 July 2021


Take a look at some of the results from Facilities Show 2019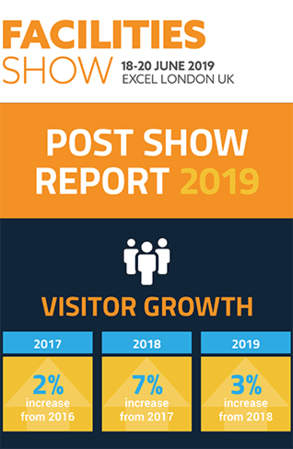 In 2019 we saw:
- 3% increase in visitor numbers YoY.
- 35% of visitors were Heads of Dept, C-Suite or Directors vs 33% in 2018.
- 72% of visitors have purchasing power, with all visitors combined budget totaling more than £9.2billion an increase of £2.3billion from last year.

The below continue to be our visitors' top 5 areas of interest:
- Maintenance.
- Health & Safety.
- Energy Management.
- Mechanical & Electrical.
- Workplace Technology & Software.
You can view the 2019 post show report here.

Why should you exhibit?

Independent research by FaceTime found:
- 80% of those polled agreed that live events deliver better ROI than other media.
- 93% of marketers and business directors and business owners feel face-to-face marketing is the most persuasive media channel.
- 81% of directors agree that average order value with human interaction is over 15 times greater compared to other media investment.
- It's been proven exhibitions are the place for businesses to do business, they're packed with high worth professionals with a budget.