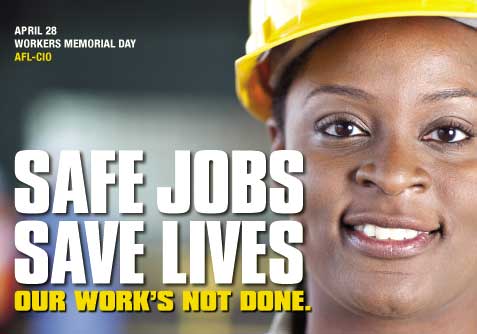 28 April 2016 | Updated 01 January 1970
Workers' Memorial Day is held on 28 April every year all over the world workers and their representatives conduct events, demonstrations, vigils and a whole host of other activities to mark the day.
Workers' Memorial Day began in the USA in 1970 when the equivalent of the TUC – the AFL-CIO – declared April 28 Workers' Memorial Day to honour the hundreds of thousands of working people killed and injured on the job every year.
It is now an international day of remembrance of workers killed in incidents at work, or by diseases caused by work and annually events are held throughout the world. Some examples include active campaigning, and workplace awareness events. Public events include speeches, multi-faith religious services, laying wreaths, planting trees and unveiling monuments, raising public awareness of issues and laying out empty shoes to symbolise those who have died at work.
The TUC notes that every year more people are killed at work than in wars and most do not die of mystery ailments, or in tragic 'accidents' but it argues, because an employer decided their safety was not that important a priority. Workers' Memorial Day (WMD) commemorates those workers as well as acting as a rallying cry to 'remember the dead but fight for the living'.
This year the theme for the day is Strong Laws – Strong Enforcement – Strong Unions because the case behind it is that there are perceived, growing attacks on health and safety protection, including in the UK where the government is accused by the trades union movement and other groups of having removed protection from millions of self-employed workers and across Europe where the European Commission is seen as pursuing a 'dangerous' de-regulatory strategy.
"Strong laws are not enough if they are not going to be enforced," said Frances O'Grady. "That is why we need proper inspections and enforcement action against those who break the laws. Here in the UK the number of inspections has fallen dramatically in the past five years, however in many other countries enforcement has always been non-existent."
In the UK she accused the government of trying to stop unions protecting the health and safety of their members by restricting the right of health and safety representatives to take time off to keep the workplace safer and also trying to reduce the right to strike.
Picture: Workers' Memorial Day began in the USA but has spread throughout the world
Article written by Cathryn Ellis | Published 28 April 2016
Share
---
---