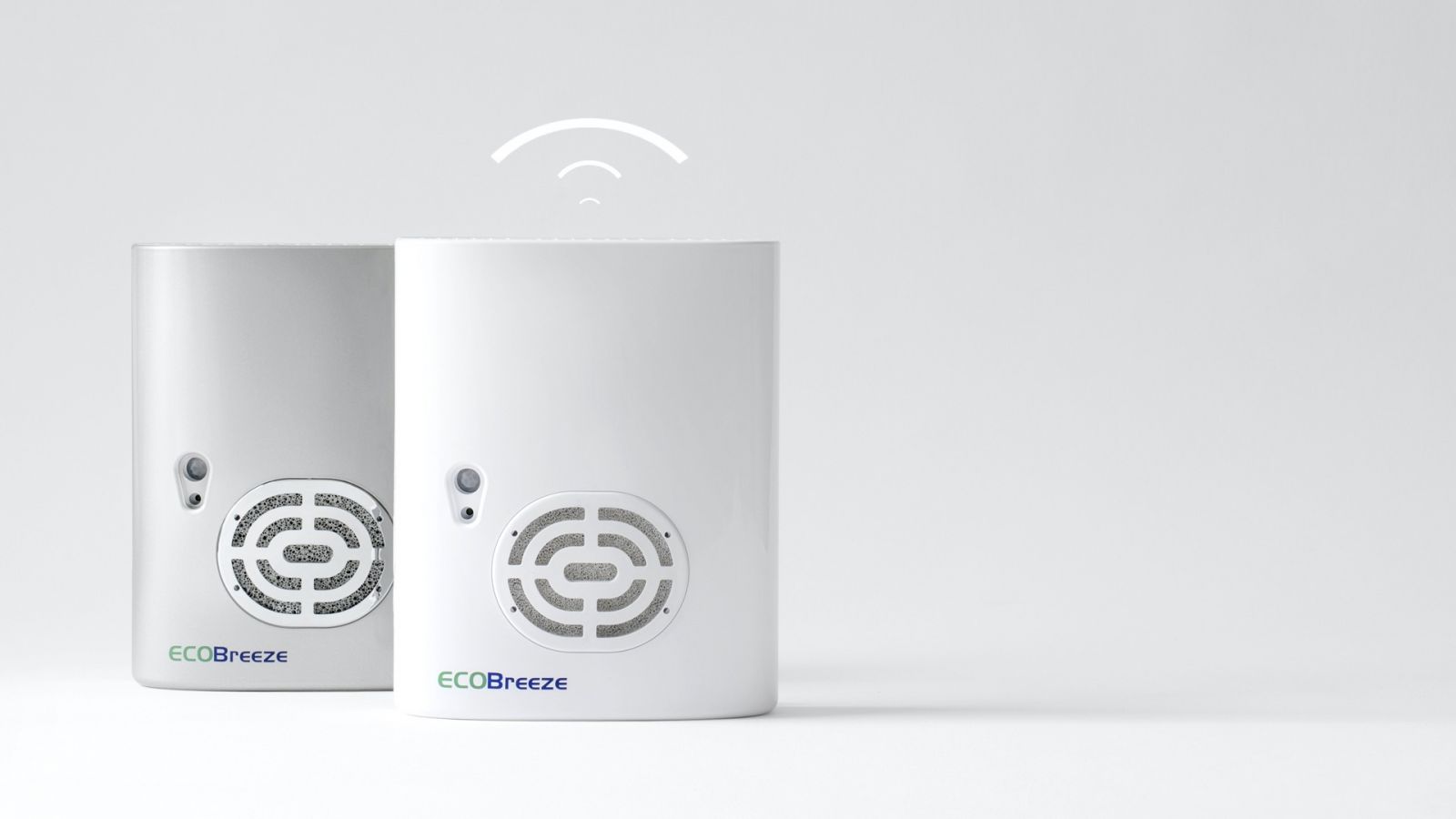 Winner of UK Innovation
EcobreezeSmart is creating a buzz in the global air care market.
Building and cleaning management has traditionally been characterized by manual processes and close monitoring of workspaces, more so within washrooms. Sending cleaners at periodic intervals to check on facilities.
The new EcobreezeSmart is a low-cost IoT-solution that offers organisational and operational insights. Notifications can be delivered to maintenance and cleaning teams at short notice to address urgent needs, as well as assisting with the day-to-day management. Responses to environmental dangers can be automated; temperature and humidity can be remotely monitored. Configurable triggers can be set to, for example, ideal room temperature for at-risk occupants when temperatures drop in winter, or in the inverse case, prevent overheating in times of notable humidity. Remote monitoring aids in the health and wellbeing of occupants.
EcobreezeSmart is an award-winning air care solution with built-in data capturing functionality. No longer do you have to invest in expensive standalone technologies that monitor individual metrics.
Real-time data enables managers to focus on other business-critical tasks
Through organisational insights EcobreezeSmart data can vastly improve the quality of service within buildings as the sensors can instantly notify staff of occupants' activity. EcobreezeSmart positioned at different locations within a building can provide further knowledge about occupants' movements.
All data can be accessed via a bespoke web portal where you can view and download real-time data 24/7. The web portal also provides central user access for room-to-room control settings. EcobreezeSmart's data capturing technology enables the collection and analysis of data to deliver actionable insights.
Furthermore, EcobreezeSmart reduces health risks associated with indoor pollution. Creating a clean and comfortable environment for your clients and employees is now more important than ever. In fact, 60% of employees and clients say seeing premises being actively cleaned is the most important part of their experience. EcobreezeSmart offers a solution to this by constantly cleaning the air of indoor pollutants including odours, as well as using data to optimise cleaning routines.
Optimise your cleaning strategy and minimise complaints whilst saving costs
In the wake of the pandemic, odours will no longer be ignored, as odours are directly linked to poor hygiene. There could not be a more important time to optimise your cleaning strategy, minimise costs and better protect your colleagues and customers.
That is why now is the time to invest in EcobreezeSmart. Our solution is already helping our customers by enabling them to optimise their cleaning strategy and minimise complaints, thereby empowering managers to focus on other business-critical tasks.
Often air filtration systems are expensive and cumbersome, EcobreezeSmart is an affordable, slimline desktop or wall mounted electrical device that is either hardwired or plugged eliminating the need for batteries that are often unreliable. Once Ecobreeze is installed it will continue to clean the air and gather data without fail. Ecobreeze has successfully been used in offices, restaurants, gyms, care homes, pubs, clubs dealing with odour issues in washrooms, boardrooms, bedrooms, gyms, any area with little or no ventilation.
Our confidence in our products ability to remove VOCs and offensive odours allows us to offer a 3 months money back guarantee, including 5 year product warranty.
Call
01634 712709
or email
info@ecobreeze.com
quoting your exclusive discount voucher code:
TWinFM